We must do more to ensure that vaccination programmes reach refugee and migrant children, writes Dr Flavia Bustreo, Assistant Director-General of the World Health Organization and Vice-Chair of Gavi, the Vaccine Alliance.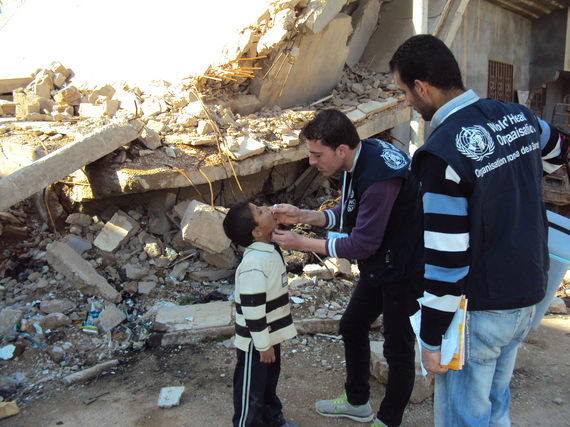 A child is vaccinated against polio in Syria
Photo credit: WHO
It is hard to imagine a more effective method than vaccination for keeping children healthy. Not only do vaccines save lives in huge numbers, they are also cost-effective, relatively easy to deliver and, in most cases, provide lifelong protection.
These health benefits spin off into economic and social development. Healthy children are more likely to do better at school and become healthy productive adults, who contribute by working, investing and saving throughout their lives.
But vaccination does require high levels of coverage, as the more kids who receive their shots the lower the chances that killer diseases such as diphtheria, measles and meningitis will spread throughout the population. This goes to the heart of the problem for refugees or migrants.
Children caught up in humanitarian emergencies are much more likely to miss their routine shots than those living in stable settings. Missing these vaccinations makes any child much more likely to catch an infectious disease, such as a respiratory disorder or diarrhoea.
The risk of such diseases spreading is known to increase when large groups of people are on the move, live in overcrowded places or miss out on routine vaccinations. Research by the World Health Organization (WHO) into the vaccination needs of people in acute humanitarian emergencies identified many risks from vaccine-preventable diseases - frequently made worse by lack of food, clean water and proper sanitation.
With a record 65.3 million forcibly displaced persons worldwide, the struggle to maintain adequate levels of vaccination among children on the move is a challenge in many parts of the world. For example, children account for a third of the 50 000 refugees, asylum seekers and migrants currently living in Greece. The most vulnerable are the young children who have yet to receive any vaccinations because health care in their home countries has been interrupted by civil unrest and war. Last year in Iraq, more than 340 000 children did not receive their third dose of oral polio vaccine through routine services due to the crisis affecting the country.
Action to keep refugee and migrant children healthy

So how do we protect these children? As country representatives from around the world gather in New York at the upcoming UN Summit for Refugees and Migrants, we need to ensure that health - and immunization - is given the prominence it deserves. After all, good health is not only a human right, it also underpins children's ability to learn and to be resilient in times of uncertainty.
It is vital for host countries to extend their routine immunization programmes to refugees and migrants, irrespective of their legal status. Such measures would protect not only the people on the move but also the communities in host countries, where immunity gaps still exist. To support efforts in the wake of the European refugee and migrant crisis, WHO, UNHCR and UNICEF have provided European countries with guidance outlining general principles on the vaccination of refugees, asylum-seekers and migrants in the European Region. Certain countries, such as Greece and Italy, are leading the way.
WHO is continuing to work with UNICEF, Médecins sans Frontières and other partners to deliver vaccinations to everyone who needs them. In Greece, two vaccination campaigns for the refugee and migrant population were conducted in early May 2016 with the support of WHO, in accordance with Greece's national immunization schedule. The two campaigns covered approximately 6000 people in Idomeni, and approximately 20 000 in the rest of the country. In Iraq, WHO is supporting the Ministry of Heath, in close coordination with UNICEF, to increase immunization coverage among all children, with a special focus on refugees and internally displaced persons.
As an international community, we must also invest more and find smarter ways of financing stocks of vaccines to use during emergencies and outbreaks. As a Vice-Chair of the board of Gavi, the Vaccine Alliance, I am proud of Gavi's work towards a new Fragility and Immunization policy, which commits to "reaching the un-reached with life-saving vaccines". This strategy funds vaccine stockpiles for use during outbreaks, and includes purchasing the first-generation Ebola vaccine.
At next week's UN Summit for Refugees and Migrants, countries should recommit to safeguarding the health of children in humanitarian emergencies - a task identified as a priority in the new Global Strategy for Women's, Children's and Adolescents' Health. In any setting, funding the supply and delivery of vaccines is a proven way to save lives. And with millions of children on the move, the stakes could not be higher.
This post is part of a series produced by The Huffington Post to mark the occasion of two critical conferences at the UN on the Refugee and Migrant crisis: the UN Summit for Refugees and Migrants (Sept. 19th, a UN conference) and the Leaders Summit on Refugees (Sept. 20th, hosted by U.S. Pres. Barack Obama, at the UN). To see all the posts in the series, visit here. To follow the conversation on Twitter, see #UN4RefugeesMigrants.
Popular in the Community