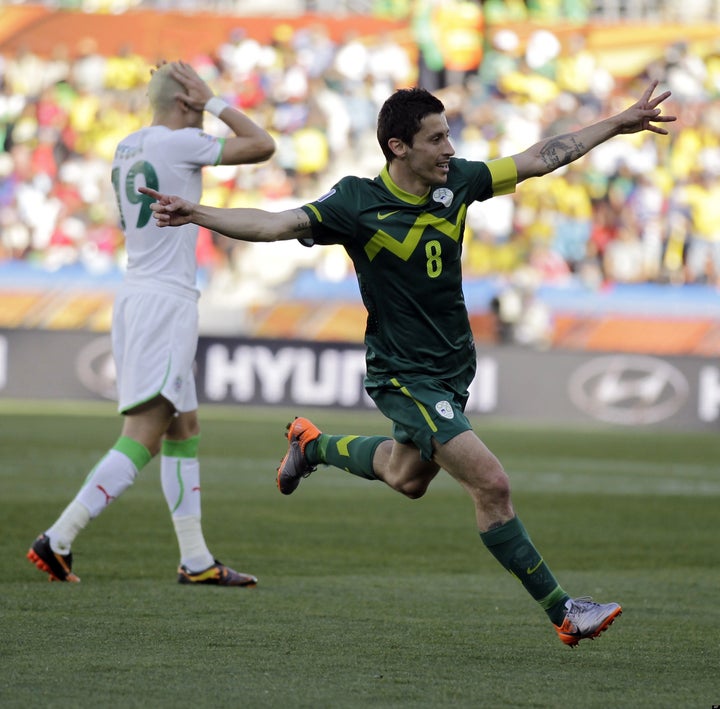 The latest World Cup buzz has to do with something off the field, that ongoing buzzing reverberating the stadiums: the vuvuzelas.
They're all the rage these days, rage in the most literal sense for some, and Twitter can't stop talking about them, a Trending Topic as I write this.
Calls are mounting: Is it time to ban them?
Let's start with the cons. These South African horns drown out essentially all noise in the stadium, and they're impossible to miss on television broadcasts. Some rightly say they fail to reflect the ebbs and flows of the game.
FIFA considered banning the vuvuzelas leading up to the World Cup, worried they could be used as weapons or businesses could stamp ads on them, but ultimately didn't. However, countless players, broadcasters, and TV viewers have been complaining since the tournament began, and now word is they could be banned yet.
Besides the complaints, there are concerns they can result in hearing loss, and word is they can trumpet up to 127 decibels. So there are risks involved.
But hold on. The vuvuzela is all about South African pride. It has become a huge part of the country's identity and it has united a people. It's not time to silence the noisemaker.
Said one man, 26-year-old Hendrik Maharala of Johannesburg: "I feel like an African when I blow the vuvuzela."
Said a woman, 21-year-old Jessica Dyrand: "I love the noise."
Said another South African, 23-year-old Sazi Mhlwaitka: "It's our way to motivate players, to express happiness and how do you feel in the stadium."
It's hard to rip that passion out of these fans, especially since some 650,000 vuvuzelas have been sold for this World Cup. And they actually provide for one amazing and unique atmosphere, so it could all depend on your point of view.
Just look at these people and the great time they are having:
Are we seriously considering taking the vuvuzelas away from them?
A ban would rob the tournament of part of its cultural identity, leaving thousands of locals perplexed: could you imagine being told by an international body that you could no longer drink beer at American football games, or fall asleep during baseball? The South Africans wouldn't take too kindly to having a national institution removed.
Let the vuvuzelas resound. That's my take -- what's yours?
UPDATE (June 14, 2010): World Cup officials said today the vuvuzelas will NOT be banned.
Popular in the Community