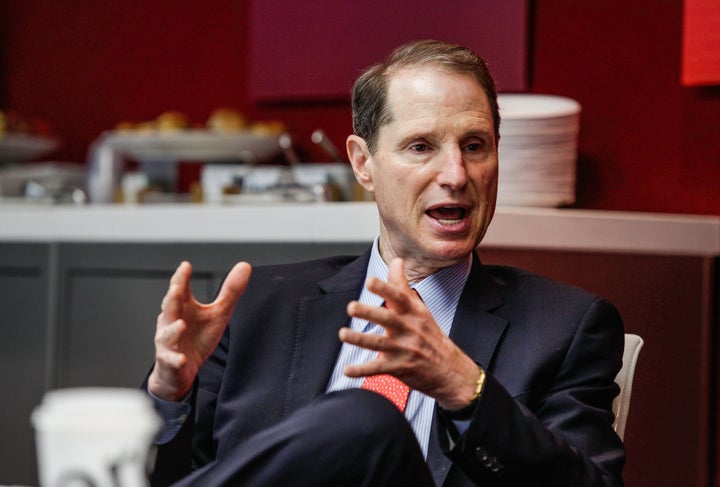 WASHINGTON -- Sen. Ron Wyden (D-Ore.), the top Democrat on the Senate Finance Committee, wants the Treasury Department to hit Volkswagen with steep penalties for possibly lying to the federal government to receive clean energy tax breaks for cars that duped regulators on emissions standards. 
Wyden, in a letter to Treasury Secretary Jack Lew on Wednesday evening, urged the department to consider recovering tax breaks for supposed fuel-efficient cars. The Environmental Protection Agency said last month that Volkswagen admitted installing so-called defeat devices in some 500,000 vehicles that allow them to pass emissions tests while emitting 40 times the legal limit of certain air pollutants in everyday use.  
In the letter to Lew -- provided exclusively to the Huffington Post -- Wyden argued the Treasury should recover, or at least consider when weighing penalties, the hundreds of millions in tax credits Volkswagen benefited from when the Internal Revenue Service certified some of its 2009 model vehicles and one of its manufacturing plants for the credit programs.
Volkswagen's 2009 Jetta TDI Sedan, and Sportwagen qualified for a $1,300 tax credit under the 2005 Alternative Motor Vehicle Tax Credit, which is granted to purchasers of vehicles that meet emission and fuel economy requirements. Some 60,000 of these cars carrying the defeat device were sold by VW in the U.S., and an estimated $51 million tax credits were subsequently rewarded to individuals because their cars were among those benefiting from the 2005 alternative vehicle credit. 
"It is extremely troubling that Volkswagen may have defrauded its way into economic gain at the taxpayer's expense," Wyden writes. "To the extent Volkswagen Group misled the Treasury Department and the Internal Revenue Service about the performance of its vehicles, the value of these tax incentives should be recaptured."
Wyden also asserts that Volkswagen may have wrongfully utilized a 2009 Advanced Manufacturing tax credit. The company received $150 million under the program for operations at a manufacturing plant in Chattanooga, Tennessee. 
Wyden said it's unclear why VW was granted the credit. But given that the automaker "misrepresented the emissions and mileage capabilities" of its cars, the tax credit "may have been inappropriate," he said.
Treasury, including IRS, should work with the EPA and Justice Department "as they weigh levying fines and enforcement actions against Volkswagen and take the full value of these tax benefits into account," Wyden wrote. 
Treasury's involvement, Wyden stressed, would ensure taxpayers aren't collateral damage. 
"The law makes clear that individuals should not be held liable for Volkswagen's bad acts," Wyden said. "I would like your assurance that there will be no effort to recover tax credits from consumers who were duped by Volkswagen and claimed the benefits in good faith."
Earlier Wednesday, Wyden, along with Finance Chairman Orrin Hatch (R-Utah) sent a letter to Volkswagen's international and U.S. chief executives questioning the company's actions regarding tax credits it received. 
Since EPA announced its investigation last month, Volkswagen CEO Martin Winterkorn resigned, accepting responsibility for the devices found in its diesel engines.
On Thursday, an EPA official is expected to testify before a House committee about the agency's plans to "access the economic benefit" to VW as a result of its violations. 
Calling all HuffPost superfans!
Sign up for membership to become a founding member and help shape HuffPost's next chapter