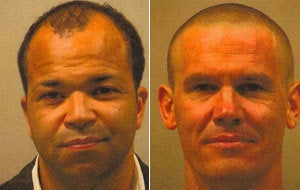 UPDATE:
Thursday afternoon TMZ reported the following:

A spokesman for the Shreveport PD tells TMZ the chief has reviewed all in-car audio and video and found the officers used "professionalism" in the arrests. We're told witnesses at the scene say the arresting officers used extremely foul language -- including the "N" word -- and there's cell phone video of at least a portion of the confrontation.

We're also told other officers heard the offensive tirade, but Shreveport police tell us none have come forward. So far, the Department has not taken any action against the officers.

PREVIOUSLY:
Saturday in Shreveport, LA actors from Oliver Stone's Bush biopic "W" were arrested around 2 am in what has been billed a bar brawl, and Wednesday night new details about possible repeated tasering, pepper spray and use of racial slurs emerged. If the reports of cell phone video existing are true, the story won't end here.
THURSDAY MORNING UPDATE: Shreveport police confirm video and audio from patrol car cameras exists and is being reviewed. Details to come.
The altercation involved Josh Brolin (who plays President Bush), Jeffrey Wright (Colin Powell) and five others.
Late Wednesday TMZ reported the following:
Josh Brolin and Jeffrey Wright, who were arrested this past weekend at a Shreveport, La. bar, were pepper sprayed and tased by cops. And, we're told, police went on a vulgar rant -- and portions were caught on cell phone video.

The incident occurred during a wrap party for Oliver Stone's movie "W" about the Prez. Local station KTBS reports and TMZ sources say Wright, who plays Colin Powell, was repeatedly tasered and pepper sprayed as he lay prone on his stomach in the street. We know witnesses heard the officers using extremely foul language, including the "N" word, directed at Wright.

Our sources say Brolin was observed by witnesses attempting to make peace and standing still as he was repeatedly sprayed in the eyes by cops.
Brolin is known for roles in films like "No Country For Old Men" and "In the Valley of Elah" while Wright won a Tony and Golden Globe for the same role in "Angels in America" and costarred in "Syriana" and Bond flick "Casino Royale."
Popular in the Community