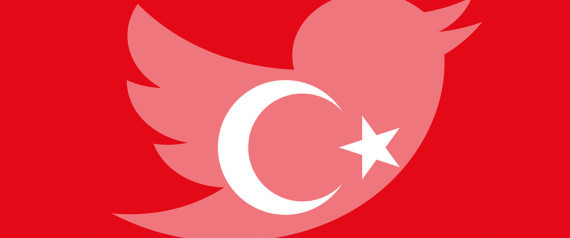 One of the most recent victims of freedom of speech in Turkey is Merve Büyüksaraç, former Miss Turkey, who faces up to two years in prison for an Instagram post that prosecutors claim "insulted" President Recep Tayyip Erdoğan. Charges refer to a quote Büyüksaraç shared from the satirical "The Master's Poem" -- in which verses from the Turkish national anthem are used to criticize Mr. Erdoğan.
We hear similar news every day. It is no surprise that in Twitter's semi-annual transparency report, the Turkish government is a world leader in requesting that Twitter ban certain accounts. Last week, Erdoğan reminded many of us of Cervantes' Don Quixote when he confronted Twitter user "Fuat Avni" with the words "If you are a man, come out, why do you do this secretly?" Using a pseudonym, Fuat Avni anonymously leaks information about the Turkish government and focuses primarily on claims of corruption. He is even believed by some observers to be an insider in the Erdoğan administration!
The surprising development is that Twitter banned the account @fuatavnifuat in January without providing any explanation and Twitter accounts are increasingly banned without justification. It's a challenge to understand what's going on since Twitter announced that it did not comply with any of Turkey's requests for user data only a few weeks ago after banning an account without any explanation a few weeks ago! Does Jeremy Kessel, senior manager of global legal policy at Twitter, still stand by his blog post saying, "Forcing Twitter to use only government-sanctioned speech is wrong and unlawful. It is harmful to the public's trust in Twitter and it violates Twitter's First Amendment right to free speech."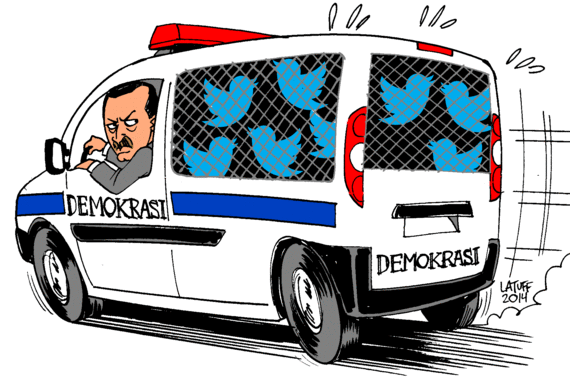 Photo courtesy to Latuff cartoons
Certainly Twitter's importance as a tool for freedom of speech was confirmed in 2013 in the Gezi Park protests, when a civil movement emerged against Prime Minister Recep Tayyip Erdoğan and the Justice and Development Party (AKP). Remember, Erdoğan declared Twitter a "menace" and claimed that "the best example of lies can be found there." Since then Twitter has become a main source of news. We used it last Saturday when the abandonment of the Süleyman Şah tomb took place in Syria. When the security package was discussed in the Turkish Parliament and the Turkish media remained silent, the news on Twitter was abundant. In 2014 Erdoğan was able to block service to Twitter throughout Turkey for a time, before the nationwide ban was deemed unconstitutional, and he is likely seeking new ways to render social media powerless.
In February 2014, the Law on the Supreme Board of Judges and Prosecutors (HSYK) was amended making the judiciary subservient to the Ministry of Justice. "Legitimacy of the court decisions that we are talking about here is very questionable, if not illegitimate," says Burcak Unsal, an information technology lawyer. Mr. Unsal emphasizes that "the court decisions almost always provide neither reasoning or clear specification of the 'crime' committed nor do they provide specification of the violated provision of the law." He also points out that these procedural aspects are contrary to the Constitution and the European Convention on Human Rights (ECHR). "We have every reason to worry that fundamental freedoms will further be undermined as separation of powers and rule of law wither away in Turkey," Mr. Unsal concludes.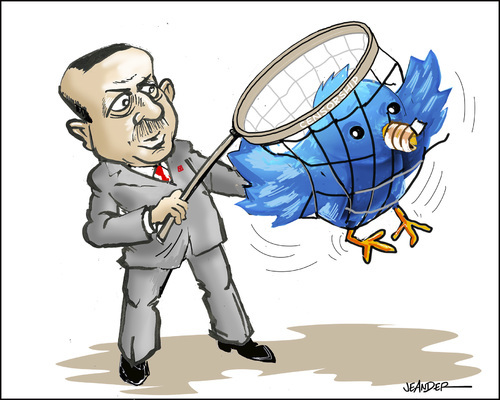 Photo courtesy to Jeander
Since Twitter is designed to provide editorially free media, the authorities only show how helpless they are when they seek to suffocate opposition to their ability to take away the right to free speech. The Turkish government, and Mr. Erdoğan specifically, must acknowledge that Twitter is not a menace -- the menace to society lies in the law when it does not reflect international standards on the right to freedom of expression. Twitter must also make a public announcement urging users not only to protect their own credibility but also to contribute to Twitter's mission of promoting freedom of speech.
We all remember why Twitter was banned in 2014, and, as we know, journalist Sedef Kabaş was detained last December for posting tweets which alleged government corruption. The government ignores the simple truth that banning Twitter will not stop accusations of corruption but that justice, a fair court system and reliable laws can. Human history shows us that wisdom, belief and the desire to learn cannot be banned by any authority. For how long can the truth be banned or imprisoned?
Calling all HuffPost superfans!
Sign up for membership to become a founding member and help shape HuffPost's next chapter