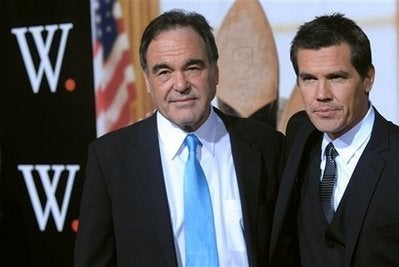 Oliver Stone's much-awaited "W." premiered in New York at the Ziegfeld Tuesday night. Joining Stone on the red carpet were the film's stars, including W. himself Josh Brolin. Here is some of what they told reporters on the red carpet about the current administration, John McCain and Sarah Palin:
"I don't think Sarah would understand the picture," Stone said on the red carpet outside the famed W. 54th St. theater.

"It has a lot of complicated dialogue," he zinged.

"George Bush is an intellectual compared to her."

Stone insists "W." is not an attack on the commander in chief.

"It's very fair. It's based on a lot of research. It was not done with malice," Stone said.

Some of the flick's stars actually think that Stone, who also directed "JFK" and "Nixon," wasn't hard enough on Bush.

"It isn't Bush bashing, but it should be," said Richard Dreyfuss, who portrays Vice President Cheney. "He will have a long and healthy life and hopefully spend most of it in depositions. Hopefully, history will be unforgiving."
"I would not appreciate and not welcome" McCain to this premiere, said Richard Dreyfuss, who plays Dick Cheney in the film. Perhaps playing a vice president gave Dreyfuss a unique perspective on McCain's veep pick, Sarah Palin. "She's not prepared," he told Yeas & Nays. "God help us if they get elected."

James Cromwell, who played George Bush Sr., thinks Bush 43 ran the country like "imperial Rome" and said that all he needs after being president "is a good lawyer."..

Elizabeth Banks, who played Laura Bush, watched countless interviews of the first lady "when [Bush] finally let her guard down." She said she learned that Laura Bush was really "the ying to Bush's yang."

"The movie is more about the relationship between Laura and George," Banks said, "which both Josh Brolin and I believe was very supportive." (Brolin played the 43rd president in the flick.)

Brolin actually went as far as to say that "yes, Bush is smart" but thought that January should definitely be the last time we really hear from Bush.

When asked what Bush should do when his term ends, Brolin said: "Go hang out at the ranch!"
Oliver Stone with Elizabeth Banks and Thandie Newton (Laura and Condi)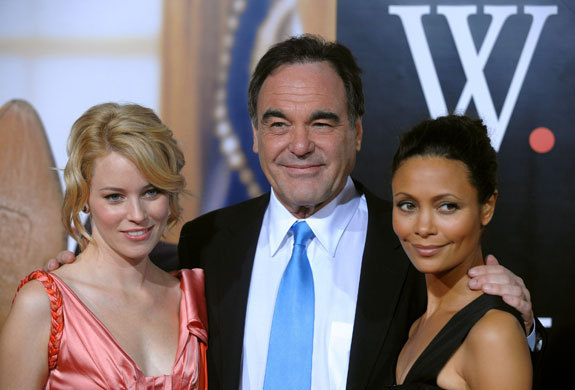 Calling all HuffPost superfans!
Sign up for membership to become a founding member and help shape HuffPost's next chapter