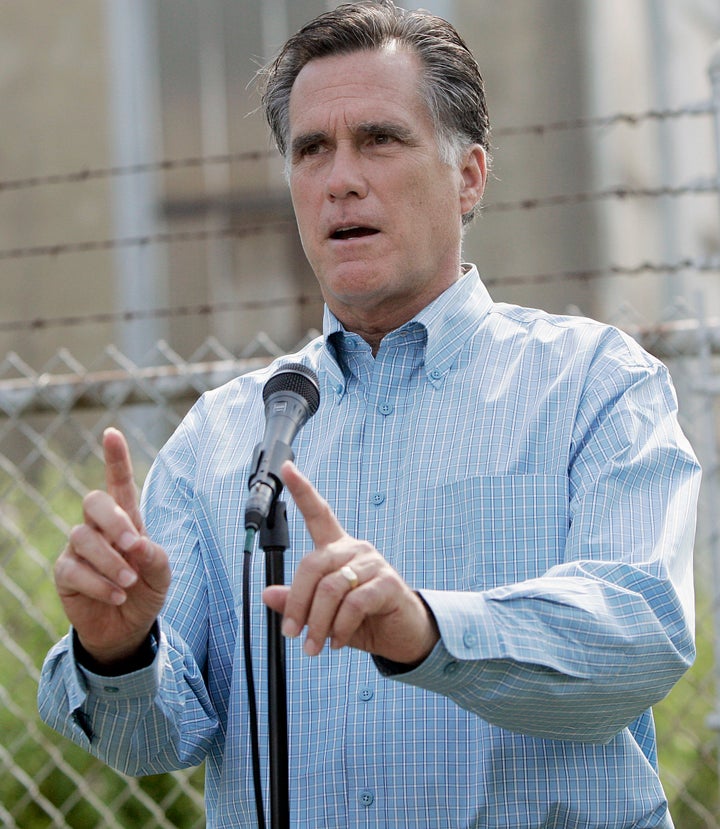 WASHINGTON -- A corporation that contributed $1 million to a political action committee supporting the presidential bid of former Massachusetts Governor Mitt Romney has been dissolved just four months after being formed. The company's fold, and its relationship to the Romney campaign, marks the new contours of the continued breakdown in campaign finance disclosure in the wake of the Supreme Court's Citizens United decision.
The company, W Spann LLC, donated to Restore Our Future PAC on April 28 and cancelled its certificate of incorporation on July 12, according to Delaware state records obtained by NBC's Michael Isikoff.
The company's records were signed and handled by Ropes & Gray lawyer Cameron Casey, a Boston-based expert in estate planning for "high-net-worth individuals and families," according to an official bio on the Ropes & Gray web site.
As Isikoff notes, Ropes & Gray recently represented Bain Capital, the investment firm once headed by Romney. Both the firm and the PAC refused to comment to NBC about the contribution.
Bain Capital's New York office is located at the same address that W Spann listed on its contribution to Restore Our Future. They share the address with Akin Gump lawyer Randy Levine, who is also a major Romney supporter.
Restore Our Future was created by three former Romney campaign staffers to support his bid for the Republican Party's presidential nomination. The committee reported raising $12.2 million during the first six months of 2011, the largest amount raised by any Super PAC.
Super PACs are political committees that can receive unlimited contributions from individuals, corporations and unions so long as they spend only on independent expenditures. Restore Our Future is not allowed to coordinate with the Romney campaign in any way.
The W Spann contribution is one of four $1 million contributions given to Restore Our Future. Two of the other three came from small, unknown corporations and the third from hedge fund billionaire John Paulson. Records filed with the State of Utah for the two corporations did come with some identifying information, connecting them to the executives of the anti-aging product company Nu Skin Enterprises.
The big question for the individuals behind W Spann and Restore Our Future is whether any of their activity is illegal. While it is perfectly legal for a corporation to form and dissolve or to contribute to a political committee like Restore Our Future, it is illegal to use a conduit to contribute to a political committee.
According to Paul Ryan, FEC program director and associate legal counsel at the Campaign Legal Center, "Federal law clearly prohibits making a contribution in the name of another." Ryan explained that it would be illegal, "if the humans behind the straw corporation put money into the straw corporation for the purpose of contributing to the Super PAC. It's illegal under federal law to use a straw donor."
The possible legality of contributions like the one W Spann made to Restore Our Future looks like an oversight on the Supreme Court's part. The Court allowed corporate spending on independent expenditures in the Citizens United decision, but also affirmed the need for disclosure.
In the Citizens United decision, Justice Anthony Kennedy wrote: "Prompt disclosure of expenditures can provide shareholders and citizens with the information needed to hold corporations and elected officials accountable for their positions. This transparency enables the electorate to make informed decisions and give proper weight to different speakers and messages."
"People can set up a corporation give millions to a Super PAC and shut it down before they have to file annual reports," allowing donors to remain anonymous, Brett Kappel, counsel at Arent Fox and an expert in campaign finance, told HuffPost. "This was a natural extension of what the Supreme Court allowed in Citizens United."
Still, Democracy 21 President Fred Wertheimer said the $1 million corporate donations to Restore Our Future "may well be a violation of the campaign finance laws." In a statement, Wertheimer called for the matter to be "investigated by the Federal Election Commission and the Justice Department."
"It takes nine months to create a human, decades for that human to be able to make judgements reaching the level of contributions to political causes, but only a matter of days to create a corporation," Ryan said. "There's a big difference between humans and corporations that the Supreme Court ignored in their Citizens United decision."