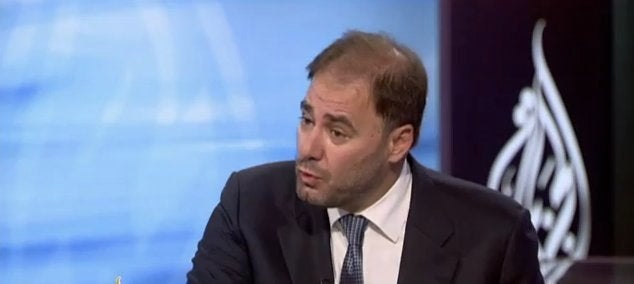 Al Jazeera's outgoing news director strongly denied that his sudden departure from the Middle East's leading news network had anything to do with a WikiLeaks cable which appeared to show that he changed some news coverage in response to United States pressure.
Wadah Khanfar had been running Al Jazeera's news division for eight years when he announced that he was leaving on Tuesday. That same day, a WikiLeaks cable from 2010 surfaced. The cable documented the close contact between Khanfar and the U.S. Defense Intelligence Agency. It also showed Khanfar agreeing to tone down some coverage of the Iraq War that the U.S. objected to:
"He had taken a look at the piece and had two images removed (two injured children in hospital beds, and a woman with serious facial injury). PAO pointed out that the testimony of a "doctor" in the piece also implied that poison gas had been used on residents of Tal Afar and that the appearance of the piece, in particular the bloody bullet hole icons, came across as inflammatory and journalistically questionable. Khanfar appeared to repress a sigh but said he would have the piece removed. "Not immediately, because that would be talked about, but over two or three days," he said.
In a Wednesday interview on Al Jazeera English, Khanfar responded to the allegations that he had been ousted because of the cable. The interviewer gave him a fairly tough grilling about the subject.
"My resignation has to do with the fact that I have completed my eight years," he said. "I think that is enough for any leader and for any manager to give his best."
"My name in WikiLeaks was mentioned more than 400 times," he said. "Our offices are open for all officials in the world," he said, insisting that he would only choose to change coverage if complaints were "professionally sound." He said nobody could ever dictate Al Jazeera's coverage, and listed examples of news programming that had angered American officials.
Khanfar also dismissed suggestions that his replacement — who is a member of the royal family of Qatar, which owns Al Jazeera — was evidence of tightening Qatari control over the network. He said that the network's audience would never allow its independence to be compromised.
"Al Jazeera is not a reflection of any personnel decision," he said, calling his replacement a "great manager and a great director."
WATCH:
Calling all HuffPost superfans!
Sign up for membership to become a founding member and help shape HuffPost's next chapter