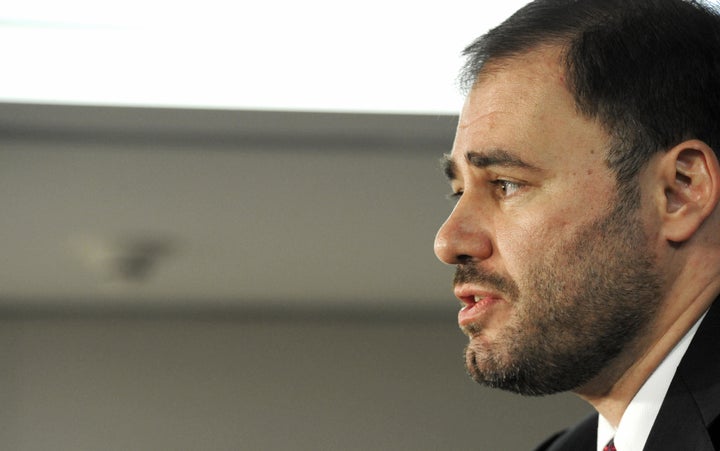 So how does one address the departure in an interview with him -- is it "Congratulations," or is it "Sorry to hear the news"?
"No, it's congratulations," an upbeat Khanfar told Huffington Post in a phone interview from Doha Wednesday.
"For a while now, I've been telling my colleagues that I'd love to stay eight years only, because when you wake up in the morning and you feel that life has become routine, it's not fair anymore," Khanfar said, adding that he didn't want to turn out to be just another Arab leader: "All of them stayed forever."
For eight years, Khanfar oversaw the rise and transformation of Al Jazeera from a little-known and often-reviled network -- famous in the West chiefly for airing the home videos of Osama bin Laden -- to a major international broadcast widely credited with producing the most thorough and informative coverage of this year's Arab Spring. He resigned a week ago amid new claims that he had yielded to American pressure to soften the network's coverage of the war in Iraq, although he denies that the reports played any role in his departure. Meanwhile, his chosen replacement, Qatari ruling-family member Sheikh Ahmed bin Jassim bin Mohammed Al Thani, has left some observers wondering if the move wasn't an attempt by the government to reassert editorial control.
During Khanfar's tenure, Al Jazeera had a complicated relationship with the Arab Spring. Certainly the revolutions, and the attendant surge in public interest in international news, benefited the network whose Arabic-speaking and culturally-adept correspondents were uniquely positioned to cover events on the ground.
On the other hand, the network has been accused by some governments of blurring the line between news agency and advocate -- that they did not just cover the revolutions, but helped to spur them on.
This is a criticism Khanfar does not appreciate.
"I don't like to say that we have been leading [the Arab Spring]," he said. "We are a media organization. ... We did not create revolutions, but we did cover them."
Instead, Khanfar said, to the extent the network took sides, it was in the interest of transparency and openness, forces that he acknowledged may have "empowered" the popular movements.
"My thinking is, Al Jazeera, really did assist the Arab society over the last 15 years in becoming more transparent, becoming more open to other views, creat[ing] a public sphere which did not exist before," he said. "I think that empowered people. Al Jazeera did not involve itself in aiding revolutions or in directing revolutions, but we were at the center of creating a new atmosphere in the Arab world and a new awareness."
And then there is the small fact that Al Jazeera is owned by the government of Qatar, a small Arabian Gulf nation rich in natural gas resources with an autocratic ruling family.
When the protest movements spread to Bahrain, in Qatar's backyard, some observers complained that Al Jazeera was nowhere to be found.
Khanfar conceded that the network's coverage of Bahrain was less thorough than that of Egypt or Tunisia, but faults basic newsroom priorities, not politics.
"We had a few revolutions at the same time," he said.
"We had Egypt, we had Libya, we had Yemen, we had the beginning of Syria. Anything that appears on the screen, the value of it has to be defined in the newsroom: the relevance to the audience, the weight politically and the strategic importance of it. A story like Egypt was much heavier in weight than Bahrain. ... Bahrain was also a huge story with a lot of issues -- the Saudi interference, the Iranian influence and so forth -- but ultimately it was not given the same coverage that other revolutions were given because of the weight of it, and because of the importance and relevancy of it, rather than political pressure."
Khanfar said he and other newsroom employees made the assessment of a given story's weight in regular editorial meetings.
"We were involved on a daily basis in prioritizing and defining the strategic weight of each of these events," Khanfar said.
As for the reports that he'd been forced out over a recently unveiled 2005 American diplomatic cable in which he appears to agree to an American intelligence official's request to remove certain inflammatory images from a broadcast, Khanfar denounced the claim as "rumors."
The episode recounted in the cable, Khanfar said, was just one example of the "hundreds" of times the network had been approached by various government officials asking them to tone down elements of the newscasts -- and a rare instance in which he acceded to the request.
"We were approached on a monthly basis almost, and sometimes even on a weekly basis, by [American] officials, most of the time just to complain about our coverage," Khanfar said.
"The rule we adopted [was] if you have a specific complaint to make, give us the specific complaint. If it is professionally justified, if we made a mistake, we are ready to live with [changing] that. But if you are trying to alter your image on Al Jazeera, Sorry, we are not going to give you this."
The revelation, Khanfar insisted, had nothing to his decision to step down -- it was just time to move on.
"I will continue supporting the cause of journalism and Al Jazeera now is at the peak, I have done my job," he said. "I achieved my target of converting it into an international organization. Let someone else further the cause."
REAL LIFE. REAL NEWS. REAL VOICES.
Help us tell more of the stories that matter from voices that too often remain unheard.