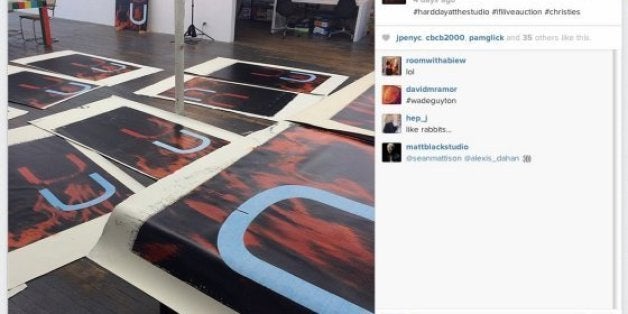 Tonight's contemporary-art sale at Christie's, called "If I Live I'll See You Tuesday," should be unremarkable, insofar as it's selling the same artists who always appear at contemporary-art auctions. There's a twist, though: Christie's is trying to tout this sale as hardcore, dangerous. The house made a slick promo video featuring professional skateboarder Chris Martin and a soundtrack by Awolnation, in which we see Martin snake his way through storage bins, salesrooms, and freight elevators, giving high-fives to black workers and nodding to others preparing works on their way to auction. Martin glides in slo-mo past art featured in the sale: work by Christopher Wool, Wade Guyton, Richard Prince, Jeff Koons, Dan Colen, Cady Noland, John Currin, and other blue-chip names. Christie's crows that this sale has been "curated" by an in-house person named Loic Gouzer and that it seeks to represent "the gritty and underbelly-esq [sic] side of Contemporary Art ... tough, controversial ... built around a mood and an atmosphere ...to convey the darker side of what art can be." I say it's just a bullshit ploy to massage client egos and reel in rubes.
REAL LIFE. REAL NEWS. REAL VOICES.
Help us tell more of the stories that matter from voices that too often remain unheard.