Riveting is an understatement.
The beautifully recounted stories about Beirut's Jews are enlightening, but beg for details about community members who decided to leave their Lebanese homes and lives, mostly unannounced, without having been persecuted, tortured, or killed as in the Holocaust.
Wadi Abou Jamil, the book by Nada Abdelsamad about the downtown neighborhood inhabited by Jews in Beirut, is a rich narrative tracing the existence of countless Jewish families and individuals born in Lebanon, or who'd moved there from other countries, and were free to work, worship and be part of a mosaic of 18 officially recognized religious sects.
"Modern Lebanon's Jewish sect was at its peak in the 1920s. With the creation of the Greater Lebanese State in 1920, it enjoyed legal protection equal to that of other Lebanese sects," said the book's introduction.
The Jews also had privileges short of political benefits, since they lacked parliamentary representation in successive elections.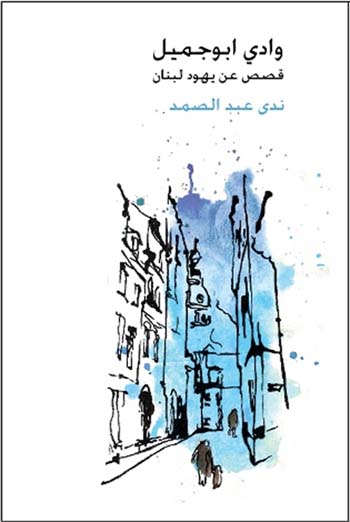 Cover of Wadi Abou Jamil
Dr. Shams, a kindly old physician who treated patients for almost no fee, or in return for chickens and eggs, was the most famous Jewish general practitioner in Lebanon.
He wrote prescriptions asking the neighborhood's pharmacist, Dr. Farhi, to dispense medication at discount rates for Wadi Abou Jamil's needy -- Jewish or otherwise.
His sudden death and funeral drew patients of all denominations to honor a man who had treated them all with equal compassion.
But others like teenager Gamalo Mezrahi left her home and friends in the Jewish Quarter for Israel when her parents decided to pack their belongings and start a new life.
The creation of the state of Israel in 1948 was the turning point for Lebanese Jewish emigration, author Abdelsamad wrote, noting that pictures of pitched battles in what had been Palestine depicting terrified Palestinians carrying whatever they could to flee the oncoming Jewish fighters and settlers filled publications of the era.
Untold numbers of Jews emigrated to Israel from 1948-on, for fear of repercussions against their community.
But others lived through the 1967 Six-Day War pitting Israel against the armies of Egypt, Syria and Jordan, or stuck it out during the Lebanese Civil War, feeling more at home in Lebanon than what they considered an alien Zionist implant in the Middle East.
The 274-page book published by Dar Annahar examines the lives of Beirut's Jews as remembered by their former neighbors and friends. But most of the characters' names were changed due to the sensitivity of the stories and unfolding regional events.
One character's story was turned into a spy movie in Lebanon.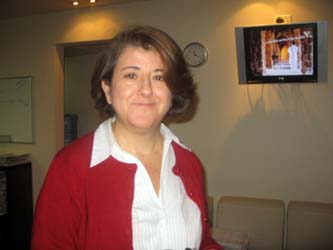 Wadi Abou Jamil author Nada Abdelsamad
The beautiful Shola Cohen worked at a local bank and often entertained well placed government officials in her apartment that was off-limits to her own neighbors.
She also disappeared for stretches of time that people found fishy.
Cohen, also known as The Pearl, was arrested in 1961, tried and sentenced to 20 years in jail for running a spy ring that provided Israel with sensitive information about military formations and other matters.
A few years later she was released and swapped for four Lebanese soldiers captured by Israel across its border with Lebanon.
Ironically, her son Yitzhak Levanon (Hebrew for Lebanon), who was born in Lebanon and speaks fluent Arabic, was named Israel's ambassador to Egypt in November 2009 (http://www.alarabiya.net/articles/2009/11/23/92166.html).
Abdelsamad, the BBC's Arabic-language correspondent in Lebanon, wrote about the country's Jews after she was asked to report on the Shiite community in the wake of Israel's 33-day war against Lebanon in 2006.
Lebanese Shiite Hezbollah fighters who killed three Israeli soldiers and kidnapped two others in a cross-border raid in July of that year triggered the war that crippled Lebanon but that an Israeli commission of inquiry deemed a "failure" for the Jewish state (http://www.washingtonpost.com/wp-dyn/content/article/2008/01/30/AR2008013000559.html).
In Wadi Abou Jamil, Abdelsamad weaves fascinating interlaced histories about families like the Sourours, Abadis, Salamons, Basals, Zeitunes, Sakkals, Lizbonehs, Sassons, Attiyehs, Linados, Shreims, Tagers, and Shoas - Sephardic Jews -- or others identified only by their first names.
An occasional Ashkenazi name creeps into the tales of the community that, for the most part, worshipped at the Magen Abraham synagogue and sent its children to the secular Alliance Israelite School or the religious Talmud Torah School behind the temple.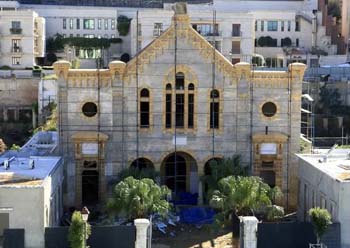 Beirut's Magen Abraham Synagogue today gets a facelift (skyscrapercity.com)
The author's graceful narrative describes the relationships, entanglements and religious traditions of the quarter's Jewish, Christian and Muslim residents.
Her very nimble prose, to be translated and published in English, lends credence to reports that Lebanon once had a thriving Jewish community numbering in the thousands, whose members were very much part of the social fabric.
But some of Wadi Abou Jamil's residents who left as children with their parents during the different waves of Jewish emigration, returned as Israeli soldiers during Israel's invasion of Lebanon and the siege of Beirut in 1982.
While pounding the city to kingdom come and cutting it off from food, water and fuel supplies, they found time to meander down memory lane to Wadi Abou Jamil in search of old neighbors and recognizable landmarks.
"The common thread in the stories about Lebanon's Jews is that they left in complete secrecy," of their own free will, the book's introduction said, adding that news about them stopped after their departure for Israel, Europe or North America.
Many were pressured to join their families in Israel and transited through the eastern Mediterranean island of Cyprus to get there.
One old Jewish woman, Lisa, still resides in Wadi Abou Jamil with her cats. She refused to go to Israel, choosing instead to live with her memories of a once dynamic quarter.
Related
Popular in the Community