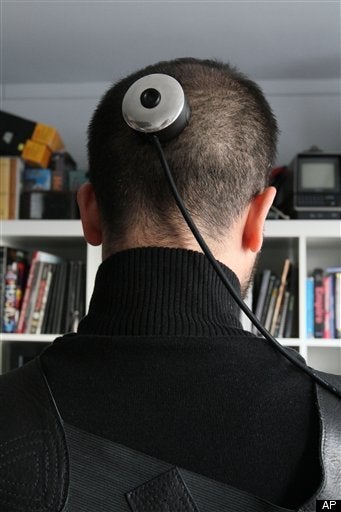 New York University arts professor Wafaa Bilal, who recently implanted a camera in the back of his head, underwent surgery on Friday after his body rejected one of the titanium posts anchoring the device to his skull.
Late last year, Bilal had the digital camera inserted into a two-inch hole drilled into the back of his head. According to The Chronicle of High Education, the body-modification artist who performed the surgery also installed three posts between Bilal's skin and skull to root the setup in place.
Bilal intended to wear the camera around for a year as part of an art project, titled "The 3rd I," commissioned for the opening of the Mathaf: Arab Museum of Modern Art, reports the AP. "But the setup caused constant pain, because his body rejected one of the posts, despite treatment with antibiotics and steroids," The Chronicle now writes.
The troublesome post has been removed, but the other two remain. "I'm determined to continue with [the project]," Mr. Bilal said, according to The Chronicle.
Bilal has reportedly tied the camera to his head and will continue to do so until his wound heals and the setup can be reinstalled.
Popular in the Community