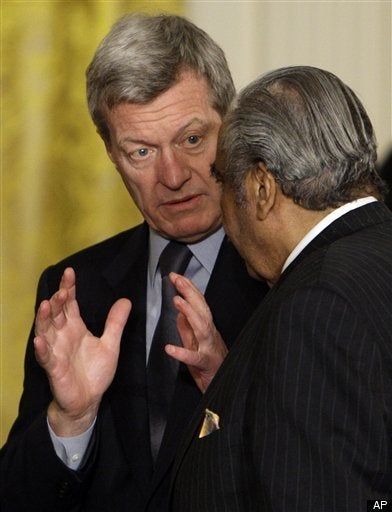 Sen. Max Baucus (D-Mont.) committed to finish health care reform by the August recess in a meeting with President Obama Monday, Rep. Charles Rangel (D-N.Y.) told the Huffington Post.
Obama made it abundantly clear to congressional leaders that the August deadline was crucial to the reform-effort's success. The question of just what Baucus, a key leader of the health care reform effort in the Senate, committed to in the private meeting has been an open one on Capitol Hill. Staffers familiar with the pow-wow insist that the participants agreed to move a bill through the chamber before the August recess, yet Baucus has been his typically cautious self in comments to reporters.
Baucus played it cool Tuesday, saying that the committee would move a bill only when it has an agreement and sounding much like the same Baucus that has repeatedly refused to commit to a pre-August-recess deadline. Instead, he emphasized that it would be finished by the end of the year.
"The goal is to get an agreement and we'll try our very best to get one," Baucus said. "We're going to pass very significant and meaningful health care reform this year. I'm very optimistic and excited this is going to happen. I've always felt we were going to pass health care reform this year. I feel just as strongly now as I always have and this just takes time because it's so complicated. There's just so much involved here."
But that's not what he told Obama, Rangel said. Rangel, who also attended the meeting with Obama, was asked if Baucus had committed during the meeting with the president to get health care reform passed by the August recess. "Yes," Rangel said firmly.
Rangel is chairman of the House Ways and Means Committee; Baucus chairs the Senate Finance Committee.
Baucus still hopes to woo a few votes from Republicans and publicly committing to a firm deadline, which they oppose, could undermine that effort. Yet Baucus' unwillingness to publicly commit to a firm deadline is within the chairman's character. Twisting Baucus' arm doesn't often produce much, a senior Democratic aide noted. "I don't think, knowing him and how he doesn't respond well to pressure, that this is the best route," said the aide.
The timing of the bill's passage is not a small matter. Reform advocates, including Obama, are concerned that allowing the effort to slip past the August recess would sap its momentum.
Baucus has left open the possibility that the bill could be completed before recess, deferring to Senate Majority Leader Harry Reid (D-Nev.). "That's more up to the leader. That's more the nature of a scheduling issue," said Baucus. "It's a lift, but one that we can accomplish."
Reid committed to reporters Tuesday that the Senate would complete its work on health care reform before the break.

Popular in the Community