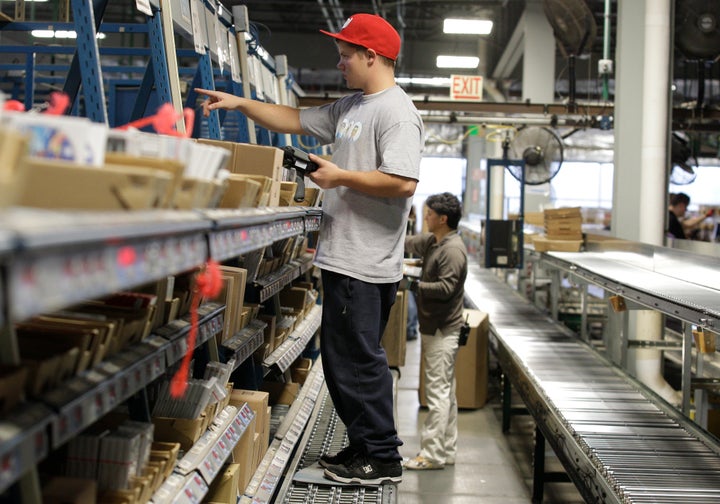 A new report out Tuesday shows that working Americans made less money last year, as real wages fell about two percent in 2011, when accounting for inflation, according to the Bureau of Labor Statistics.

The problem is largely tied to unemployment. Even as the jobless rate falls from recession highs -- dropping to 8.5 percent in December -- the large number of unemployed people willing to work for less has pushed down wages, said Gary Burtless, a labor economist at the Brookings Institution.
"There's never been a postwar era in which unemployment has been this high for this long," Burtless said. "Workers are in a very weak bargaining position."
"Part of the reason why business profits are so high is it is a zero-sum game, so labor is on the losing end of that," said Aaron Smith, senior economist at Moody's Analytics. "Businesses are getting more out of each worker they have." Labor's share of new income has fallen even lower -- to 57.1 percent in the third quarter of 2011 -- and is likely to fall even more, according to Smith.
After mass layoffs, companies have "figured out to get by with fewer people," said Richard Cooper, an economics professor at Harvard.
Chris Christopher, senior principal economist at IHS Global Insight, said that the U.S. economy is now stuck in a catch-22: Companies are not hiring in the U.S. because they do not expect the economy to improve, but the economy will not pick up until companies speed up their hiring. So for now, companies are keeping wages and benefits low while working their employees harder -- because they can.
With negative wage growth, the economy is now depending more on the government's transfer payments to people who are struggling to make ends meet.
"The public sector is having to step in and fill that void," Smith said. "If the labor share continues to decline and we keep throwing more government money at it when we're on a clearly unsustainable fiscal path, what is the end game there? It's not exactly rosy."
Related
Popular in the Community