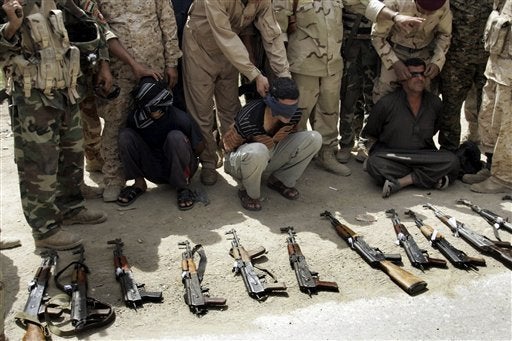 This Memorial Day, as we honor the brave men and women who defended our country throughout history, our thoughts will also be with our troops in Iraq and Afghanistan, and the 35,000 here at home who have been physically injured since those conflicts began.

It's time to extend that honor to those who have sustained the hidden injuries of war.

Today, the wounds we see are often coupled with the ones we cannot. According to a RAND report, some 300,000 U.S. troops are suffering from major depression or post-traumatic stress; 320,000 have sustained traumatic brain injuries.

This isn't about politics, or about the war. It's about the warrior. Most troops wounded in combat are surviving their injuries. They fought our country's battles. Now they fight their own.

Returning from combat to civilian life, many face intense cognitive and psychological issues, fall into substance abuse, experience depression and anxiety. A growing number are severely rent burdened, 500,000 paying more than 50% of their income on rent. Their own personal struggles reveal the larger social issues like suicide and homelessness our nation will be required to address.

We must redouble our efforts to return our soldiers home to the assistance they need to reintegrate into society. We can do this in three ways.

First, education. After we raise the flag, we must raise awareness about the physical and psychological wounds of war, and what's required for injured service members and their families to have successful futures.

We've started talking about the tough issues. But we need everyone to lend an ear. From the halls of government, to community center bulletin boards, to online chat rooms, we must work through every channel to foster an open dialogue that empowers communities nationwide to take action.


Second, investment. We need more money, and proven places to put it.

Financial needs during recovery often exceed what the government is currently structured to provide, forcing those who give up their jobs to be the primary caregiver to bear undue financial burdens. We must move beyond deliberations and pilot programs and compensate those who care for our injured men and women.


Funding is also needed for transitions not covered by the DOD or VA, such as the periods between treatment and rehabilitation, or between active duty pay and VA benefits.

Outside these funding disparities loom larger questions over where precious dollars should be spent, and who should spend them. Local charities have been highly effective in meeting needs government alone cannot.

One charity built a state of the art Warrior and Family Support Center in San Antonio, TX, so injured service members and their families have a place for respite and recreation during their long rehabilitation.

Another in Jacksonville, NC is helping seriously injured soldiers in remote locations adapt their homes with accommodations for therapeutic treatment.

In New York City, a leader in supportive housing is building residences for homeless and low-income veterans, while another is training campus professionals to help student veterans deal with trauma and move on to productive college experiences.

Together, enterprising communities across the country are showing our injured soldiers the impact they can still have and helping them find reward in a life beyond recovery.



Third, collaboration. We must work together to identify, fund and replicate innovative programs like these to serve unmet needs, fill the gaps where government falls short and make existing programs better.

To do this well, we must bridge the chasm between the public and private sector, sharing information across civilian and military cultures and political lines to find solutions.

Changes in the Department of Defense and new leadership in the VA
under General Shinseki are promising, but incomplete steps. The

DOD's new Wounded Warrior program will help us better address the needs of the wounded in the acute phases of treatment and provide much needed non-medical support to families. But funding to track and support injured service members for the long term is still lacking. As our troops come home, we will need fresh ideas, and the broadest level of collaboration, to solve the complex issues related to the return of service members to civilian life.

As we consider those who risked their lives to protect the freedoms
we enjoy, we should consider this: Memorial Day shouldn't end when
the last picnic is over. More than a holiday, it's an enduring symbol of the responsibility we share to ensure that "support our troops" -- including those with hidden injuries -- isn't just a slogan.
When the general orders for Memorial Day were drawn up, it was
written that the people should in their own way arrange such fitting
services and testimonials of respect as circumstances may permit.
The best memorial we could build to America's veterans is a
homefront ready to support them.

Bob Woodruff is an anchor with ABC News and co-founder of The Bob Woodruff Foundation, which provides resources and support to injured service members, veterans and their families. Seriously injured by a roadside bomb while reporting in Iraq, he has returned to the air and covers a variety of issues from around the globe. To donate to the military through his Foundation, click on www.remind.org.
Popular in the Community