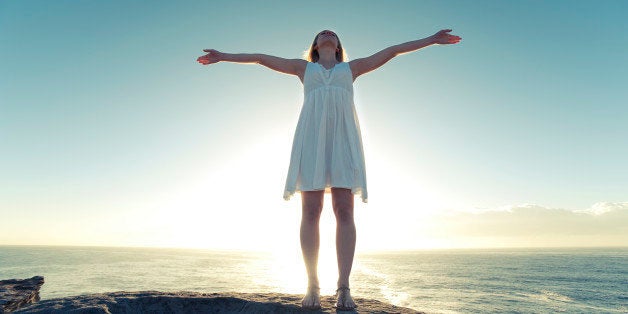 Yes, it happened. For a few blessed, fleeting hours, I actually forgot that I have Type 1 diabetes. I'm not talking about pushing it into the back of my mind, but completely and totally forgetting about it. Everything. From checking blood sugar levels and insulin supplies, to eating and exercise, I had forgotten everything. That harassing piece of my brain that is always active and wondering, what's happening? What's going on? Where are you now? What's your number? When are you going to eat? When did you last eat? Everything is blissfully silent. GONE. Ahhhh. I can just imagine my fellow Type 1 tribe members' wistful sighs.
This has happened to me about 5 times in my 27+ years of living with this monster. For some odd reason, it always happens on a Sunday afternoon, with me safe at home and doing random chores. I'm typically relaxed and stress-free. The weather is cool and I'm perfectly comfortable. Several hours pass and it's dinnertime. I sit down at the table and then it hits me. I have Type 1 diabetes. Oh crap, where's my blood glucose meter? Did I bolus for lunch? What's my blood sugar level? Frantically checking myself on my meter, I always find that my level is about 160. 160? Hmmm. An interesting number given the fact that I have completely ignored everything for most of the day. Because I live a pretty active and random life, I have to run a tight ship with my Type 1 because otherwise, I would find myself in inconvenient, embarrassing and even dangerous situations. So I choose to be a bit obsessive about what's going on. Okay, A LOT obsessive.
Anyway, last night, I had a dream that I was at my high school reunion and we were all in a big building. Suddenly, there was a massive earthquake and our building, with all of us frantically holding on to each other, began slipping down a hillside, landing with a thump. After the shaking stopped and we realized that that we were okay, we began to move toward the exits. Upon opening the doors, we discovered the world was turned upside down and the devastation was unreal.
Suddenly, I remembered my purse. Not that I cared about the purse itself, but what was in it; my lifeline. My ever present diabetes kit which held my insulin pump controller, blood glucose meter, continuous glucose monitor receiver, vials of insulin, glucose tablets and back up syringes. Oh yes, we carry A LOT of stuff because, well, we have to. I often chuckle when I hear new mothers complain about all the baby stuff they have to carry around in order to be prepared. I always think to myself that at least there's an end in sight. For me and those like me, it's a lifetime of packing up supplies with no ultimate end. Even a massive earthquake doesn't silence the drama. But I digress.
Anyway, in the dream, I ran back towards the building amid screams of people yelling to me, "Don't go back inside!" Naturally, I didn't listen and ran back into the reunion room and frantically began searching through the debris for my purse. I found purses of every size and color. And yes, I found other people's diabetes kits, but none of them were mine. I stood up slowly and turned to a former classmate who, by this time, had joined me by my side. After silently calculating how much insulin I had left in my pump, I quietly said, "I have 2 days." I awoke with sweat on my brow.
Yup, whether or not I forget about it, I still have Type 1 diabetes. Damn.