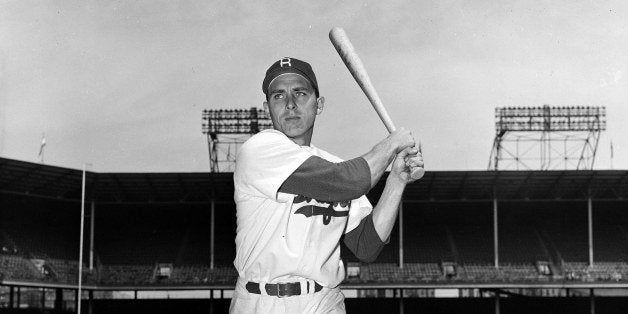 This year while I waited to hear who would be inducted into the Baseball Hall of Fame, a Nathan's hot dog sizzled in my frying pan, its spicy Coney Island smell making my mouth water as the names were announced. When it was over, I was so heartbroken I lost my appetite.
Once again, where was the man who revolutionized defensive play at first base and, during his 18-year career, averaged 30 home runs and 100 RBIs over a 10-year span, had a lifetime batting average of .273, with 370 home runs -- the man who turned the "Amazin' Mets" into world champions. The man who has schools named after him -- even a bridge?! Where was Gil Hodges? It's not fair! How often does a girl have to say, "Wait 'til next year?"
I suppose I should be inured to baseball disappointment -- if you were a little girl in NY in the 50s and rooted for Brooklyn, "Wait 'til next year" was your mantra. I'm a Queens girl, Bayside to be more precise, and when I was that little girl my father's yearly heartbreak became my heartbreak. I'd curl up in his lap and listen to him read the sports pages aloud -- the pain of being a fan relived through the vivid purple prose of the sportswriter.
Finally, in 1955, we were vindicated. "Next year" came. The aging Brooklyn Bums, led by Robinson, Snider, Campanella, Reese and Hodges beat the Bronx Bombers. My father's bums -- my bums -- were champions of the world! We Brooklyn fans went nuts. We danced in the streets, threw block parties and reveled in ticker tape. The sportswriters around the country captured the glory and I was so enraptured by their writing as my father read their columns to me, I didn't know if I wanted to be a Dodger or write about them. I wanted to run like Jackie and write like Red Smith (and later, Dave Anderson).
Years later, after my father died, I thought how proud he would be to know that his beloved Duke, Pee Wee, Jackie and Roy are immortalized in the Hall of Fame. And how frustrated he'd be that the quiet, talented, steady, solid, loyal Gil Hodges -- the one who was never booed in Ebbets field -- wasn't with his teammates. I can still hear my father whispering in my ear: "Don't worry about first, honey, Gil's there. Like Coop in High Noon, he'll stand tall and never let you down."
The great sports writer, Roger Kahn, once wrote that, "The rules of Cooperstown say that selection is to be based on character, integrity, sportsmanship and one's contribution to his team." He reminded us that Gil Hodges was a man who exemplified what's good about America, what's good about us. How can a player with so much ability to inspire such faith not be in the Hall?
I hoped that this year's voting panel would remember how much Gil Hodges brought to the game of baseball as a man and as a player. They didn't.
Calling all HuffPost superfans!
Sign up for membership to become a founding member and help shape HuffPost's next chapter