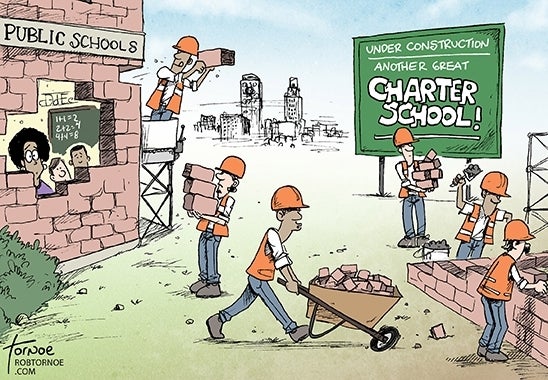 "Waiting for Superman" (2010) was a propaganda movie promoting charter schools. I call this blog "Waiting for Evidence," because the American public is still waiting for evidence that charter schools improve education for urban and minority youth. As you will see here, much of the evidence about the impact of charter schools is already negative.
Next week public comment on the proposal to permit New York State charter schools to hire uncertified, unqualified teachers closes. Soon after that the political appointees on the State University Board of Trustees will most likely ignore public opposition and approve a teacher certification waiver for charter schools. At a time when the demand is that teachers and schools use data to evaluate students and teachers and to inform instruction, the Trustees will make their decision without collecting or evaluating evidence.
The travesty is that teacher certification waiver programs are in place in other states. If the Trustees want evidence, they can study Florida, Ohio, and Michigan schools. Florida is implementing a recently passed "Schools of Hope" initiative that eliminates teacher certification requirements for charter schools. Its proponents ignore the fact that Florida has already been forced to close over 340 charter schools for poor performance. The Ohio Alternative Teacher Certification purports to raise educational standards by permitting schools to hire as teachers anyone with a bachelor's degree with a grade point average of 2.5 or higher (C+). Michigan has a similar program that allows schools to hire unqualified, uncertified teachers.
However, New York better be carefully before emulating anything tried in these three states. Under Republican pro-charter "leadership," Florida's national public school ranking dropped from 5th in 2011 to 29th in 2017. Ohio, 5th in 2010, dropped to 23rd in 2016. Michigan is rapidly sliding to the bottom of state education rankings on student reading scores. Its fourth graders were 28th in 2003, 41st in 2015 and are projected to fall to 48th place by 2030.
In fact, instead of blindly promoting charter schools as the solution to troubled inner-city and unequal minority education, New York State needs to conduct a thorough review of charters in New York and other states. A good place to start is Detroit, Michigan, home base for Trump Secretary of Education Betsy DeVos. DeVos, who was picked for her current position because she is a major Republican Party donor, is a leader in the campaign to undermine public education in Michigan, replacing public schools with charters and voucher-supported religious schools. Michigan's "free-market," for-profit, unregulated charter schools were supposed to improve education in the state. Michigan has the most for-profit charter schools in the United States, while hundreds of other ostensibly non-profit public charter schools are used as investment opportunities by financial gamblers. But an independent review by the Brookings Institution ranked Michigan last among all states in improving student "proficiency." Another study, a 2016 analysis by the Education Trust-Midwest, found 70 percent of Michigan charter schools in the bottom half of the state's school rankings. The study concluded that as a result of "charterization," Michigan had declined from being an average performing state on math and reading tests to one of the worst, in just ten years.
In the Detroit, Michigan metropolitan area we can see the devastating impact of the Trump/DeVos charter school agenda on public schools and children. A New York Times report focused on George Washington Carver Academy, a K-8 charter school located in the vest-pocket independent community of Highland Park. In 2013, the Mackinac Center, a rightwing think tank celebrated the privatization of the Highland Park school system as "unprecedented." Despite being "charterized, Carver ranks in the bottom 20 percent of Michigan schools on the Michigan Student Test of Educational Progress (M-STEP). Since 2008, Carver has been involved in a cheating scandal when "teachers" coached fourth and fifth graders on the answers to standardized tests, and a financial scandal when the school treasurer was convicted of embezzling school funds. Its roof leaks, electronic boards are in danger of short-circuiting, the heating system is erratic, and security doors and cameras don't work. The Times reporter concluded, "Carver probably isn't the sort of institution where most school-choice proponents would send their own children."
Unqualified teachers in unregulated charter schools is definitely not a model for educating children in New York or any state.
Comments can be submitted online or mailed to Charter Schools Institute, State University of New York, 41 State Street, Suite 700, Albany, NY 12207 by September 10. You can also sign the NYSUT email letter. More information is available at the United University Professionals website.
Popular in the Community