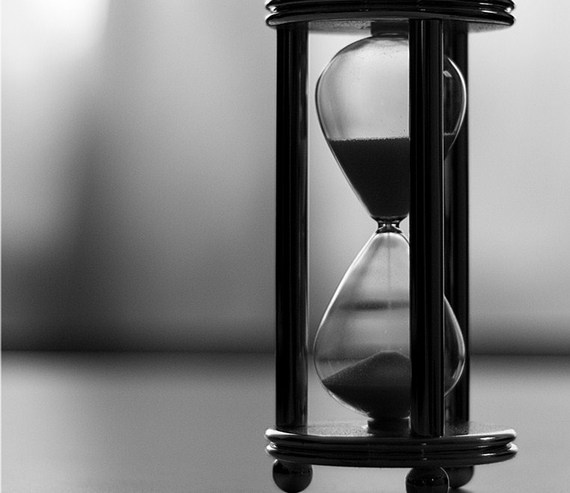 Photo by Plonq
Some people will waste a lifetime waiting for the Gatekeepers. I was almost one of those people. By nature, I'm a rule follower. Even unwritten rules. If there's a way something is "supposed to be done," that's how I'll do it. When I finished writing my first novel, I queried agents. This was the way it was "supposed to be done." And, since I had aspirations of being traditionally published, I didn't give it a second thought.
That second thought didn't muscle its way in for years. That's because I typically espouse a "never give up" philosophy. I also clung to "If you don't believe in yourself, no one will," through 81 rejections. But my believing in myself wasn't exactly convincing the Gatekeepers. The options were clear: move on, or self-publish. I had no interest in self-publishing. I had no interest in giving up either, but I'd be lying if after those rejections I said I still believed in myself.

So I moved on. And after a good amount of sulking, I started book number two. A couple of years later a friend of mine, who'd read book number one, called me to ask if I'd heard of Gone Girl. When I said I hadn't, she said, "I'll be right over. You need to read it."
Reading Gone Girl changed my trajectory. Witnessing the success of a book of that ilk convinced me there was a readership for my book. What the heck was I waiting for? I was so entrenched in my traditional thinking that agents and editors had the first and last word on what was worthy, and what readers wanted (a.k.a. what would sell), I had never considered that a book could be a success without their stamp of approval. Perhaps I should have followed a different philosophy: "You can't win it unless you're in it." The wonderful difference about the time we live in now, as writers, is that we can let the readers decide.
Last summer, I self-published book number one, my psychological thriller. It was released in the midst of the Hachette/Amazon debacle, the timing of which, I believed, couldn't have been worse. Pleas and petitions from traditionally published authors to boycott Amazon were circling the literary world. Articles about Amazon's passive/aggressive tactics affecting writers' careers were awhirl.

I empathized with the authors, many of whom I'm fans of. Some are my friends. They'd toiled away at their craft, doling out copious amounts of blood, sweat and metaphors. They'd finished their manuscript, queried agents, accepted representation, sold their book, released it, and now, after all those unquestionable triumphs, at the exact time they expected to celebrate their book's release, they were met with a brick wall from their biggest distributor. I identified with them. Sort of.

Simultaneously, I was days away from releasing my first book, albeit somewhat differently.

I felt conflicted. My future distributor was flipping the bird to my tribespeople. Should I postpone my release? I called a writer friend of mine. "What'll I do now?" I asked her. "How can I cross the picket lines? How could I do this to those authors? What about those publishers?"
"What about them?" she said. She went on to reiterate the cold hard facts. I had tried and failed at the traditional model. I'd queried agents for years and speed-pitched them at conferences; I courted them on Twitter, and followed them on Publishers Weekly. All of that led to some serious blasé interest which nearly culminated in a solid maybe from one of them. Two publishers read my manuscript, praised, and promptly rejected it. The only thing that kept my manuscript from crashing on my hard drive was Amazon.

I pressed the publish button.
The days that ensued were punctuated by emails and phone calls. One friend reading the book in Hawaii was approached by someone from California who'd just heard about it. News came in that the book was spotted in Duck, N.C. and on a beach in Cape Cod. On an island in Greece, and a bus in Canada, in the mountains of Colorado, at a doctor's office in New York, and in Boston, and on a bench in Nice, France. It soon became the buzz of book clubs and my offer to appear at discussions was snatched up by nearly 60 clubs worldwide. To my amazement, my book had shot up to the No. 1 spot on Amazon three times in twelve months.

The events of the last year have far exceeded my expectations. But, I'm not suggesting the self-publishing route is for everyone. There are many days it's not even for me. Neither am I saying that the events herein have been typical. I continue to be challenged by all that it involves: getting bookstore space, publicity, reviews, readers. But, these are good challenges to have, and I very nearly had none of them. Nor would I have experienced the rewards, if my manuscript remained on my hard drive. Waiting for the Gatekeepers.
Eva Lesko Natiello is the award winning author of the bestseller, THE MEMORY BOX, a psychological thriller about a woman who Googles herself and discovers the shocking details of a past she doesn't remember.
Calling all HuffPost superfans!
Sign up for membership to become a founding member and help shape HuffPost's next chapter