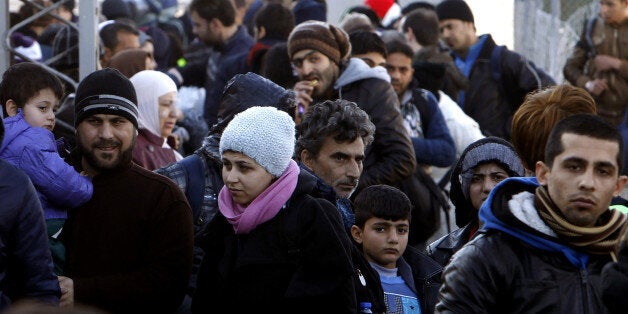 Syrians are waiting. Everywhere. Waiting for the next airstrike. Waiting to cross another border. Waiting for a smuggler to call back to to say if there is room on the rubber dinghy, or worse, if they will have to sail it. Waiting to be rescued in the middle of the sea. Waiting to die ... of starvation.
At train stations across Europe, they're waiting. On bridges, they're waiting. At borders, they are waiting. In forests, in the pouring rain, on the side of highways, they're waiting.
Today, more than 40,000 Syrians are waiting at the Bab al-Salameh border crossing with Turkey after escaping a brutal onslaught by Assad's army shielded by Russian air strikes in Aleppo. The lucky ones sleep in mosques, most sleep outdoors, many without tents even as temperatures drop below zero at night. Already this week, a three-year-old child and an older man froze to death.
And while they are waiting, they're praying for an end to the war that is dividing families; forcing millions to run for their lives; turning people into expendable pawns, all while revealing how deeply divided the world is.
Turkey, which already hosts more than 2.5 million Syrian refugees, more than any other country, and has pledged that it "will not close the doors" on refugees, has nonetheless closed the Salameh border gate citing security concerns and a belief that admitting more refugees is tantamount to authorizing Russia's goal of kicking the rebels out of Aleppo.
On the security question, Turkey said that this week it intercepted people carrying explosives and that at least four suicide vests had been found on a group of four men, 10 women and 20 children on their way through Karkamis in the south-east border with Syria.
The growing perception that ISIS is using the refugee crisis to plant sleeper cells and send them across the world, is compounding the crisis, paralyzing politicians, and emboldening extremists on all sides.
Meanwhile, in Syria, Russia is widening the range of the towns it is targeting. This week alone, Russian warplanes hit around 1,000 targets across the country.
After 5 years of fighting that has killed one quarter of a million Syrians, Bashar Al Assad is hoping to recapture Syria's largest city. More than 500 people have been killed in just over a week. Many by Russia's heavy airstrikes. Entire villages have been emptied in Aleppo. Aid agencies say they are struggling to meet the basic needs of tens of thousands fleeing Aleppo, where supply routes have been cut off.
Almost 100,000 have been displaced by the new offensive and more than 500,000 could arrive from Aleppo province in coming days according to Turkey.
"With every refugee that we accept in a way, we would be contributing to this ethnic cleansing aim," said Turkey's Prime Minister Ahmet Davutoğlu.
Turkey's President Recep Tayyip Erdoğan called it a genocide and accused the international community of hypocrisy, by asking Turkey to let the refugees in, when most countries in the world are not.
Meanwhile, Turkey is also threatening to send the 2.5 million Syrian refugees already in Turkey to Europe. The EU agreed to give Turkey 3 billion in financial aid for the refugees, but two-and-a-half months after the agreement, no funds have been transferred. The Associated Press reports that Turkey has already spent $10 billion on housing refugees, compared to the UN which has spent a mere $455 million.
In this vicious war, political calculations trump people's humanity. More than half of Syria's population has been displaced. Almost 5 million refugees have already fled. This summer, everyone expected the flow of refugees to decrease, but as the war rages on, winter has not stemmed the flow of refugees -- with almost 55,000 people reaching Europe by sea since the start of 2016.
The EU's policy on refugees is schizophrenic at best. France, Britain and their allies at the UN Security Council on Wednesday pushed Russia to end its bombing of Aleppo. This week the EU is asking Turkey to open its border with Syria. But just a few months ago when Turkey shot down a Russian jet that they claimed violated its airspace, the EU had asked Turkey to shut down the border.
This week, Saudi Arabia, a major backer of so-called rebel groups, said it was considering sending ground troops to Syria. Turkey is blaming Russia for the high civilian casualties. Iran admits to sending military advisers to Syria, though it denies sending combat troops. Even as Hezbollah, backed by Iran, has been engaged in brutal battles on the ground, having besieged Madaya for months, and prevented anyone from leaving to get food.
The U.S., which has accepted just over 2,500 refugees, has also played a debilitating role, both through its action, tepidly arming certain rebel groups and inaction. Years ago, President Obama called for the removal of Assad, without any strategy or plan of action and drew red lines around the use of chemical weapons, without enforcing them. Most recently the U.S. is coordinating with both Kurdish militias, as well as Iranian forces on the ground.
Meanwhile,a majority of U.S. governors (as well as the leading Republican candidate Donald Trump) have vowed to ban Syrian refugees from entering their states, and advocated for banning Syrians from entering America all together. This week, Donald Trump said in a town hall meeting that he would proudly look Syrian children in the eyes and tell them they are not welcome in the United States.
In September, President Obama proposed allowing an additional 10,000 Syrian refugees to come to the U.S. over the next year. But it is up to Congress to choose whether to fund the resettlements, and they've taken steps to slow down the process. Although the U.S. has contributed the largest amount of humanitarian aid to Syria since 2011, sending more than $4 billion dollars, simply throwing money or arms at Syria is only compounding the crisis.
Canada's new Prime Minister Justin Trudeau, who was elected to office in November, said this week that his government will end its bombing missions in Syria by February 22.
"Call us old-fashioned, but we think that we ought to avoid doing precisely what our enemies want us to do," he said. "They want us to elevate them, to give in to fear, to indulge in hatred, to eye one another with suspicion and to take leave of our faculties."
Whatever our enemies may want, Syrians are still left waiting, and dying.
REAL LIFE. REAL NEWS. REAL VOICES.
Help us tell more of the stories that matter from voices that too often remain unheard.