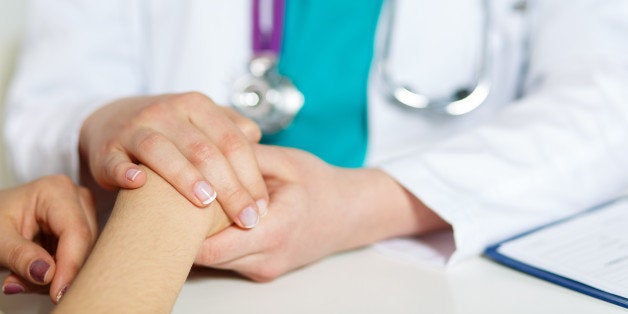 Last week, someone walked into a room and uttered three words that prompted me to burst into tears. Thankfully, they were tears of relief, but in the hour or so before they were spoken, something inside of me was rearranged -- something that I hope widens my capacity for recognizing the practical need for support from those in my midst.
It began with a routine mammogram, something I do each year that always turns out fine. Because I was seeing a new doctor, my previous images took quite a while to upload, requiring me to wait an extended time. I sat with the other white-robed ladies in the waiting room, part of a sisterhood of women sharing their stories and offering encouragement.
My 2:00 appointment with the doctor came and went; I was told that the uploading and radiology required needed additional time for review. What did that mean, I wondered? The faintest alarm was sounded but I let it go without giving it too much attention.
Finally, someone came to get me, saying they had shown my images to the doctor and she wanted additional images and an ultrasound taken of my lymph nodes. It was then that my attitude shifted from hoping I could leave the offices in time to miss rush hour traffic to a subdued, "Oh." Something at my core began to tremble just a little.
The additional images were done and I was told to wait for the ultrasound. As time passed, I watched my mind begin to flirt with the possibility that something might actually be wrong. I felt fine but I realized that every day, women who feel fine sit in these chairs and are told that something needs a closer look. My mind began to run with the What If's. What if it's "something?" What friend would I ask for referrals? What doctor would I see? What would happen to my son, my husband, my work... my life?
Again and again I returned to my breath. In this moment, I am well. If it turned out that there was something that needed to be dealt with, I would, but for the moment, there was nothing to do but wait.
As I waited, I understood in some primal way that thousands of women wait every day in chairs like mine, hoping their remission has held, or that that little lump was "nothing." I began to sense of how little I knew about what so many of my friend's have had to go through even after having spent so much time helping care for my friend Cassandra in the last two years of her life.
A diagnosis, a prognosis, a treatment plan, and the shuffling around of everyday tasks to accommodate the news of something so life-all so enormous. I was flooded with an awareness of how frightening it can be to face a life-threatening illness, not to mention doing so in the absence of a loving network of support as so many have to do.
I thought about mothers with small children staring into a future of doctor's appointments and difficult treatments while trying to figure out who will take their kids to school or help them with their homework. Sitting in that chair I had a deeper understanding of how essential it is that to have a tribe of caring people we can lean on when we are facing difficult life circumstances.
The ultrasound was done by a taciturn technician; no words of reassurance were offered as I lay there focusing on each breath, trying to avoid the temptation to leap into the future.
Finally, the tests were completed and I was told to go upstairs to meet with the doctor. I waited in yet another room in another white robe, realizing that in a few moments my life might be irrevocably changed. I felt broken open in a way I couldn't have imagined just hours earlier, when my biggest concern was where I should pick up takeout for dinner.
Finally, I heard a knock at the door and my doctor walked in. Tentatively, I posed the question: "Did you see something wrong?" She smiled and said, "No, no. Everything's fine." At that, the dam broke and the tears can rushing out as I reached for her hand -- unguarded vulnerability with a complete stranger. And yet she understood so well -- the fragility of being human.
In my case, there was nothing of concern from the get go. The doctor had simply wanted images of the lymph area because the prior mammogram hadn't included them. No one had explained this to me, but that was fine; the experience gave me a greater understanding of my mortality, and a more genuine awareness of what so many people face every day.
I am going to wear the hospital wrist band I was given when I checked in for some time now; I don't want to forget what I went through in those hours -- to live with more gratitude, to do all I can to stay healthy, and to remember that no one should have to face an illness alone.
Years ago I helped a friend with three young children navigate her journey with breast cancer. I was with Cassandra the last three days that she was alive; those two years of being an intimate part of her life opened my heart -- and broke it. My son -- then a teenager -- helped the kids with homework and I tried to offer support emotionally and practically. But it wasn't until the other day when I came face to face with the possibility that I might be facing that challenge that I glimpsed what Cassandra -- and thousands like her -- face each day.
Perhaps we can consider someone in our lives whose burden might be lifted just a little if we offer a a meal or a cup of tea. Life sometimes delivers overwhelming challenges; we simply aren't meant to go through them alone.