Customer-led disruption is at the door. Nowhere is this more apparent than on Twitter. With its exploding user-base, Twitter turned into one of the world's largest brand-consumer communication channels over night. Unlike earlier media revolutions like radio, TV--even the early Web--this channel is 100 percent in the hands of the consumer.
Too many brands have watched painfully as customer questions and issues coming across the Twitter feed multiply overnight -- night after night. Unless they have a way to respond efficiently and effectively, they know that in what Forrester Research calls "The Age of the Customer", they'll face a customer experience crisis beyond belief.
Sure, most brands don't outright ignore the fact that their customers are on Twitter--97 percent use branded Twitter handles. But most of them use the channel as a broadcast medium, Tweeting on average 221 times per week.
What's desperately missing from most brands on Twitter, however, is active, timely response. This is critical because consumer expectations for speedy service are climbing. A recent Lithium-commissioned Millward Brown study shows that consumers will reward brands that harness Twitter's power to meet their rising expectations, while punishing those that fail to respond in a timely way.
Consumers have lofty expectations for how brands respond to them on Twitter: 53 percent expect a response in less than one hour. That figure skyrockets to 72 percent when it involves a complaint. What's more, the downstream effects of poor responsiveness on Twitter can be truly damaging. After a poor response from a brand over Twitter, most users are willing to take unpleasant action--everything from closing their wallets to shaming the brand through social channels.
Good news for brands that get Twitter response right
However, brands that recognize and meet rising consumer expectations by responding in a timely way have an opportunity to differentiate themselves and achieve serious results.
When
over Twitter:
34 percent are likely to buy more from that company;
43 percent are likely to encourage friends and family to buy their products;
38 percent are more receptive to their advertisements;
42 percent are willing to praise or recommend the brand through social media.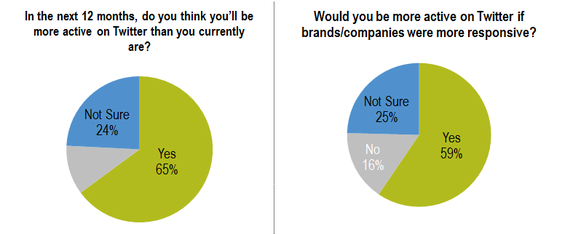 It's time for brands to wake up and realize that social response is the new real-time marketing, particularly since our survey also revealed that Twitter usage is only going to increase over time. In today's complex omni-channel, multi-touchpoint economy, brands can't afford to point a finger to the next bin over and cry, "Your fault!" If you touch the customer experience in any way, anywhere, you own it.
Twitter understands these trends and is taking responsibility for closing the gap between consumer expectations and brands realities. They didn't just throw up their hands and say: "We're not responsible for unsatisfactory brand-consumer experiences." Instead, they established the Twitter Certified Products Program, an invitation-only program for best-in- class products, like Lithium Social Web, that help brands get the most out of the Twitter platform. They're working with companies like Lithium to improve the brand-consumer experience on Twitter, which after all, is a Twitter experience, too.
In this program, everyone who touches the customer experience on Twitter works together to make it better -- Twitter, Lithium and the brands we serve. And the brands Lithium serves --like Time Warner Cable, Sky and Globe -- are turning the avalanche of customer need on Twitter into a customer experience advantage. They catch, respond and engage with millions customers effectively and consistently using Twitter-certified Lithium Social Web. These brands are differentiating themselves on customer experience in the process.
A good experience over Twitter is good for everybody. Twitter certification is about a smart company reaching out to their ecosystem to help deliver better, more satisfying customer experiences and we're glad to be a part of it.