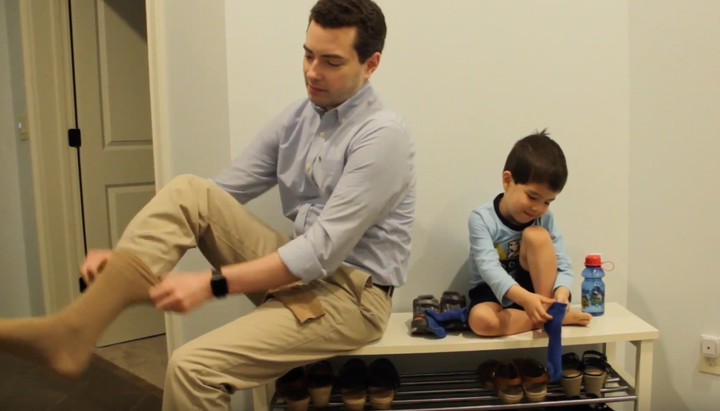 There are things we do, like how we put on our socks or load the dishwasher.
Then there is who we are — like the color of our eyes, the shape of our face, or the laugh that sounds like our mother.
And now there is proof that resilience, that ability to bounce back, is sometimes hardwired, part of our genetic blueprint.
Maureen Randall has been homeless most of the past year, after she and her daughter lost their apartment to a flood.
"I'm currently working on my qualifying exam." While homeless, she was also working on getting her doctorate.
A few miles away in downtown Atlanta, another study participant, Tedrika Thornton, is talking about the day her ex boyfriend tried to set her on fire.
"He threw gas on me. I was screaming. I couldn't see. My sister in law kicked in the door and he ran. The lighter he was flicking didn't catch."
Through therapy, Thornton has recovered and is a plus size model.
Thornton and Randall were part of a study from Emory Brain Health Center, conducted of over 25 hundred people in the Grady Trauma Project, which studies PTSD. Twelve to 15 percent of participants had an already discovered genetic marker known as rs322931. People with this marker reported higher levels of psychological and spiritual well being and greater purpose in life, despite personal difficulties.
Neurologist and Geneticist Doctor Thomas Wingo is one of the heads of the study. "It shows a genetic basis for why some people are able to bounce back from adverse events."
The other head of the study psychiatrist Doctor Aliza Wingo. "Positive emotion and purpose in life, those are the building blocks of resilience. They're also the building blocks of psychological well being."
Together, the Wingos discovered that resilience can dramatically impact health.
Doctor Thomas Wingo says, "The people carrying that marker had a lower rate of cognitive decline in advanced age."
And this is how the Wingos, husband and wife, came to partner in this research. Thomas Wingo researches early onset Alzheimer's disease. Aliza Wingo studies resilience. The two work at Emory Brain Health Center and the VA medical center.
What the Wingos have discovered is that being resilient can lower your risk of dementia or Alzheimer's Disease by up to 50 percent.
It also lowers the risk of heart attack, stroke, even depression.
Doctor Aliza Wingo explains that if you don't have the marker, hope is not lost. "The other 80 percent of people might have a marker that makes them resilient that we haven't found yet."
Because it was a double blind study, Neither Maureen Randall and Tedrika Thornton nor the Wingos know if they have the marker, but both are powerful examples of resiliency.
Recovered from her abuse, Tedrika says, "I think I'm really strong, so I know I do have it in me."
Maureen says, "It's taught me that troubles don't last forever and if you keep a positive attitude things will eventually work out."
Proof that your outlook on life, can change the outcome.
Related
Popular in the Community