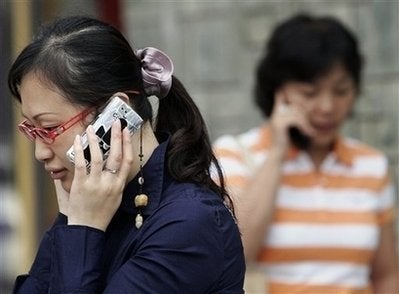 The best and brightest U.S. entrepreneurs might have to take steroids to keep up with their counterparts in China. For energy, motivation and raw talent, American entrepreneurs just cannot compare.
One of the superstars of China's digital media boom is Joe Chen. A maverick entrepreneur who reads Warren Buffet and Jack Welch books in his spare time, Chen just raised a record sum -- $430 million! -- to ramp up his startup. It's an all-in-one Facebook, MySpace and YouTube look-alike called Oak Pacific Interactive.
If you think it's been easy for Chen, watch this video and see how he's had to face layoffs and sudden market shifts due largely to new government regulations. It's all part of his struggle to find the "right DNA" to make Oak Pacific grow, Chen says, as "strong and sturdy as a Sequoia tree." And to also wrestle with his own human nature to want to take on too much at the same time! Chen himself says one of his character failures is an inability to spot risk -- that's true of the best entrepreneurs anywhere. For to achieve something extraordinary, you must do something "extra-ordinary."
Here's some additional takeaways from interviews with Chen for Silicon Dragon (see www.rebeccafannin.com) on his best entrepreneurial practices in China:

1. Production Innovation by Trial and Error
Chen keeps his young company in a constant state of new product churn as a way to test new ideas. He has a knack for figuring out what works, and can just as quickly give a website the go-ahead as he can ditch a brand that doesn't look like it will make it. Chen has juggled as many as a dozen brands.
2. Outsmart big, well-known multinationals
Chen runs the biggest Facebook-like brand in China, Xiaonei.com, plus several other leading Web 2.0 brands. Now that Facebook is about to enter China and MySpace already has made its entrance, how will Chen survive? Chen claims he's not worried at all. He has the home court advantage and knows what local consumers want far better than any multinational corporation run from overseas can figure out. Chen has a running start on these rivals. And that $430 million is earmarked to build out his Web 2.0 empire with acquisitions and beat international rivals to the goodies.
In the race to go public, many entrepreneurs forget the fundamentals and end up seeing their stock prices fall after listing.
Oak Pacific Interactive has been forced to twice delay a public listing -- but is still gunning for a grand exit strategy. (Be on the alert, investors!) The first time, CEO Chen stalled to deal with new government regulations that cut into his firm's profits. The second time, he delayed to build a stronger core focus to his multiple business lines. Both moves should pay off with a better market valuation -- when the company is acquired, merged or goes public.
On the tactical front, here's a few more tips from Chen:
4. Don't be afraid of hedge funds
Early this year, Chen knocked on the doors of some hedge funds. Sure enough, his latest financing includes some money from this group of investors, who are usually a source for a quick turnaround but not a long-term strategy for empire builders. But who's to argue with the market valuation that Chen got -- a 35% stake from investors for $430 million? His company is worth as much as several high-fliers on NASDAQ.
Stretch a dollar (or RMB) to the nth degree. As one example, when Chen and his team were running short of cash as they raised money back in 2005, he and his cofounder James Liu bunked in a cheap hotel room they bid for on Priceline.com. They work side by side in a cramped office in Beijing that also houses the CFO and COO. No walls, doors or secrets here!
For every Joe Chen in China, there are dozens of entrepreneurial stars in the making in China. Indeed, this new, switched-on China entrepreneurial era reminds me so much of scenes in Silicon Valley during the dotcom boom. It's little wonder that China has the fastest growing venture capital market in the world, and that investors from the U.S. are today looking for the next Steve Jobs in the Middle Kingdom. Already, more than $9 billion has been invested by venture capitalists in search of the "next, new thing" in China.
This gold rush to China coupled with fast growth in new made-in-China patents and homegrown entrepreneurial smarts should keep tech hotspots in the U.S. buzzing for many years to pick up the pace of innovations -- and to pump up the adrenalin.
Popular in the Community