Excerpted from "Waking Up From War: A Better Way Home For Veterans And Nations", a new book by Joseph Bobrow. Foreword by H.H. The Dalai Lama
It's January 2007, the first moments of our first Coming Home Project retreat, an opportunity for veterans and families from around the country to come together to share stories and support one another. We gather for our first circle, thirty-three veterans and family members from seven states, with four facilitators. In the opening moment of silence, as we remember those unable to be with us, Ben, Stefanie and Michael's three-year-old son, is playing with Isaiah, also three, around the edges of our circle. Amid the reverent quiet, we hear Ben say, "My daddy died in Iraq." We learn later from Stephanie that Michael actually committed suicide six months after returning home. Out of the mouth of babes, the first words spoken at a retreat have their own truth: something inside Michael did die in Iraq.
As I reflect on Ben's words, I see the roots of what would blossom over the following six years: In a safe space, short on judgment and filled with compassion, an environment where trust and belonging prevail, veterans and families would express their truth, their experience of war. Toddler Ben spoke to everyone and we heard him loud and clear. He laid the groundwork for a weekend of truth-telling and a reliable path to healing the traumas of war.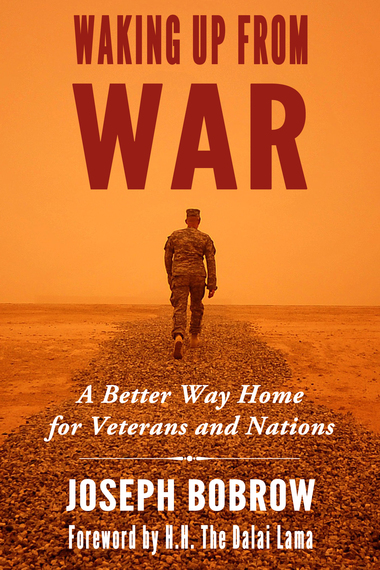 Given the chance, veterans and their families want to reconnect and heal. It begins as they come together with one another as fellow veterans, spouses and partners, children and teenagers, parents and grandparents, siblings, uncles and aunties, finding and creating affinity. In an atmosphere of safety it spreads; family members rebuild bridges, and everyone begins to connect with something inside that has gone untended.
Ken Sargent, a Marine master sergeant, and Rory Dunn, an Army specialist, are Iraq veterans who both sustained severe traumatic brain injuries that required life-saving and massive reconstructive surgery. Ken was shot in the head, Rory was hit by an improvised explosive device. Both also suffer from post-traumatic stress. As people mill around, Rory and Ken meet for the first time, up close and personal. Since neither can see very well, they touch each other's wounds, comparing scars and injuries. They are long-lost brothers. The process of making emotional connections palpable has begun.
Rory was angry and bitter. It wasn't just the open head injury that cost him the sight of his left eye and that resulted in a brain composed partially of plastic filler. He was also upset about the buddies in his unit who died in the massive IED (improvised explosive device) attack on his twenty-second birthday, and about the associated failures in leadership. "No one but a vet can understand another vet" are his first words. But at the end of the day, he says to a civilian volunteer, "You're alright." As he is leaving, I notice a scrap of paper on the floor near his seat, pick it up, and ask if it's his. He says, "Yeah, it's nothing." I look at it and see a note, with three family trees. I ask him about it: "It's all the people back home blown away by my buddies' dying." I look and see the words: "girlfriend," "baby," "church members," "mother," "father," "sister," and so on--three little stories, three little family trees. Radiating impacts that eat at him. Although Rory sustained a severe traumatic brain injury and post-traumatic stress, given the chance, he reclaims
not just the piece of paper, but an important part of his emotional life. He is able to leave with a measure of hope and trust.
War trauma is like an IED blast. The sonic waves radiate out on multiple levels simultaneously, fragmenting the intrinsic connections within the warrior, his body, brain, mind, and soul, fragmenting his family, social supports, relationship with his community, the organizations charged with his care, the institutions and leaders responsible for protecting the country, and the entire culture. Repairing this pervasive fracturing means regenerating capacities for connectivity at every level, waking up from the dissociative fog of war that enshrouds all the players in this devastating cycle, transforming the traumatic residues, and learning from experience. In this book, I demonstrate how this healing and awakening can be accomplished and where and why it often fails.
Visible injuries, including amputations and disfigurements, are today being remedied with astonishing medical advances. Not so the unseen wounds, including closed-head mild and moderate traumatic brain injury, post-traumatic stress, and pervasive moral and spiritual injuries. One service member per day takes his or her own life. The rate is 18 per day for veterans. More service members have died over the past two years at their own hands than on the battlefield. For every service member killed in the war zone, 25 veterans are dying by their own hands.1 Post-9/11 veterans are not a breed apart. They reside in our neighborhoods. They toil alongside us in the workplace. Their children are our children's schoolmates; their wives and husbands, mothers and fathers, wait with us in the checkout lines at the grocery store. They fill our community and state colleges and universities right alongside the sons and daughters of civilians. Veterans are in our prisons, our courts, our public health clinics. They live on our streets, show up in homeless shelters, and participate in substance abuse and domestic violence programs. Their rates of homelessness, unemployment, and suicide are significantly higher than the national average, and they are keeping our law enforcement rapid response units busy. Nearly 40 percent of veterans suffer some mental health impacts of service or traumatic brain injury. Many are also superbly qualified leaders and civic resources who must overcome multiple obstacles to find opportunities to serve in the civilian world.
Throughout history, warriors have returned bearing visible and unseen scars. But today--after the longest wars in U.S. history--our entire country is shell shocked and benumbed. As veterans navigate the road home, they see few signs of shared sacrifice on the home front and often feel alienated and misunderstood. The burden of these wars has been dramatically uneven: less than 1% of our population, about 2.8 million people, have served in Iraq and Afghanistan. When we factor in extended family and close friends, the number of those directly touched by these two wars is closer to forty million, still only about 12% of Americans. The majority has not been asked to sacrifice for these war efforts. Ordinary people throughout the country, however, do bear great good will toward our service members and veterans and many have a compelling desire to do right by them.
In my experience most civilians are keenly interested in communicating with veterans and their families--in both learning from them and sharing with them. Veterans and their families are surprised and buoyed to experience the genuine concern of civilians. With opportunities to bridge the military-civilian chasm, veterans feel less isolated from the rest of society. Our first weekend workshop was preceded by a community gathering of 250 people at First Congregational Church in Berkeley. Presenters were military officers, Buddhist teachers, veterans, spouses and poets. Although a few attended to see whether a fight would break out among incompatible presenters, it didn't. To the contrary, the diversity made for an inspiring, heartwarming, and heart wrenching evening. The next day, workshop participants who had been in the audience said they were surprised so many people cared enough to come out to hear what they had gone through. One said he woke up the next morning "with the wind at my back."
The two undeclared but very real wars we have all been enduring have fostered a numbing sense of unreality. Until a few years ago, the country was prohibited from seeing the coffins of the fallen arrive back home. Body parts of those killed were discarded or destroyed and not included in burials. Media coverage of American and civilian losses was tightly managed. Now we are coming face to face with the costs, including alarmingly high suicide rates, high rates of substance abuse, violent episodes at home, and atrocities in the war zone.
A New York Times article reported that an attack by American helicopters that left 23 Afghan civilians dead was found to be a mistake caused by an undigested "swirl of data."2 The nature of war has changed, with a growing emphasis on "surgical" and tactical strikes and the use of drones. More and more American Air Force pilots go to war by sitting in front of a series of screens, right here in Nevada, New Mexico and California. Not surprisingly, some service members have great trouble focusing--and even more importantly, some become desensitized and prone to glaze over--a modern variant of the old "thousand-yard stare," a phrase popularized when Life magazine published a painting by World War II artist and correspondent Tom Lea portraying a marine at the Battle of Peleliu.
For airmen who operate drones thousands of miles away, the stress lingers when the shift is over. Anthony, an airman first class, says his "brain hurts each night" when he returns home. He tries working out but what actually helps the tension ebb is "just being able to enjoy a nice bowl of cereal with almond milk." Video games, the activity of choice for many veterans, don't do the trick. "I need something real," Anthony says.
That something real, I have learned, is actuated by reconnecting in a safe community of veterans and families. For seven years my colleagues and I have been working with thousands of returning troops and their family members, helping create just such a community. Community grows a connective social tissue where the unseen injuries such as post-traumatic stress and traumatic brain injury can be safely addressed. "Something real" is discovered by coming alive to the beauty in the great outdoors, hiking the Sierras, journaling in a grove of old-growth Redwoods, or rafting down a river. It is coming back to one's body, to the present moment, through wellness practices like meditation and qigong. It is learning to laugh again with buddies, with partners and children.
Much of the primary material in the book is drawn from a unique source: nationally recognized, research-proven reintegration retreats that create trust, belonging, and camaraderie, where veterans feel safe enough to open up with one another about experiences they have rarely if ever shared with anyone else.
As a psychoanalyst (and as a patient), I had experienced the transformative power of the emotional connections that develop in the consulting room. My intuition told me they could be cultivated in a non-psychiatric, community building setting characterized by unconditional acceptance. But I did not anticipate being moved to tears in the moments before our first retreat when I saw Kenny and Rory come up to within inches of the other, straining to see, and then spontaneously trace with their fingers the contours of one another's scars. They wanted to make contact, and we were providing the opportunity for them to do just that.
My friend, psychoanalyst Jean Sanville, called this "reparative intent" and said we all have it. We are wired to connect. She liked to quote child psychiatrist Rene Spitz, "Life begins in dialogue and all psychopathology can be seen as derailment of dialogue." War represents just such an unraveling of natural connections and the capacity to make them. But this ability can be restored, when the right ingredients are present. That is what I set out to do with colleagues in 2006 when we founded the Coming Home Project.
REAL LIFE. REAL NEWS. REAL VOICES.
Help us tell more of the stories that matter from voices that too often remain unheard.