Time to Rise – Ask the Author Series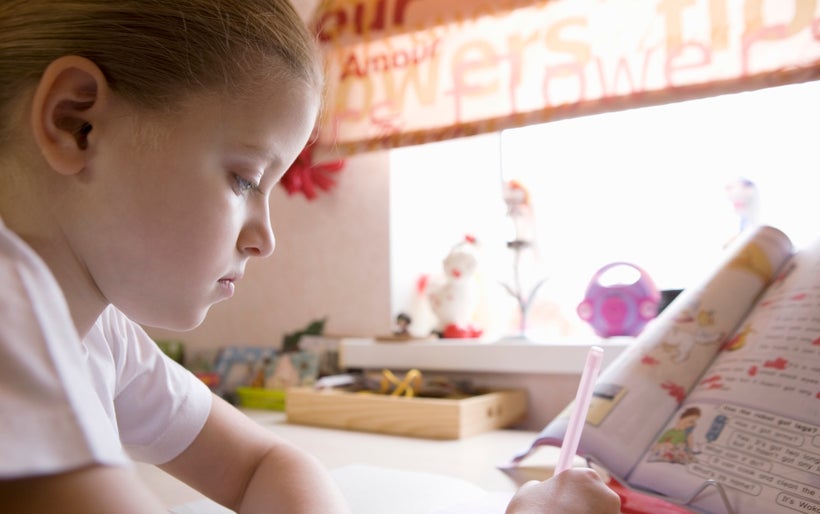 Once upon a time there was a little girl that behaved well and looked like a little girl 'should'; who received on her report card of straight A's, a comment that said, "Talks too much in class". As an adult, Dr. Jill Stocker began to wonder if this was the trigger point for when she began to shut down and suppress her authentic self.
I have recently had the privilege of working with Jill, and 28 other soul-led change-makers, to publish their personal stories of rising up and sharing their voices. Our collective effort is the book, Time to Rise, which I couldn't be more proud of.
Today I am delighted to share with you an interview with Time to Rise author, Dr. Jill Stocker, that I hope will inspire you to follow your dreams.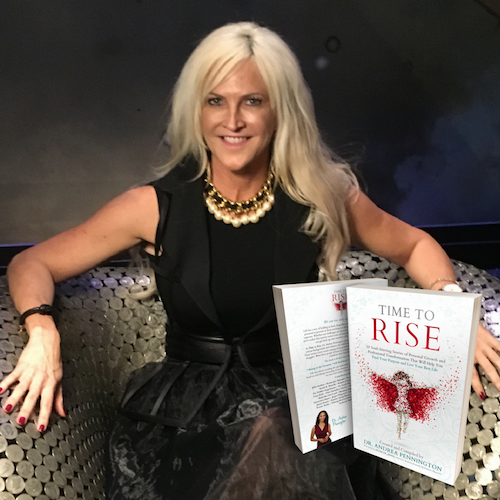 Dr. Andrea – So Jill, in your Time to Rise story, you tell us how you used to be the typical 'good girl'. You followed the traditional path of career, marriage and kids. And you tell us that it was only after doing these things that you really started to find your true voice.
So can we kick things off from there? Tell us about that.
Dr. Jill – Yes, I really was so shut down for so long. I didn't talk. I didn't really have a 'voice'. I didn't share with people – and I hated public speaking! I would get super nervous before doing something like this. And now I just want to shout from the rooftops!
Dr. Andrea – Something I found really interesting when we first met was your reaction to me – a doctor who shared my own story of depression. I remember you telling me that you always felt you ought to be perfectly poised and well put together to be seen as a serious doctor – and you know I had a similar issue in the past. So that was something we connected on.
Dr. Jill – Actually, I remember the first time I saw you. It was on a Facebook Live, and you were sharing something personal about depression, and I remember thinking, "Wow. I can't believe she's talking about this stuff!"
It felt as if you had crawled into my body and experienced the same feelings that I had. I heard you sharing some vulnerability and thought that was so courageous. That helped me to open up.
Dr. Andrea – So when you were really shut down, what was life like for you? Can you take us back there?
Dr. Jill – Well, I had a great upbringing; family, parents, education. But I was always just checking off the boxes of life. I knew I wanted to help people, and always thought I would be a Doctor.
After my last child I had postpartum depression. It wasn't easy to open up about, but gradually I learned that some of my friends had been through it too. We just hadn't talked to each other!
Things started to change when in my practice, I had some patients returning to me who I hadn't seen for a while, with suddenly loads of energy, great health, and even healthy weight loss. I asked them what they had been doing, and they spoke to me about working with a hormone doctor.
So I thought, "What is this stuff?"
In medical school we only learn traditional medicine.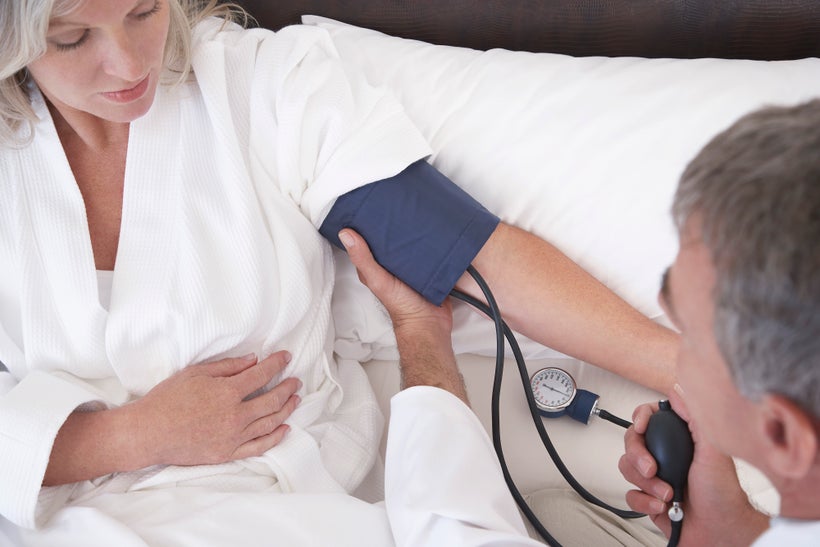 I started to learn more about hormones and health, and I myself became one of my first patients. I was a candidate because my test results all looked good on paper, I seemed healthy. But, partly because I was a busy working mother of 3 kids, I was very tired. My hair was falling out and I was just kind of going through the motions of life, telling myself it was all normal.
I spoke to a hormone doctor who told me my thyroid was the main issue. And the first day I took the medicine prescribed for that, I felt like I had suddenly woken up.
I didn't realize I had been in a fog all that time until I was out of that fog. This felt like the missing puzzle piece, and the start of my awakening. This is where I started to question my life choices. As I had been in a fog, going through the motions of life, now I wanted to ask myself what I really wanted to do.
As I found how quickly and well focusing on my hormones was helping me, I wanted to share this and make it part of my work too.
So as I went on with my own treatment I found that testosterone was another hormone I was low on. And that one was a game-changer too, in terms of my confidence, muscle tone and overall well-being.
Dr. Andrea – And a lot of people think that testosterone is only for women who want to bulk up, or men with erectile dysfunction. But actually, it's worth sharing here that all women produce testosterone naturally, and it's really important for our sex drive too.
Dr. Jill – This is so true. And moving on to my work now, I have become known as 'Juicy Jill" - the doctor who helps people get their juiciness back again!
Of course there are laughs around this word because not everyone is comfortable talking about this part of life at first. But generally, and more so with my female patients, once I get their hormones optimized they will have their sparkle back, and might even tell me they are feeling "juicy" too. And that's the best feeling for me, to see people get their sparkle back.
Dr. Andrea – So when you had followed life's script for so long – what happenned when you start to get these rumblings deep inside telling you there was more to your life that you had experienced so far? It's been a long process, right?
Dr. Jill – A really good friend of mine, a few years back, told me that she saw sadness in my eyes. I hadn't talked about my awakening to her at that point – but what she said made me think, "Wow, somebody actually 'sees' me." She sensed something, and that was powerful.
So now I like to ask my clients about their dreams; about their passion. It's not the 'typical doctor' question, but I want to hear their story. Of course I do get their medical history and everything I need, but then I move onto their dream. I see my patient's eyes light up, and I know that they know I 'get it'. I can even share some of my story with them, and I no longer worry that not being poised and 'perfect' doesn't make me any less of a Doctor.
Dr. Andrea – Isn't it amazing that sharing something of ourselves, without any agenda, can let others know that, "Hey, I'm human too." And that opens up the conversation and allows you to help set other people free.
Dry Jill – Yes! And I know that it's all still just unfolding for me. There is still more to come.
Dr. Andrea – What I've picked up the most from you on the most recent part of your journey is that you feel alive now. You are so much more vibrant.
Dr. Jill – Having opened the door to my true self now, I'm amazed at how many opportunities there are. And it's so exciting!
It's not all perfect and doesn't all go well – and I've realized that it doesn't have to be perfect. Sometimes when things are messy, that's when we are having the most growth.
For me, I would rather feel uncomfortable and emotionally alive than completely numb and dead inside.
Dr. Andrea – So what's next for you, Jill? I remember when you were thinking about joining the Time to Rise book project, you said that if you started sharing your story with the world, you might never stop. And I sense this is only the beginning… So what is your dream now?
Dr. Jill – I'm living it! My one-on-one work with my patients is really important to me and I don't want to stop doing that.
Something I am thinking about is helping to bridge the gap between the generations. Thinking about the time when my Mom went through the change, it wasn't treated a menopause, she was given anti-depressants – which she had a horrible reaction to! My Mom ended up feeling suicidal from her treatment.
I want people to know that it's never too late to change something. If you feel a rumbling to follow a dream, then you can follow it. You can create something new.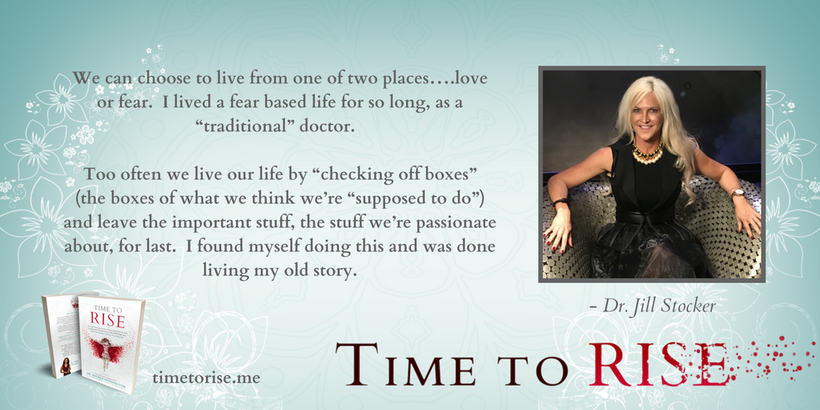 If you would like to learn more about Jill, check her out at JillStocker.com and sign up for her newsletter.
To get your copy of Time to Rise with our special free gifts, head here to see more, order your copy, and be inspired: timetorise.me
This post was published on the now-closed HuffPost Contributor platform. Contributors control their own work and posted freely to our site. If you need to flag this entry as abusive,
send us an email
.