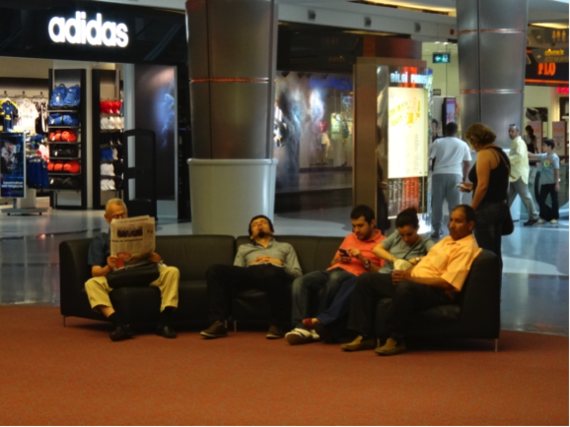 This is an image of a "male parking station" in a mall in Turkey. A group of men recline on the sofa in various states of tedium while (presumably) their female partners are off merrily flexing their credit cards.
What's wrong with this picture? Well, apart from the fact that it is painfully stereotypical and sad for the abandoned males (who look like so many bored zoo animals), it's tragic for the marketers who have missed out on moolah. All those men sitting on their fat wallets are a terrible waste.
I was reminded of this picture while reading a new report from Y&R called "Who's Your Daddy?"* Billed as "North America's Most Comprehensive Study on Dads", one of the central tenets is that "Dads are actually better for business". As the report observes, "when a woman becomes a mother, she is more frugal and budget conscious. The opposite occurs when a man becomes a father."
So males become more lavish with the arrival of fatherhood. At the same time men's relationship with retail is changing (certainly compared to the assumed wisdom that males don't like to shop). According to the survey, 45% of Dads are the primary grocery shoppers today and that rises to 80% for Millennial Dads. Here are some more stats that will be music for marketers (and that music is the sound of the cash register ringing):
Dads are more than twice as likely as Moms to agree with the statement: "I buy brands that I think are best and don't worry much about price."
Only 33% of Dads try to buy products on sale, versus 52% of Moms.
59% of Dads say "going to the checkout with many coupons and/or flyers for price matching makes you look cheap". For Moms, the number is 37%.
At the same time, Dads like to be first and they love brands. 64% of Dads "actively look for products that are new and different" when shopping and 55% "believe innovation comes from the brands". Less than half of Moms do the same on both counts.
As a research group of one, the study strongly resonated with me. I'm that Dad, which drives my wife to distraction and often causes her to ban me from the grocery store.
I grew up in a marketing era where "Women 25-54, household grocery shoppers" was so often the specified target audience, it might as well have been permanently printed on the brief. This was shorthand for "Moms" of course. Times change, and it's high time that retail marketers put more emphasis on connecting with the father in the family. Bottom line - there's dough in Dads.

Jon Bird is the Managing Director of Labstore, which is part of Y&R, the publishers of the "Who's Your Daddy?" study.
REAL LIFE. REAL NEWS. REAL VOICES.
Help us tell more of the stories that matter from voices that too often remain unheard.