I don't want to get shot. I don't want to end up dead. I don't want to die... I gotta get out of it.
This is what Daquan Summers told me he was saying to himself as a 10 year old boy, hanging out with his cousins that he looked up to.
They never mistreated me... but they put a big impact on me.
Daquan's mom worked long hours to raise him and his brother. His dad wasn't around. Daquan got good grades in school, but says he had too much time to just hang around. His cousins taught him how to "power cars, jump in houses, steal, smoke..."
He faced a felony at the age of 12.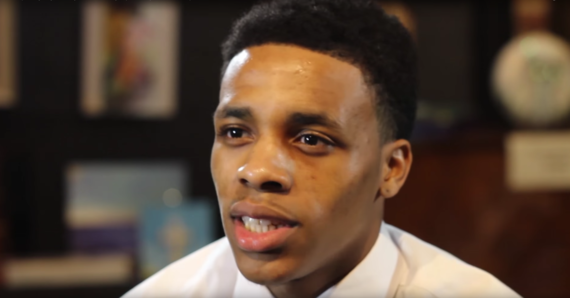 I heard about Daquan on NPR while I was driving through the beautiful hills of Franklin, Tennessee, where I had recently moved. My three sons (ages 15, 13 and 10) were attending public schools that felt more like large co-op schools than government institutions. Teachers, administrators, staff, parents -- all claimed the schools, the community, and the town as their own and looked after them with special care.
'There is no 'them,' only 'us,' a sweet lady with a southern accent told me at the district office where I went to register my kids. I had asked her why they were all so nice and pleasant since they were working for an educational system that's been characterized as broken. 'These are our schools, our kids. No one else's.'
I thought about her words as the NPR announcer read the story about the neighboring school district's struggle (and real efforts) to create a positive, safe and inspiring place for its students.
The featured speaker was Daquan Summers, who spoke to the school board and distinguished guests about his experience getting out of a gang, deciding to choose a different path for himself and finding out that the resources he needed had already been there for him: his mother, and the teachers and basketball coaches who made him feel that he mattered.
Through a shift in his mindset, perseverance and faith, Daquan turned his life around -- he got an athletic scholarship, raised his GPA, and is now making an impact as an anti-violence leader speaking in the community and inspiring peers through his "Bootstrap Effect" project.

It's a saying: pull yourself up by your own bootstrap. So it's a negative saying [that] I decided to make into a positive saying... improve your situation despite your circumstances.
Watch Daquan's interview on Waking Up in America and hear him perform his Spoken Word piece "No Excuses for Failure."
I asked Daquan about his turning point as a 12 year old. How did he all of a sudden have the strength to make a drastic change?
When I woke up my number one goal was, I don't care what anybody says about me, I don't care how people think I'm acting or anything. I want perfection for myself. I don't want anybody's ideas or opinions about how I should do this. I want to live my life and I want to live it right. And I want to do it for myself. I want to perfect myself. I don't want to stay here forever. And every successful person I know has had to do that. Change. They had to really change. Stop doing the same old stuff that you see other people doing and expecting a different result.
Daquan doesn't want this change only for himself. Every time we talk about his story, he brings up Harriet Tubman.
She found freedom, and she didn't have to go back. But the thing was she went back. She didn't say, 'Hey, I'm here, I don't care about other people... They were never there for me.'
Talking to Daquan in person, experiencing his gentleness, his strength and his huge open heart was life-changing for me. I read in one of his bios how he overheard someone talking about him, saying that nothing was ever going to come out of him and that he would turn out just 'like his father,' spending his life in jail.
He is not only proving them wrong, but he is already 'coming back' for the others as Harriet Tubman did -- he's inspiring them through his actions and through his involvement in the community's efforts to bring about positive change.
When I ask him what can I do, he gives me an unexpected, but perfect answer:

You should wake up every morning with the 'why' and give it your 100% ... For instance, I wake up in the morning because I want to make it out of [the] projects. You know, I want better for myself. I want better for other people. And I'm gonna go and I'm gonna give a 110%.
There is no 'them,' only 'us' -- the words ring in my head. We are all the same. And if we desire a change for our world, then each of us has to start in the place Daquan references -- the place deep within our souls. There, we will find that our original purpose, our common 'why' to wake up each day with, is to treat each other with love and kindness, regardless of skin color, religion, or socio-economic status.
I'm excited to know Daquan, and to be able to watch as he grows into his position as a leader of positive change.
Popular in the Community