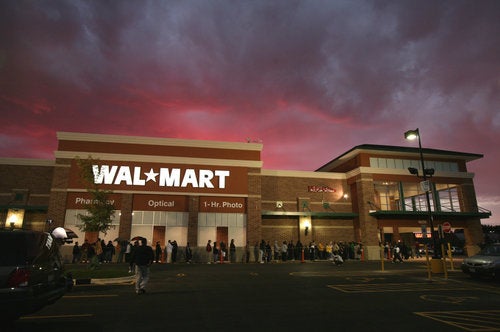 "Cannibalization Factor" Eating The Company's Future
According to a list released this week, Wal-Mart Stores has abandoned a record-shattering 45 proposed projects over the past 10 months -- often leaving local officials dejected and confused. Another 19 Wal-Mart projects have been killed by local citizen's groups. In total, the world's largest retailer has suffered an historic loss of 64 projects.
The list of store cancellations was compiled by Sprawl-Busters, which has maintained a database on Wal-Mart battles for more than a decade. Since June, 2007, the Arkansas-based retailer has delayed or killed its own stores in the following communities:
Aledo, IL; Arlington, WA; Belfast, ME; Bonita Springs, FL; Brooksville, FL; Chico, CA; Concord, CA; Crowley, TX; Derry, NH; Elyria, OH; Fircrest, WA; Garden Grove, CA; Gilbert, AZ; Glen Carbon, IL; Hadley, MA; Hemet, CA; Hilo, HI; Isle of Wight, VA; Knightdale, NC; Lake County, FL; Lakeland, FL; Lawrence, NJ; Lewiston, ME; Liberty, OH; Pennfield, MI; Hillsborough, NH; Kilbuck, PA; La Puenta, CA; Marietta, GA; Marysville, WA; Memphis, TN; Morganton, NC; Neptune Beach, FL; Oakley, CA; Oxford, NC; Portland, OR; Raleigh, NC; Ravalli County, MT; Rutland Charter, MI; Spooner, WI; St. Peters, MO; Sioux Falls, SD; Stoughton, WI; Sunrise, FL; Waukesha, WI.
These store withdrawals usually come with little advance notice, and even less explanation. In September, 2007, for example, when Wal-Mart suddenly folded its tent in Lancaster, Massachusetts -- 3 miles from the construction site of another Wal-Mart superstore -- the company issued a terse, four paragraph press release which stated, "The decision is related to Wal-Mart's recently announced plans to moderate growth of U.S. supercenters as part of leveraging capital resources through a strategy designed to improve returns and sales within U.S. stores." Such dense statements left local officials scratching their heads in disbelief -- sometimes following months, even years, of lobbying by the retailer to get a project approved.
Up until 10 months ago, Wal-Mart was planning to open a new store in America every 26.5 hours. But all of that changed on the morning of June 1, 2007. On that Friday morning, Wal-Mart stunned 18,000 stockholders assembled in the Bud Walton Arena on the campus of the University of Arkansas in Fayetteville. The retailer announced its growth plan for 2008 -- in what the New York Times described the next day as a "turning point" for the company.
In their laps, stockholders held Wal-Mart's 2007 Annual report, which said, under the heading "Future Expansion," that the company's "planned expenditures will include the construction of...265 to 270 new supercenters..." But in the weeks between sending their Annual Report to the printer, and their stockholder's meeting -- Wal-Mart popped its own growth bubble.
For several years, Wall Street's reaction to the retailer's overly-aggressive U.S. construction forecast had been less than encouraging. In 2005, for example, Bernstein Research Call issued a 13-page report warning stockholders of the downside of Wal-Mart's superstore plans. The analysts noted that Wal-Mart's growth "is under siege in several regions of the country from growing opposition by local communities...Local opposition has successfully squashed numerous plans among big box players in different parts of the country." Bernstein noted that "heightened resistance could negatively impact these retailers by slowing their square footage growth rates." Even modestly slower long-term square footage growth could have both an earnings per share and valuation impact, researchers said.
Because of grassroots anti-Wal-Mart groups, Bernstein warned, "it is clear that (discount retailers) will need to pursue a substantially larger number of permits going forward to hit their internal square footage targets given the likelihood of many opportunities failing."
Not only had Wal-Mart suddenly slammed on the brakes for 2008, but the company said it would open "only" 170 superstores per year for the next three years, and 80 supercenter would be deferred into 2009. In its 2007 Annual Report, the company explained, "We are focused on prioritizing capital spending to the projects that produce the highest returns. We want to improve our Company's return on investment, or ROI, improve our comparable store sales and improve our working capital productivity. The outcome is a focus on the most capital efficient opportunities."
In part due to the company's pale 1.9% growth in same store sales in 2007, John Menzer, Wal-Mart's Chief Administrative Officer, admitted, "We also have been focused this year on reducing cannibalization of existing stores via our more strategic selection of U.S. real estate projects." Same store sales indicates the performance of existing stores by measuring the growth in sales for such stores during a particular period, over the corresponding period in the prior year. Wal-Mart's same store sales have been dropping for 20 years, but this past year was the worst. The 1.9% growth rate in 2007 compares to 5% in 1997, and 13% in 1987.
Every store site that Wal-Mart proposes is reviewed by its executive-level Real Estate Committee, which looks at a number of benchmarks to see if each unit meets the retailer's Growth Model: the state of the economy, the local trade area, competition in the area, local demographics, real estate and construction costs, and: "potential impacts on neighboring Wal-Mart stores." This last metric -- the cannibalization factor -- has had a major impact on the deep-sixing of many superstore projects this year.
"As we continue to add new stores in the United States," the company told shareholders, "we do so with an understanding that additional stores may take sales away from existing units. We estimate that comparable store sales in fiscal 2007, 2006 and 2005 were negatively impacted by the opening of new stores by approximately 1% in fiscal years 2007, 2006 and 2005. We expect that this effect of opening new stores on comparable store sales will continue during fiscal 2008 at a similar rate."
To measure Wal-Mart's retrenchment another way, the corporation added 42,000,000 square feet of store space in 2007, compared to 39,000,000 square feet in 2006. It's current growth plan cuts new square footage to 20,000,000 for 2008. As projects get cancelled, square footage growth drops, sales growth slows, all of which can impact earnings and company valuation. The last thing Wal-Mart wants is for investors to see the company for what it really is: a middle-aged corporation choking on its own domestic appetite for growth. If it weren't for China and India, Wal-Mart's growth prospects would be problematic. Yet Wal-Mart's future as a colonial retail empire is far from certain, if places like Indonesia, Germany and Japan are the yardstick.
Sam Walton explained that his growth strategy was "to saturate a market area by spreading out, then filling in...We became our own competition." He once boasted that Springfield, Missouri, for example, had 40 Wal-Marts within 100 miles. But Wal-Mart has paid a price for competing with itself. Today, the saturation card has been overplayed, and the retailer has been forced to go on a superstore crash diet. While hundreds of sling-shot coalitions have been hurling rocks at this retail Goliath for years, ironically, it is now the giant itself which is reeling from its own self-inflicted excesses.
This has created a wonderful 10 months for anti-Wal-Mart groups in 21 states, who have woken up in their small towns to read that another proposed Wal-Mart superstore has dissolved, as suddenly as the morning mist.
Al Norman is the founder of Sprawl-Busters. Forbes Magazine has called him "Wal-Mart's #1 Enemy."

Related
Popular in the Community