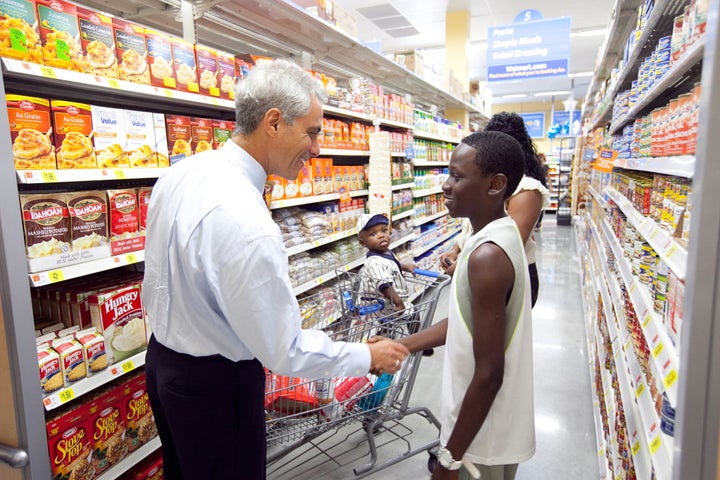 With the opening of the chain's first-ever 10,000-square-foot store in Chicago's Chatham neighborhood Wednesday, Wal-Mart officially launched the first phase of its ambitious plan to gain a foothold in the city's retail market with at least nine new stores opening within city limits.
The Bentonville, Ark.-based retail giant's first "express" store -- located at 83rd Street and Stewart Avenue -- essentially offers all the products one would expect from a compressed, full-service grocery store, Crain's reports. In addition to their food offerings -- including two full aisles of produce and meat -- the store offers a pharmacy and a financial services desk for customers.
Four other "express" stores are reportedly planned for Chicago, in addition to three medium-sized, 42,000-square-foot market stores and two of the chain's trademark supercenters, including one expected to open across the street from Chatham's new express store in spring 2012.
Mayor Rahm Emanuel was on hand for the store's first day of business and issued a statement stating that "[i]ncreasing access to fresh, healthy foods in underserved neighborhoods throughout Chicago is an important priority for the Emanuel Administration." The mayor reportedly met with executives from Wal-Mart and other retail and grocery chains as part of a "food desert summit" in June.
Even before the Chatham Express store opened, a store employee noticed the hair care items on the shelves were inappropriate for the largely African-American population in the neighborhood, the company said. By Tuesday, Wal-Mart had restocked the store with rows of products formulated for black and ethnic hair.
The store will employ between 20 and 40 people, chosen from among 650 applicants, according to a company spokesman Crain's spoke with, which is markedly lower than the "up to 400 new jobs" the Chicago Mayor's Office's Facebook page said were "coming to Chatham" with the opening of the new store. [UPDATE: The 400 new jobs will come with the supercenter that is due to open across the street from the new express store in the spring, according to a Wal-Mart press release.]
Wal-Mart "express" stores were last month unveiled in rural settings including Gentry and Prairie Grove, in Ark., and Richfield, N.C., last month, but the Chatham store marks the model's first urban trial, the Tribune added.
Popular in the Community