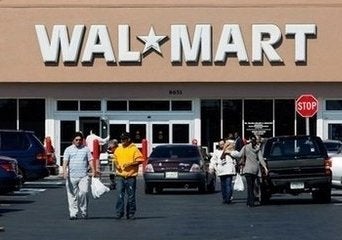 Indianapolis, IN -- More bad headlines for Wal-Mart, the sexist employer. The company was nailed again by its own employees -- this time in Kentucky.
In Wal-Mart's annual report to shareholders there is a two page note simply called "Legal Proceedings." In it, the company summarizes "a number of legal proceedings" which, "if adversely decided...may result in liability material to the company's financial condition or results of operations." In addition to the well-known collection of wage and hour 'off the clock' class action lawsuits, are the gender discrimination lawsuits, including the massive Dukes v. Wal-Mart case which began 9 years ago. Damages sought by the women in the Dukes case could be so large that Wal-Mart admits, "the Company cannot reasonably estimate the possible loss or range of loss that may arise from the litigation."
Less well known is another lawsuit that was originally filed in the summer of 2001, just two months after the Dukes case. This case was filed in the U.S. District Court for the Eastern District of Kentucky. The lawsuit, EEOC (Janice Smith) v. Wal-Mart Stores, Inc. was brought by the federal Equal Employment Opportunity Commission on behalf of Janice Smith and all other women who made application or transfer requests since 1995 at the Wal-Mart distribution center in London, Kentucky, and were not hired or transferred into the warehouse positions for which they applied.
The EEOC sought backpay for these women not selected for hire or transfer, and injunctive relief. According to Wal-Mart, the Kentucky complaint charges that the retailer based its hiring decisions on gender -- which is a violation of Title VII of the 1964 Civil Rights Act. Wal-Mart told his investors that it could not "reasonably estimate the possible loss or range of loss that may arise from this litigation."
But this week the EEOC helped quantify that loss. The federal agency announced that Wal-Mart had agreed to pay $11.7 million in back wages and compensatory damages, plus its share of employer taxes, and up as much as $250,000 in administration fees.
According to the EEOC, Walmart's London Distribution Center denied jobs to female applicants from 1998 through February 2005. Wal-Mart hired male entry-level applicants for warehouse positions -- but excluded female applicants who were equally or better qualified. Wal-Mart routinely would tell female applicants that order filling positions were not "suitable" for women, and that they hired mostly 18- to 25-year-old men for these positions.
Rather than go to trial and endure weeks of negative headlines, Wal-Mart entered into a consent decree on March 1, 2010. Under this decree Wal-Mart must provide warehouse jobs, as they open up, to "eligible and interested" woman applicants. This process will be supervised by a claims administrator, and includes very prescriptive quotas. The giant retailer agreed to fill the first 50 order filler jobs that come open with women, and for the next 50 jobs, women will be offered every other job. From the 100th job opening on, every third job will be offered to a woman.
Roughly eight months ago in a similar settlement, Wal-Mart agreed to pay $17.5 million to settle a class-action lawsuit accusing the company of discriminating against African-Americans in recruitment and hiring of truck drivers for its private fleet. For what Wal-Mart paid out in these two lawsuits, the company could have hired nearly 2,100 workers for a year at the retailer's entry level wages.
The EEOC did not parse its words about Wal-Mart. "Far too many employers are still blatantly excluding women from particular jobs, segregating their workforces on the basis of sex, and denying women equal pay for equal work," said the acting EEOC Chairman. "Let this major settlement serve as a warning: Employers must stop engaging in these outdated and sexist practices, or they will face severe legal consequences."
Without admitting any wrong-doing, Wal-Mart agreed not to discriminate against women in hiring order fillers -- and not to retaliate against their "associates" who complain about discrimination to the company. Wal-Mart's distribution centers in Kentucky will have to post a notice of non-discrimination, and train its managers and employees at the Kentucky facility to use validated interview questions when hiring order fillers.
The EEOC attorney who handled the case said, "Although it took a long time, we are very pleased that women who want to work at the London Distribution Center will now be able to do so and those who were rejected will be compensated for their losses and offered jobs." EEOC's senior trial attorney noted, "It is satisfying to know that the EEOC's efforts will allow the women in eastern Kentucky affected by Wal-mart's discriminatory practices to better themselves and their families."
Now Wal-Mart can turn its attention to the myriad of other lawsuits brought against the retailer by its own people. The company pledges not to retaliate against workers who blow the whistle on job discrimination -- but as one former Wal-Mart worker said about the company's infamous 'open door' policy: "Open your mouth and you're out the door."
Al Norman is the founder of Sprawl-Busters, and has been called Wal-Mart's #1 enemy by Forbes Magazine. His website is http://www.sprawl-busters.com

Calling all HuffPost superfans!
Sign up for membership to become a founding member and help shape HuffPost's next chapter