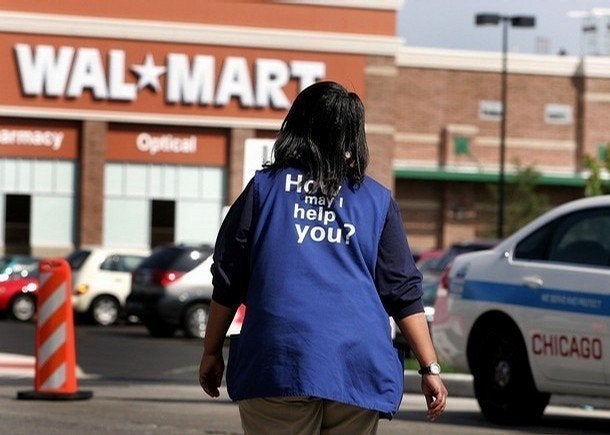 Wal-Mart Files Injunction Against Circular Objects
This news story out of Canada belongs in the "circular" file.
Wal-Mart is trying to limit the use of circular and oval objects. Over the years, the giant retailer, in exercising its own brand of censorship, has forced recording artists to change lyrics, 'sanitize' album covers, removed certain 'objectionable' magazines from its racks, and generally cultivated its own corporate sense of what the public should or shouldn't see.
Now the retailer has developed a list of words and images that it doesn't want its workers to read on a union website. In fact, it wants the entire union website destroyed.
On June 19, 2009, the Wal-Mart Canada Corporation filed an injunction in Montreal to force the United Food and Commercial Workers Canada from using words like "Wal-Mart alone or with other words...in a color scheme of blue, white and gold" which is similar to that adopted by Wal-Mart Canada. The injunction seeks to bar the UFCW from using such words or symbols on its website, business cards, flyers or advertising. The company has included in its injunction "an oval, circular or semi-circular design that adopts the essential characteristics and color scheme of Wal-Mart's Rebranded Indicia."
Wal-Mart Canada wants the union to "immediately take down the website" www.walmartworkerscanada.ca, and to stop using the expression "Get Respect. Live Better," which the retailer says infringes on its trademarked phrase, "Save Money. Live Better." The union would be banned from using Wal-Mart's new "spark design" that includes "spokes or figures" like the company's logo. Also on the banned list would be the words "Wal-Mart Workers Canada," and the use of any images or photos of people wearing "the blue vest and name tag badge similar to those worn on the job by Wal-Mart employees in Canada."
Wal-Mart charges that the UFCW's website and its images constitute a violation of Canada's Trade Marks Act, and that the UFCW actions are "deprecating the value of the goodwill" of the company's trademarks. Wal-Mart says the UFCW website falsely suggests a "sponsorship, connection, association or affiliation" between the UFCW and Wal-Mart.
In response to Wal-Mart's court action, the UFCW Canada has festooned its website with yellow police tape reading "Under the threat of Censorship," and has produced a spoof TV news broadcast about Wal-Mart's "seizure of the circle" that envisions a world without circles. In the news segment, motorists travel home on square wheels, and pizza shops cut off the edges of their product to produce a square pizza. "What a waste," bemoans one pizza shop owner, holding up the deleted circular edge of his pizza pie.
Wal-Mart Canada spokesman Andrew Pelletier has been quoted as saying the UFCW website is "misleading." But Wayne Hanley, UFCW Canada national president, says Wal-Mart's injunction is an "assault on freedom of speech and its ability to communicate with Wal-Mart workers." The UFCW website has been on the internet since 2003.
The union says that Wal-Mart Canada "has reached a new low" by filing the court injunction. "This injunction request is an over the top assault on freedom of speech and on our ability to effectively communicate with Wal-Mart workers," says Hanley. "It's a kneejerk response by Wal-Mart to the idea of its employees trying to understand their options as workers, and trying to share experiences with other 'associates'." Hanley described Wal-Mart's reaction to their website as "just another outrageous example of how the largest retailer in the history of the world will use its bottomless legal budget to manipulate the collective bargaining process and do just about anything to discourage its 'associates' from joining the union." The UFCW says it "is confident that Wal-Mart's case is unfounded and we are maintaining the look, feel and messaging of www.walmartworkerscanada.ca."
The UFCW agrees that "Wal-Mart has the right to not want its 'associates' organized by a union." "However, Wal-Mart does not have the right to curtail the effectiveness of a purely informational website. If Wal-Mart treats its 'associates' so well, why is it so afraid of them knowing their rights? Why is Wal-Mart so determined to prevent its associates from sharing their stories?"
The Union is urging the public to defend its "digital rights" by emailing Wal-Mart to drop their lawsuit. The union also has set up a Facebook page to SAVE the CIRCLE. For more details, click here.
No one who visits the UFCW Canada website would ever be misled into thinking its a Wal-Mart product. The unions have been spoofing Wal-Mart's corporate-speak for years. Why is Wal-Mart trying to take down the union's website now? As the company faces renewed efforts to organize its workforce, it appears to be ratcheting up its anti-union response, and in the process, trying to take down Free Speech at the same time.
First Amendment advocates might well be asking: With Wal-Mart around, how long will the circle be unbroken? We might all 'live better' if Wal-Mart stopped trying to circumscribe our free speech.
Al Norman is the founder of Sprawl-Busters, and the author of "The Case Against Wal-Mart." He has been helping communities fight big box stores for 16 years. His website is http://www.sprawl-busters.com
Calling all HuffPost superfans!
Sign up for membership to become a founding member and help shape HuffPost's next chapter