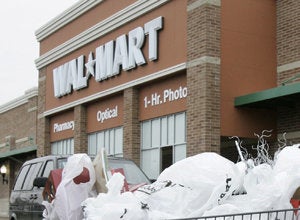 Wal-Mart Elves Get Back $640 Million in "Stolen" Benefits
'Twas the settlement before Christmas.
On the eve of the holidays, Wal-Mart's Santa is stuffing millions of dollars into the stockings of his little helpers. After years of litigation, its payback time for millions of Wal-Mart workers who had their time "stolen" from them by the world's largest retailer. No rest breaks, no meal breaks, unpaid hours -- it's all coming due in a whopping Christmas "bonus" courtesy of Wal-Mart's legal team.
While America is distracted by the holiday recession, Wal-Mart has decided to settle some old scores and begin the New Year by clearing the decks of 63 lawsuits filed against it by its current and former workers.
Together with lawyers representing the plaintiffs, Wal-Mart issued a press release announcing legal agreements that will cost the company and its shareholders between $352 million and $640 million. Wal-Mart has been battling these class action lawsuits for years. How much Wal-Mart will end up stuffing into stockings will depend on how many of its employees file claims.
As part of the settlement announced December 23rd, Wal-Mart has consented to keep using "various electronic systems" to monitor its compliance with wage laws -- the equivalent of an electronic ankle bracelet. There were no estimates of what these settlements would actually mean financially to the typical Wal-Mart worker.
"Resolving this litigation is in the best interest of our company, our shareholders and our associates," said Tom Mars, the attorney that heads Wal-Mart's vast legal department. "Many of these lawsuits were filed years ago and the allegations are not representative of the company we are today. Our policy is to pay associates for every hour worked and to provide rest and meal breaks. This is a commitment we make to the more than 1.4 million associates who choose to work for Wal-Mart and serve our customers and members every day. We have worked hard to have the right communication, processes and systems in place to help us live up to this commitment."
The company that Wal-Mart is today is the same company that shortchanged its workers yesterday -- but if these cases went to trial, Wal-Mart stood to lose millions -- even billions -- more. So Santa settled.
The joint press release from Wal-Mart and the major law firms that represented the workers quoted several of the plaintiff's attorneys -- all of them full of holiday cheer. Frank Azar, one the lead attorneys, was quoted in Wal-Mart's release as saying, "We hope Wal-Mart's compliance programs will serve as an example to other major retailers." Attorney Robert Bonsignore, of Bonsignore and Brewer, added, "As a result of this settlement, Wal-Mart can now say that it has taken action to make its stores a great place to shop and work." None of the workers who brought these class action lawsuits, or who waited years for their settlement, were quoted.
These workers charged that Wal-Mart basically stole their time, by forcing them to work through breaks, failing to pay them for all hours worked, and neglecting to properly compensate them for overtime. Employees claimed that Wal-Mart engaged in 'time-shaving,' dropping minutes of time from workers' pay, saving the company millions of dollars in payroll costs. Fundamentally, these lawsuits are about a form of corporate theft: stealing money from its own workers.

The company has suffered through a major mea culpa this year, with a huge settlement in Minnesota earlier this month, akin to cases in Pennsylvania in 2006, and California in 2005. Wal-Mart boasts that it has beaten back a number of class action lawsuits in other states, but the company has had to settle a fair number of such cases to clear them off the books.
Still pending is the Mother of all gender discrimination cases -- the Dukes v. Wal-Mart case. This class action case is now 7 years old. Dukes charges that Wal-Mart engaged in a pattern and practice of discrimination against women in promotions, pay, training, and job assignments. The women seek front pay, back pay, punitive damages, and lawyer's fees. The women included in this lawsuit are all employees who worked at Wal-Mart at any time since December 26, 1998 who were subjected to the pay and management track promotions, policies and practices challenged by the plaintiffs. The class as certified includes a staggering 1.6 million present and former female employees.
Wal-Mart is still appealing this class action certification, but warns stockholders that if it loses the Dukes case, "the resulting liability could be material to the Company." So while lawyers in the wage and hours lawsuits are happy with Settlement Santa, it can hardly be said that Wal-Mart is a "great place to shop and work." The millions of workers who will file claims against Wal-Mart would probably not describe their experience at Wal-Mart in quite those terms.
For now, we know what Wal-Mart's Santa will be doing over Christmas: Writing checks to all the workers the company stole from.
Al Norman is the founder of Sprawl-Busters. His website is www.sprawl-busters.com. He has helped local communities fight big box stores for the past 15 years.
Support HuffPost
The Stakes Have Never Been Higher
Related
Popular in the Community