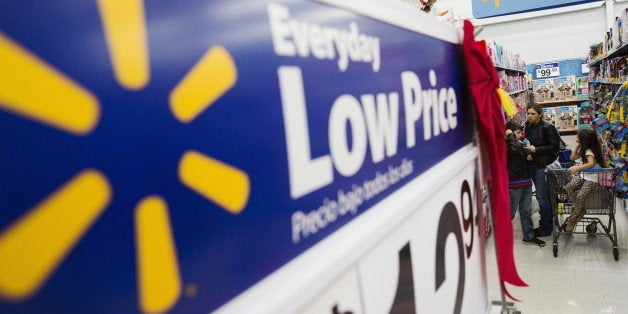 If you think presidential elections are rigged, watch Wal-Mart's annual meeting this Friday.
I bought one share of Wal-Mart stock in 1994 as a way to keep an eye on the company. As a shareholder, I have a right to go to Bud Walton Arena on the campus of the University of Arkansas on June 3rd to vote for 12 nominees to the Wal-Mart board, and 3 shareholder proposals. Of the 12 Board members to be coronated, only one is new: Steuart Walton, 34, who is replacing his dad, Jim Walton. Rob Walton has been on the Board for 38 years. He is joined by the company's current CEO and former CFO. It's an in-bred corporate culture. What makes the Wal-Mart board like the White House race, is that very rich people win every time.
As for the shareholder's proposals, the Wal-Mart Board of Directors always opposes them---and they always fail.
A decade ago, for example, the Wal-Mart Board recommended against six shareholder proposals, ranging from humane poultry slaughter to a political contributions report. According to the company's August, 2006 10-Q report to the S.E.C., the "shareholders voted upon and rejected" all six proposals.
In 2005, the Sheet Metal Workers National Pension Fund submitted a proposal dealing with executive compensation. A resolution from the United Methodist Church sought a company "sustainability" report. A third resolution proposed studying whether "there is an equity compensation glass ceiling at Wal-Mart." A resolution was offered by the International Brotherhood of Teamsters to produce a political contributions report. The Sisters of Charity in New Jersey asked for an equal employment opportunity report. None of these proposals got any traction at all.
In 2013, four shareholder resolutions went to defeat with 83% or more of the voting shares against them. In 2014, there were three shareholders resolutions. None were adopted.
Last year, shareholders presented five proposals, all of which were opposed by the Wal-Mart Board of Directors, and none of which gained more than 18% of the vote.
And so it goes, year after year.
In 2014, I spoke with Sonia Kowal, Director of Socially Responsible Investing at Zevin Asset Management, who introduced a Wal-Mart shareholder resolution calling for "full disclosure of our company's lobbying." Kowal's resolution got 11.7% of the votes cast.
Kowal told me that shareholder resolutions at Wal-Mart are a steep climb. "We recognize that it is very unlikely that we will achieve a very sizeable vote for this resolution given the high percentage of insider ownership," Kowal said, "but it is still important for us to shine a light on the company's lack of disclosure and strongly encourage them to improve." Kowal said the "dirty little secret" in proxy voting "is that fund managers may feel pressure to side with management against shareholders' best interests because they manage (or want to manage) those companies' 401(k) plans."
This Friday at Bud Walton arena, 3 shareholder proposals will die. The Wal-Mart Board doesn't like any of them. One proposal calls for the retailer to develop criteria for operating in nations with "a questionable record on human rights [read gay rights] and religious freedom," like Nigeria, Ghana, Kenya, and China. Another proposal asks the company to create an independent board chairman: "Recent developments---including ongoing investigations into bribery and corruption at the Company's subsidiaries in Mexico, China, Brazil and India; revelations of accounting fraud at the Company's China operations; the Company's refusal to compensate families of workers killed and injured in a fire at a supplier factory in Bangladesh; and a ruling...against the Company for its illegal discipline of employees who exercised their rights---highlight the need for enhanced oversight of corporate culture and behavior. A board led by an independent chairman is best positioned to drive such change."
But shareholders are not the only ones clamoring for culture change at Wal-Mart. It's own employees are getting into the act again this year. The group OUR Walmart is organizing a social media "thunderclap" for 9 am on Friday morning, to "blast a wave of posts from Twitter, Facebook, and/or Tumblr from supporters at a particular time." The workers want "family-sustaining wages and...full-time hours." "Wal-Mart is the largest retailer in the world," OUR Wal-Mart says, "owned by the richest family in America. Paying poverty wages is a choice. Keeping hours and staffing levels low is a choice...If enough people spoke out about these things, the Waltons might make a different choice." A group of OUR Walmart members will attempt to gain the floor at the Bud Walton Arena "to deliver our call for $15, full-time hours, and respect."
Wal-Mart's Board of Directors has been wired against shareholder-driven change since the 1960s. The Walton family controls sufficient shares to bottle up any grassroots initiatives.
Rather than stay in a totally rigged game, these institutional shareholders---who own millions in Wal-Mart shares---would do better to dump their WMT stock entirely. By investing their money in socially responsible companies, they will create a "thunderclap" that will shake the rafters inside Bud Walton Arena in Fayetteville.
http://sprawl-busters.com/occupywalmart.html
Related
Popular in the Community