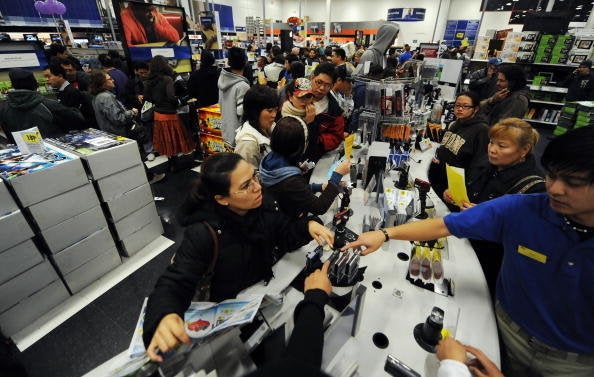 "Outta My Way, I'm shopping at Wal-Mart."
That actual bumper-sticker sums up the attitude of the only thing worse than Wal-Mart in our culture: Wal-Mart shoppers.
The killing of a Wal-Mart worker this week during an early morning crush of customers at the retailer's Valley Stream, Long Island store has given the company a Black Eye from Black Friday.
Law enforcement officials are reviewing the video tape of the incident for possible criminal charges, but Wal-Mart corporate attorneys are no doubt looking at the video to determine the extent of the company's legal liability in the case. The retailer may be more preoccupied with how to prevent a multi-million lawsuit from the family of the dead worker, than how to prevent another Black Friday death.
The 2,000 or so Wal-Mart shoppers at the Valley Stream store were merely lab rats responding to a stimulus. When the door opened, they went after the cheese. In the past, it has been fellow shoppers who have been killed in the "savage" rush, as one onlooker at the Valley Stream store described the incident. Our culture of mass consumption has bred these "supershoppers," who will show up for every clearance, every special, with one goal in mind: to be at the cash register first.
Wal-Mart and the Nassau County Police now have to decide if they will press criminal charges against these supershoppers. There were at least four other people who were injured in the Long Island incident---one of several that took place across the country. A similar incident took place in Secaucus, New Jersey--but the woman injured in the 'shop 'til you drop' crowd was not killed. In Rapid City, Michigan, a teenage girl at Wal-Mart holding an Xbox 360 video game was "struck in the throat by a male shopper who was yelling and pushing his way through a line of shoppers."
Where better to carry out these random acts of violence than at a huge Wal-Mart, where price takes precedence over people? We can behave like 'savages' at Wal-Mart, because we are part of a large, anonymous throng. Wal-Mart spent $2 billion in 2008 on media advertising to encourage us to behave like out of control consumers. The crowd at Valley Stream was just following the program.
Wal-Mart has never been very good at protecting its workers or customers from crime at its stores--whether inside the store, or in the No-Man's-Land known as the parking lot. The latest Black Friday death is no exception. The poor temporary worker who happened to be given the job of unlocking the door, Jdimytai Damour, gave up his life so that some shopper could get a Playstation 3 Entertainment Bundle. Wal-Mart knew--or should have known---that shoppers on steroids are a dangerous breed. "We expected a large crowd this morning," Wal-Mart admitted in a press release, "and added additional internal security, additional third party security, additional store associates and we worked closely with the Nassau County Police. We also erected barricades. Despite all of our precautions, this unfortunate event occurred."
So far, all Wal-Mart has provided for the family of their dead worker is its "thoughts and prayers." But Damour's family is going to need a lot more than prayers to pay for the loss of earnings this young family has suffered." Instead of watching video reruns of the incident, or spending its corporate resources trying to track down the "savage" shoppers who crushed Damour, Wal-Mart should announce that it will use some of its vast wealth to provide the Damour family with a generous financial settlement. This is the moment for company Chairman Rob Walton to come to the aid of this family out of his own $23 billion fortune. The family should not be forced to file a lawsuit to receive justice from this company. Wal-Mart should have its compensation offer ready for sign-off within the week.
At Wal-Mart, they know the price of everything, but the value of nothing. It was the manager at the Rapid City, Michigan Wal-Mart store who said what the company's top brass in Bentonville could not say. "There's nothing in my store that's worth people's safety or lives."
Al Norman is the founder of http://www.sprawl-busters.com. His first book was "Slam Dunking Wal-Mart."

Calling all HuffPost superfans!
Sign up for membership to become a founding member and help shape HuffPost's next chapter