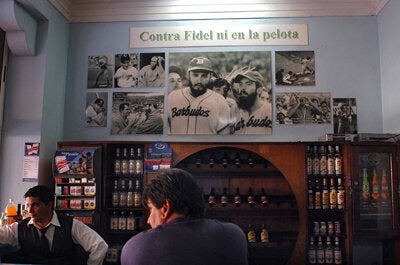 SANTIAGO, Chile -- Recently, Chilean consumers stormed the liquor section of dozens of supermarket locations throughout Chile, snatching all the Cuban rum they could buy.
The reason for the rum rush: Wal-Mart is coming to town, and it refuses to sell Cuban products.
With earnings lower than expected at home, U.S. retailer Wal-Mart continues to expand its international division, mostly in Latin America. Of the 13 countries where it has set up shop, nine are in this region. Now, Wal-Mart has its eyes set on the relatively small market of Chile.
On Dec. 23, the giant U.S. retailer made a bid to control all the shares of D&S, the company that owns Supermarket Lider, Chile's largest supermarket chain. The deal is due to be finalized Jan. 22. It wasn't the first time Wal-Mart executives had approached D&S owners Nicolas and Felipe Ibanez. But this time, Wal-Mart's $2.6 billion offer proved irresistible: It is 37 percent more per share than D&S's current market value.
Alarms are already ringing, as Supermarket Lider workers fear that Wal-Mart may dismantle their unions or revoke their benefits. Small retailers, meanwhile, are nervous about being squeezed out of business. As economist and union advisor Luis Alberto Araya puts it, "Wal-Mart arrives preceded by a bad reputation."
But the near-certainty that Wal-Mart will take over Supermarket Lider has already caused an entirely different, unexpected casualty: Cuban rum.
Even before the deal was finalized, D&S announced that it would stop selling more than 40 products from countries subject to U.S. embargo or blockade, including the popular Cuban rum, in line with Wal-Mart's strict compliance with the U.S. blockade of Cuban products.
On Jan. 3, Supermarket Lider -- which controls 34 percent of the supermarket business here --began selling its entire stock of Cuban rum at half price. In a country where demand for rum has surged over the past decade, with sales in 2007 increasing 48 percent over the previous year, Supermarket Lider's announcement led to a flood of thirsty consumers.
Three days later, when a Wal-Mart delegation arrived in Chile to continue negotiations with D&S shareholders and visit their future store locations, there wasn't a single bottle of Cuban rum to be found on any Supermarket Lider shelf.
Despite initial reports that D&S would also stop selling Venezuelan rum, the company later stated that the restrictions wouldn't apply to Venezuelan products.
According to Wal-Mart, it didn't impose any conditions on D&S prior to the deal being finalized. "As we have not yet acquired any shares of D&S, they are currently able to sell products from any country," the company said in a statement. "Should we complete our acquisition, the company will comply with all applicable U.S. laws."
Meanwhile, Chile and Cuba have signed an agreement to facilitate trade. It remains unclear which rules Wal-Mart will have to play by: the U.S. embargo or the Chile-Cuba trade agreement.
An assistant sales manager in one Supermarket Lider, who wanted to remain anonymous, put it this way: "There's going to be a power struggle here between an economic giant like Wal-Mart and the Chilean government, which is just going to have to enforce its own laws."
But the governmental General Directorate of International Economic Affairs, in charge of trade negotiations, says the Chilean government can't impose any obligations on a foreign private company. "Wal-Mart is a U.S.-based company and has to abide by U.S. laws," said a Direcon spokeswoman. "We have no jurisdiction over what products it decides to import or sell."
Fans of Cuban rum aren't the only ones angry with D&S -- some members of Chile's Congress are also frustrated.
Last week, Chilean lawmakers Eugenio Tuma and Rodrigo Gonzalez asked the Economic Prosecutor's Office to investigate Wal-Mart's proposed deal. They claim that Wal-Mart is violating local competition laws and Chile's national sovereignty "by imposing an embargo that our country, along with 183 other States, has repeatedly condemned at the United Nations." In addition, they say the clauses against the sale of Cuban products will push up the price of Cuban rum: If a supermarket chain that controls 34 percent of the market stops selling it, its price will increase.
Tuma, Gonzalez and other legislators introduced a bill in Congress this week to prohibit the discrimination of any products based on their country of origin. Meanwhile, Lider's main competitor, Supermarket Jumbo, merrily published full-page ads showing bottles of rum and reminding consumers that they don't discriminate against any product from any country.
But D&S is more than happy to comply with Wal-Mart's clauses. "The Ibanez brothers have always admired Wal-Mart, and after reading Don Soderquist's book, I would say 90 percent of D&S's business style and philosophy comes right out of Wal-Mart," said Juan Moreno, president of Supermarket Lider's labor union, referring to a book by a former Wal-Mart executive called "The Wal-Mart Way."
Like Wal-Mart's Hypermarts -- later dubbed Supercenters -- D&S created "Hipermercados," which combine groceries with other merchandise. And in October 2007, D&S began opening large discount warehouses similar to Wal-Mart Sam's Clubs. It now has seven "SuperBodegas Acuenta" throughout the country.
"We even have our own morning cheer that is almost identical to Wal-Mart's, with the difference that it spells out 'Lider' and is in Spanish," Moreno said.
Popular in the Community