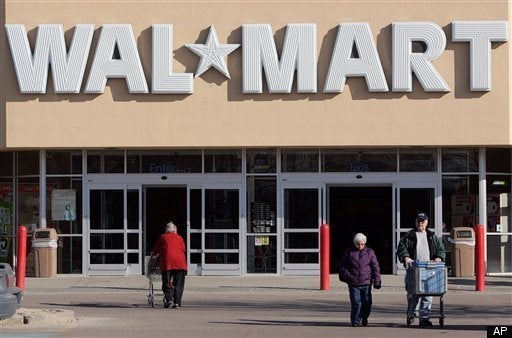 Military Familes Pay Higher Costs For Online Shipping
Consumers this week were lured into internet shopping by a 'free delivery' promotional day sponsored by many of the country's largest internet retailers. But over at Wal-Mart, the world's largest retailer was making the world's largest profit on shipping charges assessed to employees of the military overseas.
Wal-Mart was busted by Stars & Stripes, the Independent News Source for the U.S. Military Community. In an article dated December 16, 2009, reporter Mark Patton revealed that military personnel stationed overseas are being gouged by Wal-Mart's website for the cost of shipping items outside of America.
On Wal-Mart's website, the following explanation of "shipping information" explains the giant retailer's policy: "Shipping charges for deliveries to Alaska, Hawaii, military APO / FPO addresses, and U.S. protectorates and territories will be higher to cover higher shipping and handling costs...You will see the actual shipping charges during checkout, after you select the delivery address." In other words, there's a nasty surprise at the end of purchases from walmart.com heading to troops overseas.
But according to Stars & Stripes, there is no 'higher shipping and handling costs' for items shipped to APO addresses--which means that Wal-Mart is ripping off U.S. soldiers--and their families in the states. The U.S. Postal Service (USPS) and the Department of Defense (DoD) have negotiated an agreement for years called Overseas Military Mail. In this system, APO stands for Army Post Office, and FPO stands for Fleet Post Office. When Military Mail arrives at a USPS mail processing facility, it is sorted by Postal Service Center, APO/FPO and ZIP code. After that, the USPS passes it over to their Military equivalent in a branch of the Armed Forces after transport, using a contract air carrier and delivery to the overseas APOs and FPOs. For APOs, either the Army or Air Force provides personnel to handle the mail. For FPOs, the Navy handles the delivery.
According to Stars & Stripes, Wal-Mart has one of the biggest 'shipping' markups of the online retailers studied. The newspaper used the example of a $120 purchase. In this instance, Wal-Mart tacked on a $10.35 'shipping fee' to send that item to an APO address. The same item sent to a location within the U.S. would cost only $2.10. Stars & Stripes says that Amazon.com charged the same shipping fee to deliver to an APO address as to a stateside address. Target actually offered to deliver a $120 purchase to an APO address for less than to a stateside address.
When Stars & Stripes tried to contact Wal-Mart for a response, a company spokesman emailed the newspaper, saying, "In your shopping cart during the checkout process, we show an estimated shipping cost, based on our lowest-price shipping method...If you select...a military APO/FPO address or an address outside the contiguous United States, your actual shipping cost may be higher. We continue to work with carriers to negotiate favorable shipping rates."
But Stars & Stripes checked with the postmaster at Wiesbaden Army Airfield in Germany, who verified that the shipping and handling charges have nothing to do with the military postal system or the U.S. Postal Service. "A company can charge whatever they want," the postmaster noted. When companies like Wal-Mart ship items to an APO address in Europe, the order is first shipped to New York, and the Department of Defense picks up the cost from there to get the package to an APO address. As far as Wal-Mart's claim that it is only passing along "higher shipping and handling costs," the military postmaster at Wiesbaden set the record straight. "There is no higher transportation cost," he told Stars & Stripes. "Companies are abusing the system and making a killing."
Apparently shipping packages via the internet to soldiers stationed abroad has never been a reasonable affair. One business called ShipitAPO explains on its website, "While stationed overseas recently, a couple of us got tired of not being able to order the items we wanted to buy from many online retailers. Time after time we found that we would go through the often lengthy process of searching the web, finding what we wanted at the best price, only to discover that when we tried to 'checkout' at the online store, they, and we quote, 'DON'T SHIP TO APO/FPO ADDRESSES.' We would then go from store to store until we finally found one that would ship to our APO/FPO address. Of course, this retailer was never the cheapest. It figures, right? Sometimes we never did find a store willing to ship what we wanted to our APO/FPO address and it was getting to be pain."
But the real pain comes when an unwitting consumer tries to ship a package from walmart.com to an APO address. Wal-Mart has the reputation of selling its products at everyday low prices, and most consumers might assume the same goes with its shipping rates. But the Stars & Stripes experience suggests just the opposite. Wal-Mart tacks on a high shipping cost on the end of its transaction--far higher than its rivals like Target and amazon.com. The bottom line is that military personnel could easily end up paying more for products ordered online from Walmart.com than from other online vendors.
Even worse, the military families would not even know that Wal-Mart had some of the most exorbitant built-in charges. When viewed from the perspective of item + shipping, Wal-Mart's online products were no bargain for troops serving in foreign countries and war zones. Officials inside the military mail operation characterized these charges from Wal-Mart as abusive of the military, and in a particularly ugly choice of words in this context, "a killing."
When it comes to exploitive shipping fees, Wal-Mart's slogan, "Save Money. Live Better" seems to have been turned on its head. Military personnel can now "Lose money. Live Worse" because of Wal-Mart's fee gouging.
Al Norman is the founder of Sprawl-Busters. He is the author of "Slam-Dunking Wal-Mart" and "The Case Against Wal-Mart."
Related
Popular in the Community