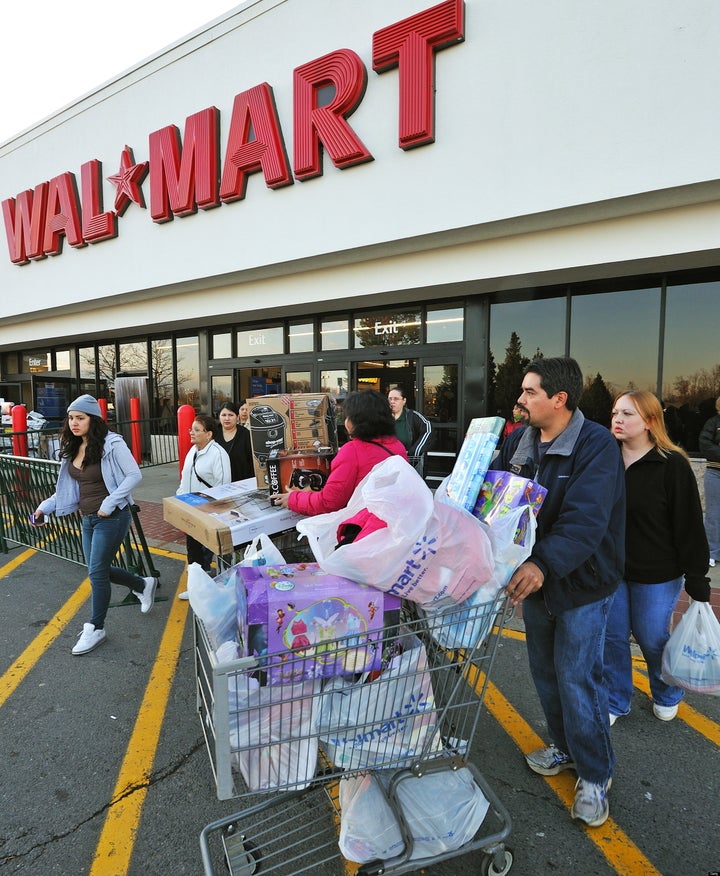 The closest thing America has to domestic War Zones are the huge parking lots outside of Wal-Marts.
This No Man's Land is a battlefield where every imaginable crime occurs, from purse-snatching to rape, to murder. Sometimes the victims and assailants are strangers. But sometimes Wal-Mart workers get into the act.
On December 22, 2009, the third person to die this year at the hands of Wal-Mart 'loss prevention' workers breathed his last in a Dunwoody, Georgia Wal-Mart parking lot. Marty Bridges was fleeing a Wal-Mart store when security staff wrestled him to the ground. By the time the Dunwoody police arrived on the scene, bystanders were giving Bridges CPR.
Five days later, an off duty police officer in Chattanooga, Tennessee wrestled to the ground an alleged shoplifter ironically named Joe Hill. The suspect, pushing a cart loaded with TVs and a computer, tried to shove his way past a Wal-Mart greeter out into the Wal-Mart parking lot. Wal-Mart security guards tried to physically restrain Hill inside the store, but he struggled his way out into No Man's Land. One local newspaper described the parking lot incident as a "wild scene."
The same day as the Chattanooga fracas, police in South Bend, Indiana were searching for suspects in a "shooting spree" that injured one man and damaged several homes. A 19-year-old suspect was arrested the next day, and charged with shoplifting ammunition from a Wal-Mart store. The suspect reportedly asked Wal-Mart employees if he could check to make sure the ammunition was the correct caliber. When the clerk handed him the ammunition, the suspect fled the store.
A few days before Christmas, police in West Columbia, South Carolina were searching for a man they say robbed another person at knifepoint in the parking lot of a Wal-Mart in that city.
Police in Amarillo, Texas were searching for two men they say tried to rob a man in the Wal-Mart parking lot. Security pictures show the suspects drove up to the man while he was loading his groceries and demanded his wallet.
On December 16th, three people were arrested in Kingsport, Tennessee after police say they dragged a Wal-Mart door greeter around the parking lot when he tried to stop them from stealing a television. The greeter attempted to stop a woman leaving with a large television set. As the woman jumped into the rear seat of the getaway car, the greeter, still holding onto the television, was dragged across the parking lot.
The day before the Kingsport incident, a man was assaulted and robbed outside a Wal-Mart store in Fairfield, California. The victim was getting out of his truck in the parking lot of the Wal-Mart when a woman sprayed him with pepper spray. Two men then hit him in the face and head with a pipe or gun and demanded money.
On December 18th, police in Moraine, Ohio were searching for a man who robbed a 62-year-old woman at gunpoint in a Wal-Mart parking lot. Police said the man pointed a gun at the woman and demanded that she turn over her purse.
On December 19th, police in Idaho Falls, Idaho found two men dead after a shooting at an Idaho Falls Wal-Mart parking lot. A math teacher at Idaho Falls High School shot and killed his wife's lover in the Wal-Mart battle zone.
A week before Christmas, a Salvation Army donation kettle at a Wal-Mart store in Sherwood, Arkansas was robbed. A man picked up the entire kettle and fled the scene.
These Wal-Mart War Zone stories don't just occur around holidays. Wal-Mart parking lots have become the latest frontier for crime--like the lawless Wild West. On some days, it seems like more people are robbed or injured in the Wal-Mart War Zone than in Karbala or Kandahar.
In the comment section of a newspaper in Chattanooga, Tennessee, one reader summed up the Wal-Mart parking lot incident in his city: "Who needs TV? Just pack up the kids and go to Wal-Mart for entertainment---action, drama, comedy and violence all balled up in one irresistible redneck nugget."
The business media doesn't like to write about the Wal-Mart War Zone. Reporters know this "wild scene" is not happening with such predictable frequency at Target, or Macy's or Nordstrom's. The crowds are at Wal-Mart---and so is the crime that goes with the crowds.
Everyday parking lot crime has become as much a part of Wal-Mart's brand as everyday low prices. Wal-Mart will continue to deny that crime in their parking lots is an issue---but what the retailer's shareholders must fear most is that shoppers will become fearful every time they leave a Wal-Mart alone.
Al Norman is the founder of Sprawl-Busters. His website is http://www.sprawl-busters.com. He has written two books about his 16 year battle against big box retailers.
Popular in the Community