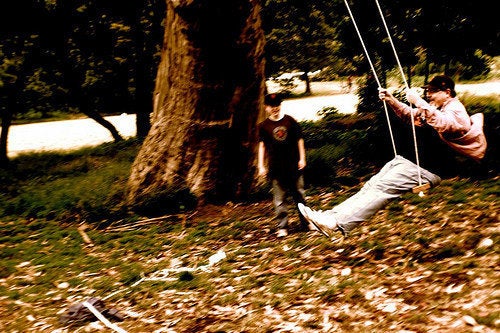 San Francisco artist Jeff Waldman began installing swings in his home city as well as Los Angeles and Panama, last year. For his next project, the artist is taking to social funding website Kickstarter to help him get his public swings to Bolivia.
Waldman notes on his project's Kickstarter page that Bolivia has the second highest poverty level in South America. In addition to that, one in four Bolivians are between the ages of 10 and 19 and out of every 1000 teenage girls, 88 are pregnant. Waldman, a do-gooder noted by the popular TEDx conference, hopes the swings will bring a little bit of childhood back to Bolivia's urban areas and not just spread joy, but "spread the desire to create it."
While traveling down to Bolivia, Jeff and his crew will be documenting the entire experience in blogs, photographs and a resulting DVD. Kickstarter pledges of $25 or more receive their own copy of the full-length feature; $50 or more pledges receive a note in the credits. All money invested in the project goes to send Waldman, his crew, and their technical gear to Bolivia, collect supplies and install the swings across multiple cities.