The Waldo Canyon Fire, the most destructive wildfire in Colorado history is finally near full containment -- as of Saturday morning, it is 98 percent contained and officials expect 100 percent containment at some point this weekend.
Cooler temperatures and rainfall that began Friday and is expected to continue over the weekend have given firefighters a leg up on the wildfire, but the rain is not all good news -- the downpour has officials very concerned for a new possible disaster in the area: flash flooding.
Mudslides and pre-evacuation have already occurred in the area affected by the High Park Fire in Larimer County, according to 9News. More than 220 pre-evacuation notices were sent out on Friday afternoon after flooding and mudslides closed Highway 14.
412 firefighters still battle the blaze with the help of three helicopters, 16 engines and four dozers.
While officials have not yet said whether they know the cause of Waldo Canyon Fire, investigators in El Paso County say they have located its point of origin.
An eight-agency team tasked with mapping the area and searching for the fire's cause however, isn't revealing the origin's location just yet.
"For the sake of safeguarding the integrity of the investigation I will not be discussing specifics on where that location is," said Lt. Jeff Kramer with the El Paso County Sheriff's office on Thursday morning.
Although the cause of the fire is still under investigation the National Weather Service said that for June 23, the official date of origin of the fire, and for the day prior the skies were clear and no thunderstorms were observed meaning the likelihood of the fire being started by lightning are slim.
The 18,247-acre blaze has burned 347 homes and claimed the lives of an elderly couple who were identified Thursday.
William Everett, 74, and Barbara Everett, 73 were found in the charred remains of their home at 2910 Rossmere St, which had been evacuated June 26. The next day 32,000 people were evacuated from their homes in the area.
A string of burglaries have plagued the neighborhoods devastated by the fire -- at least 32 homes were burglarized and dozens of evacuees' vehicles were broken into in the evacuation zones since the fire erupted, however there have only been three arrests so far. Chief Pete Carey of the Colorado Springs Police Department announced Thursday that an anonymous citizen has posted a $50,000 reward for any information leading to the arrest of people that victimized evacuees.
Related
Before You Go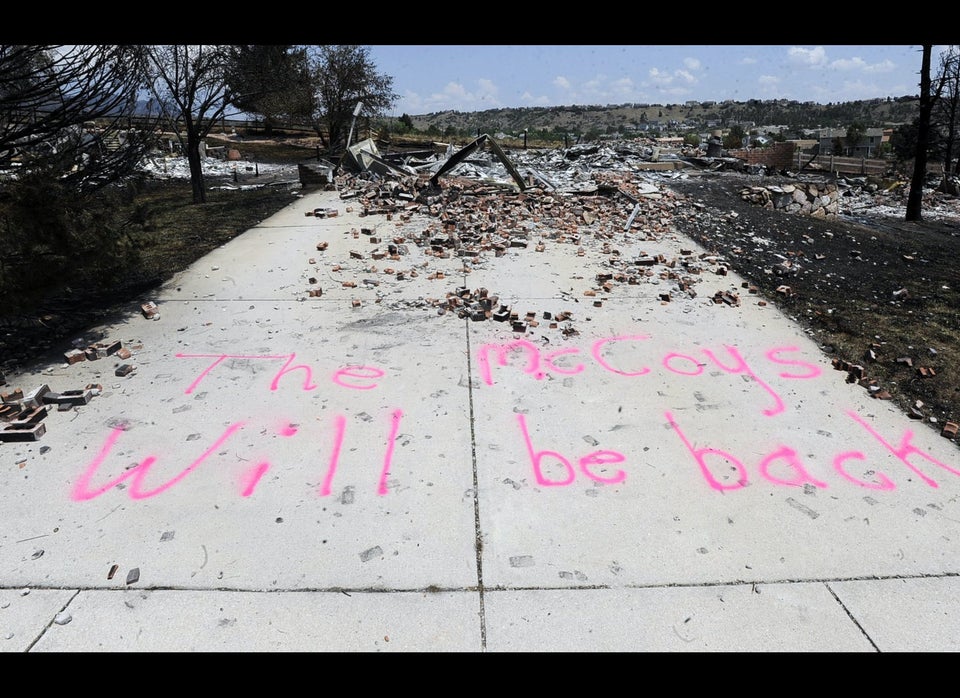 Waldo Canyon Fire 2012 Photos
Popular in the Community