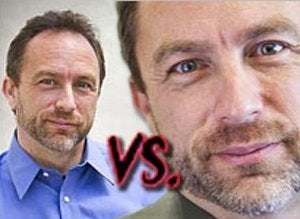 Over the weekend, Wikipedia kicked off its 2010 fundraising drive with a personal appeal from founder Jimmy Wales. Actually, with two appeals.
Taking a page from statisticians, Wales employed what's commonly known as A/B testing -- a "classic direct mail tactic," according to Wikipedia.
A run-of-the-mill search of the site reveals a Wales at ease. With half a smirk on his face, Jimmy appears here in blue over a washed out background. His shirt is open at the collar and his palm, presumably, open for donations. "Read Now" implores a button that looks to have been stolen from the time of Wikipedia's beginnings, in 2001.

But click around, and you'll find a decidedly different Wales. This Jimmy means business. In fact, throw a denomination on this banner ad, and you'd have yourself a dollar bill.

Related
Popular in the Community