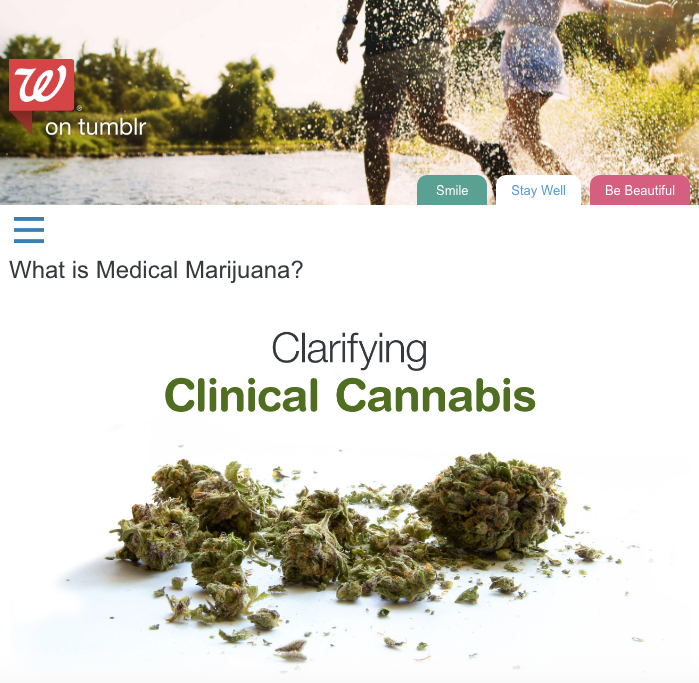 Walgreens wants to talk about marijuana.
In what appears to be an unprecedented move for a company its size, Walgreens published a discussion of the possible health benefits of medical marijuana on its health and wellness blog this week.
In the post, titled "Clarifying Clinical Cannabis," a resident pharmacist at the company takes a look at medical marijuana's side effects, the debate about its medicinal properties and its legality:
"Research has indicated it may impair your lungs, memory and judgment. However, research has also shown marijuana provides pain relief in ways traditional pain medicines don't. Medical marijuana can improve appetite and relieve nausea in those who have cancer and it may help relieve symptoms such as muscle stiffness in people who have multiple sclerosis."
It's not exactly clear what the company's intentions are. Its parent company, Walgreen Co., isn't ready to say it's throwing its hat in the ring of an industry whose recreational and medical sales topped out at $5.4 billion in 2015.
"The content is strictly informative, and nowhere do we take any stance on the issue," Jim Cohn, a spokesman for Walgreen Co., told The Huffington Post. "It was developed to address some of the questions we've received from patients and customers through various channels."
Indeed, Americans want to talk about weed. Recent polling by CBS News suggests 56 percent of Americans want marijuana to be legalized across the board, and half of Americans have tried it.
Corporations, however, have tiptoed around the issue, especially when it comes to marijuana's touted health applications. Companies like Target have faced fierce backlash for speaking out about hot-button issues at all. It's interesting, then, that a pharmacy chain is joining the discussion about medical marijuana.
Advocates say it's a low-risk move.
"In the corporate world one assumes the biggest risk for an institution like Walgreens is a backlash from the consuming public -- but fear of the backlash from American consumers hasn't been a realistic concern for a long time," Paul Armentano, deputy director of the National Organization for the Reform of Marijuana Laws, told HuffPost.
"More than half of the public now resides in jurisdictions where the physician-supervised use of cannabis therapy for qualifying patients is legal, and over 85 percent of voters acknowledge that cannabis is a safe and effective treatment that ought to be permitted. Therefore, it is hardly surprising that those within the public health sphere are now publicly acknowledging and responding to this reality," he said in an email.
While Walgreen may balk at the idea that its blog post represents a big change in national discourse, the company has always been tactful in its communications with consumers. In 2014 it scrapped a plan to move its headquarters to Switzerland to take advantage of low corporate tax rates -- a move that would have cost taxpayers $4 billion over the following five years -- in response to public pressure.
Its blog post was published on Tumblr, which targets marijuana's most favorable audience: Young people. Seventy-one percent of adults under 35 think marijuana use should be legal, according to the CBS poll.
In any case, it'll be a while before you'll be picking up an ounce of purple haze at Walgreens or Duane Reade. Twenty-four states have legalized marijuana for medical use, and Washington, D.C., and four other states have legalized recreational use, but it's still banned federally.
Related
Before You Go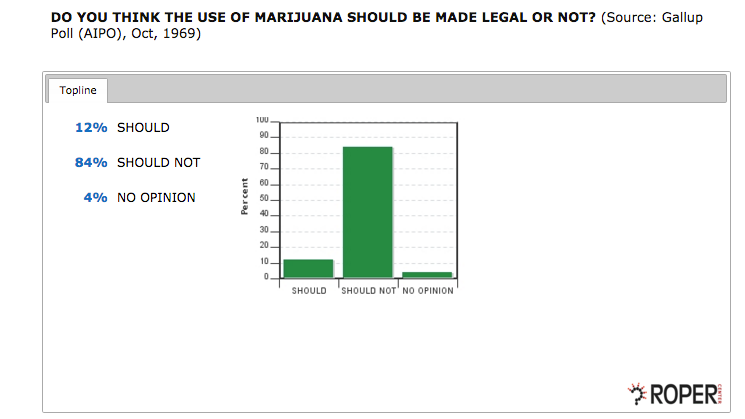 50 Years Of Marijuana Polling
Popular in the Community