Speaking from my own experience, you cannot truly grasp the full scale of the refugee crisis in the Middle East until you've experienced their state of living first hand. But if you can't (or don't want to) actually see what it's like for the millions of refugees struggling to survive after fleeing the violence in their homeland, the next best thing is to speak with somebody who has--and there aren't many people who can provide better insight than Carol Malouf. Malouf is a Lebanese journalist turned socio-political activist who has spent the past few years immersed in the thick of the tragedy brought on by the beginning of the Syrian civil conflict in 2011. She recently filmed a soon-to-be-released documentary during which she accompanies refugees on their journey from the shores of Turkey to Germany--walking many miles in their shoes. Before Malouf was an activist in the Middle East, she reported on the region extensively as the Senior Middle East Producer and founding member of Al-Jazeera English. In December of 2013, the municipality of Arsal reached out to her to ask if she could use her influence to shed light on the situation of 400 Syrian families trapped in a 'no-man's land' by the deadly storm "Alexa." Not only did Malouf cover the story, she did something much greater--she founded an NGO dubbed "Lebanese For Refugees (L4R)," which has gone on to provide hundreds of thousands of dollars to aid Syrian refugees in Lebanon. Malouf has since been at the forefront of several charitable efforts in the region including the House of Mouneh project and, most recently, a social media campaign that raised over $80,000 for a Syrian refugee she helped locate after a photo of him selling pens on the street with his daughter asleep in his arms went viral. Speaking over the phone, I asked Malouf if she could share with me some details of her time spent up close and personal with the catastrophe and what she has learned from her experience. She recalled to me reporting in the region when the conflict began and being shocked when political protests quickly evolved into an all-out "war by proxy." "The atrocities that were committed after the peaceful demonstrations were the turning point," Malouf said. "I saw a lot of human rights abuse against the people of Syria." "But I also saw the opposition arm itself. I watched as it turned from a peaceful protest into a violent war." As the fighting has continued to escalate in Syria, European countries have been scrambling to effectively relocate the unrelenting waves of refugees that have continued to arrive at their borders. The media has begun to uncover the truth of just how dangerous these long journeys can be for refugees fleeing the Middle East: thousands have lost their lives desperately searching for a peaceful existence. Malouf said she made arrangements to accompany a group of refugees on their trek from Turkey to Germany shortly after news outlets released the story of Aylan Kurdi, a three-year-old refugee boy who drowned along with his brother and mother when their family attempted to travel from Greece to Turkey in a 15-foot rubber raft.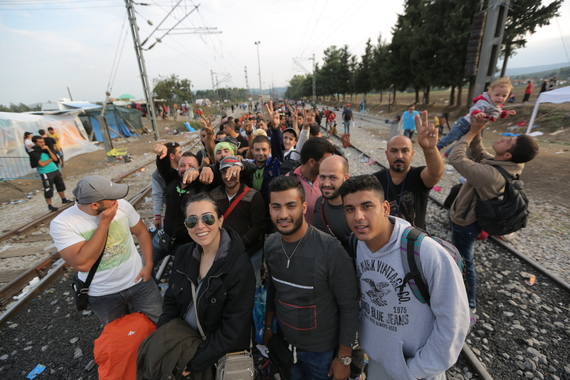 Malouf's documentary (a Natural Star creation directed by Rudy Bou Chebel, executive producer Carla Najjar and airing on Al Aan Television) is entitled "Refugee Walk" and appropriately begins with finding smugglers who would transport the refugees (and Malouf) from Izmir in Turkey to Greece--for a hefty price, of course. "It was US$1,200 per person for us to get on the boat," Malouf said. "So imagine, forty on a boat, maybe 10 boats per day. That's half a million dollars they make every day." One of the countless negative impacts of the refugee crisis is that it has revitalized the human trafficking industry, which reportedly rakes in over $1 billion per year as a result. Malouf believes the Turkish government may not only be aiding illegal immigration, but profiting from the plight of refugees traveling through their country as well.
"It's not even in the middle of the night that these boats are leaving, it's during the day," Malouf said. "Turkish intelligence would know there are boats leaving their coast daily." "So is Turkey cashing in?" I asked, "I think so, yes" she replied without hesitation.
Malouf told me that the smugglers took her group on a four-hour walk down to the coast where they boarded a rubber boat. "Human traffickers often do not travel with you or concern themselves with whether or not any of the passengers know how to operate the boat." "I also found out that they put only the bare minimum amount of fuel in the engine for you to reach the shore," Malouf said. "So if you happen to be going against the wind, you might not even make it [to shore]. You have to get out into the water. With no captain on the boat and inexperienced people driving the boat, this often ends up being the situation." Alas, Malouf's boat doesn't quite make it to shore. She and her companions climb into the water and wade the rest of the way. There are men waiting for them in Greece when they arrive--but only to collect the smugglers' boat and engine for reuse. Once they reach land, there are no Greek officials to process or aid migrants. Once again, they are travelling by foot.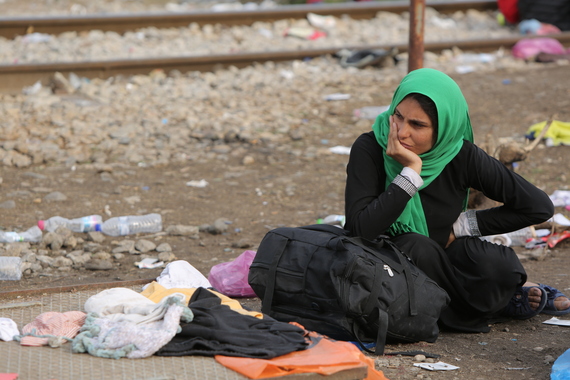 "Some people might have managed to arrange a car for pregnant women or children," Malouf said. "But taxi drivers will be fined if they pick up any refugees. So you have to walk 60 kilometers to reach the nearest camp." At the camp, it was more chaos. Every two hours, a bus would arrive to pick up as many refugees as they could fit inside. Malouf said the camp uses this method to export thousands of people per day.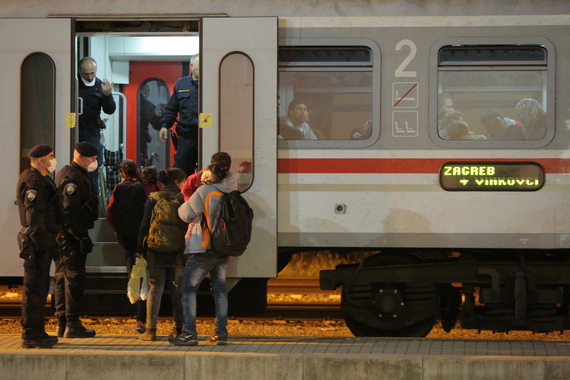 "You go to the camp, and nobody takes your identification. You can pretend to be anybody. You give any name to UNHCR, and it becomes your displaced identity." Malouf estimates that perhaps as much as 80 percent of the refugees she witnessed being smuggled to Europe were falsely posing as Syrians. She suggested that the UNHCR and European governments could be doing much more to organize the proper relocation of migrants and refugees. "So now it has become more of an organized illegal immigration," Malouf said. "You take buses and trains from one border to another. Officials tell you where to go for the illegal dropping." "It's being organized this way because countries just want these people out of the way, into Austria and Germany and off of their backs." Malouf's band of refugees travel through seven countries in ten days before finally reaching Germany, although certainly not without incident. She said that the people organizing the human trafficking seemed threatened if they learned or suspected that she was a journalist--so threatened that Malouf was actually arrested and investigated for eight hours while passing through Macedonia. Then, she was deported. It's hard not to admire Malouf's courage. While most of the world has abandoned these people, she took a literal walk in their shoes, putting herself in harms way so that we may all learn the true and ugly nature of the most massive global displacement in decades. As if starring in her own groundbreaking documentary that could change the way the world perceives a global crisis wasn't enough, Malouf also shared with me that she is already setting her sights on another project. "I have actually been thinking about writing a book about my experiences. My revelations from all of this." Given Malouf's background, talent and insight, a written account of her experiences would not only provide invaluable documentation on a historic tragedy that has gone unnoticed for far too long, it would send a message to officials to bring order to this migration. The chaos must stop so that further tragedies do not follow.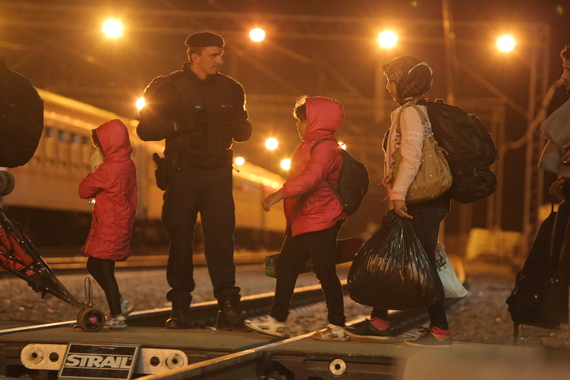 Related
Popular in the Community