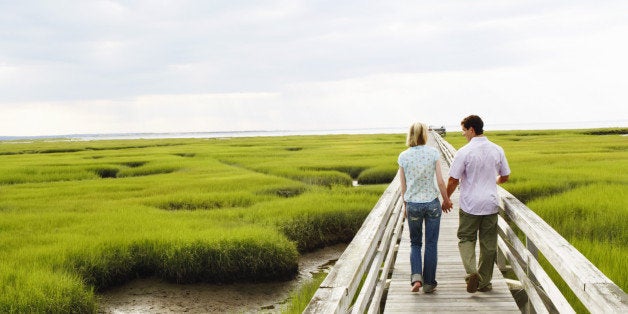 When you're feeling a deluge of negative emotions, you know that it can be helpful to "walk it off." And according to a new study, there's evidence to back up the stress-releasing strategy.
The study, conducted by researchers at the University of Michigan, found that taking group nature walks is associated with a whole host of mental health benefits, including decreased depression, improved well-being and mental health, and lower perceived stress. And the positive effects on mood seemed to be especially strong among people who had recently experienced a traumatic life event, like a serious illness, death of a loved one or divorce.
The study, published in the journal Ecopsychology, included 1,991 people who were part of England's Walking For Health program, which hosts over 3,000 walks each week. Researchers compared people who participated, and did not participate, in group walks in nature.
In addition to seeming to promote mental health, the nature group walks also "appear to mitigate the effects of stressful life events on perceived stress and negative affect while synergizing with physical activity to improve positive affect and mental well-being," the researchers wrote in the study abstract.
Related