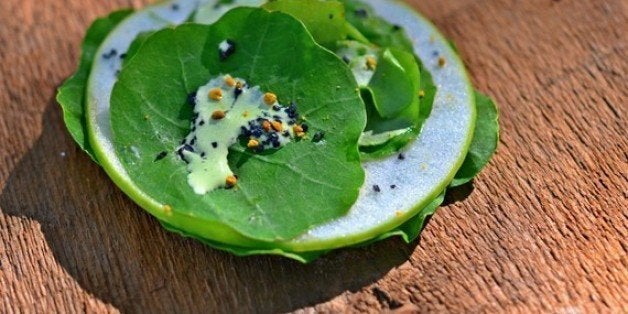 I'm walking through a park near the foothills of the Angeles Crest Forest. The warm afternoon sunlight softly dapples through the leaves of trees as my two daughters run ahead. My youngest daughter is percolating with delight over climbing trees. She leaps upon rocks and skips through the brush, climbing up the tree trunks and limbs within her reach. My older daughter has my Nikon strapped around her neck, photographing nature, as master forager Pascal Baudar leads us into the wooded area beyond the hiking trail to teach our group about wild edible plants. The recent rainfall soaked into the earth and made everything greener. It was a perfect day for foraging.
Chickweed grows rampant on the floor of the foothills and all around the path. We gather some in our hands, admiring the lacy leaves and lightness of the fronds. We continue hiking up into the wooded trail, and along the way my younger daughter grabs a hold of some poison oak. Pascal notices and quickly goes off to find some mugwort as a remedy for poison oak's itchy effects. He rubs a wad of mugwort over my daughter's hand vigorously, then rinses her hand with some bottled water. My daughter studies her hand as he administers the mugwort clump, rubbing and rolling the leaves as a poultice, leaving her skin unaffected by the poison oak. Mugwort is a topical remedy.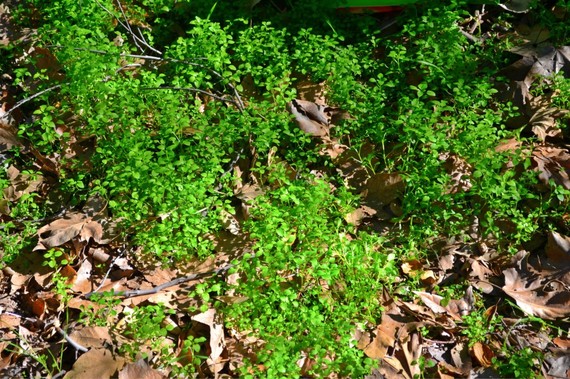 Pascal broke off some bark of an oak tree. He examines the bark for mold, spores, suspicious fungus, insects, and tell us how he pasteurizes it for consumption and cooking. "It's good for smoking meats," he mentions, pointing out some areas of the bark that he disapproves of, tossing it back into the brush. Tree bark is good for adding smoky flavor to anything.
It would seem that foraging is a risky thing if you aren't educated in which plants are edible and which are poisonous. Pascal forages every day and is well versed in edibles as he also became a food safety advisor through the University of California's Master Food Preserver Extension Program.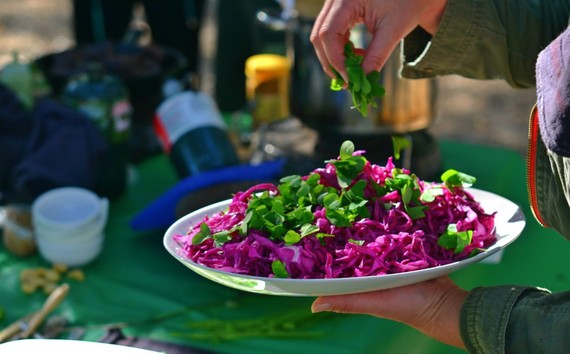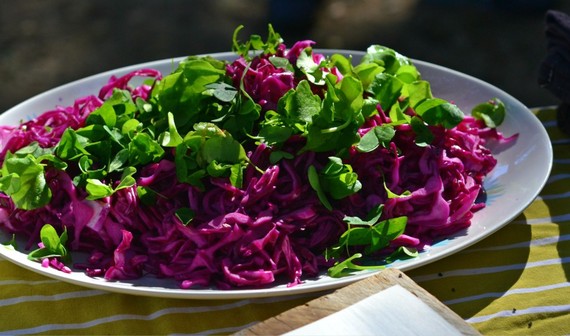 This was my first foraging experience. While walking in the greenery I felt the fresh air clearing my mind with each inhale. How often do we unplug and walk within an arbor of green trees? The asphalt, street lights, signs and traffic washed away with each step upon damp earth and leaves. I didn't care about how many likes my Facebook post received or if anyone favorited and retweeted my tweet. Just listening to the rustle of birds in the trees, learning about plants, noticing which way the sunlight falls upon the mountain was enough. I then understood Pascal's fascination and passion for plants. He's not paying gourmet prices for greens either. Foraging is good for the soul as well as the wallet. How many times have I paid for a bag full of expensive greens? But foraging for wild food is much more than just that. It's a way to be more connected with the earth.
Pascal and his lady, Mia Wasilevich, wild food chef, forager, food stylist and photographer of Transitional Gastronomy, host nature walks and foraging events around the forested areas of Los Angeles. This wild food duo hosts foraging workshops and create pop-up dinners featuring their wildcrafted cuisine.
Pascal supplies top Los Angeles chefs such as the pop-up kitchen virtuoso Ludo Lefebvre. Mia collaborates with celebrated mixologist Matthew Biancaniello. They also craft vinegars, mustards and beer using herbs and wild edibles, which suits Pascal's native Belgian ways.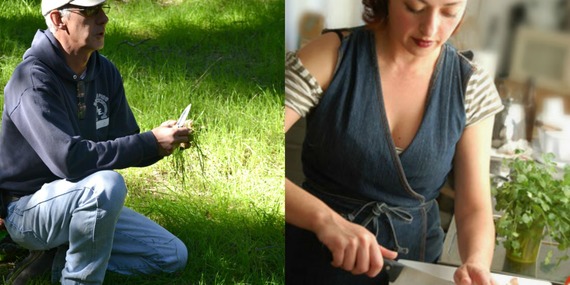 Pascal is a Master Food Preserver, pickling and fermenting his foraged finds. Local Los Angeles restaurants and pop-ups such as Trois Mec and Melisse use Pascal's urban foraged findings in their dishes. Chefs are currently foraging wild edibles for their own restaurant platings. Pascal is an expert forager for chefs that want to expand their diners' palates with native plants such as sagebrush, mugwort, mustard greens, chickweed, oxalis, nasturtium and watercress.
"The goal isn't to have the trendiest restaurant in Los Angeles, or anywhere else for that matter," explains Mia. "We want to explore native wild foods locally and beyond, creating culinary expressions that are beautiful bespoke experiences."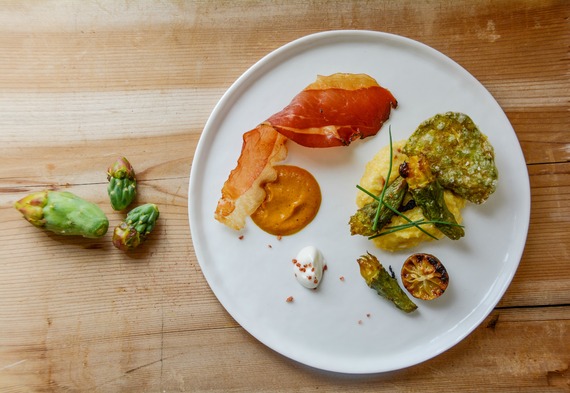 photo courtesy of Transitional Gastronomy
Mia arranged picnic tables using wood planks as platters, bowlfuls of greens, a camping burner with a pot of nasturtium soup. The roasted sunchokes with pickled seeds and yucca flowers were eaten up within minutes.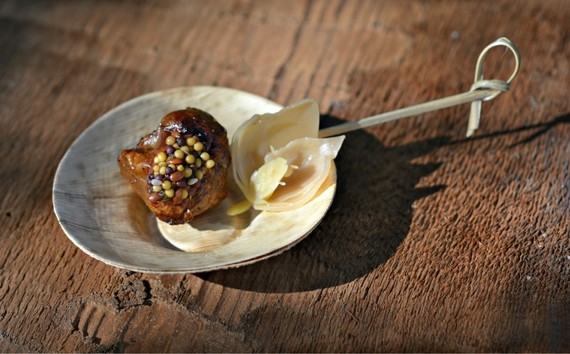 Nasturtium leaves with apple slices made taco-like tastes. Foraged chickweed paired with pickled cabbage. Black sage fudge topped with dusted yogurt powder and garnished with Mia's grapefruit orange marmalade.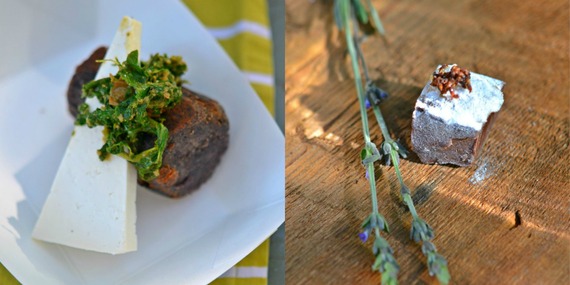 Mia's Peruvian cornbread was served with a slice of cheese and foraged greens. Pascal handed me a glass of his home-brewed beer. Eating gourmet wild food at a picnic table under the trees opened my palate and fed my soul.
Mia and Pascal's recent collaborative pop-up, Forest and Field, offered a seasonal tasting menu featuring wild food platings:

Rosehips, Sage, Duck Prosciutto, Raw Chèvre
Sweet Clover & Currant Croquetas
Spring Mustards & Rabbit
Thistle, Buckwheat Flowers, Chervil Bagna Cauda
Lambsquarters & Quail Eggs
Sorrel & Game
Elderflower S'mores & Cordial
Native Black Walnut Nocino Whoopie Pie, Fennel Cream

Pascal's cocktail list:

Forest Beer: mugwort, forest grass, turkey tail mushrooms
Mountain Shrub: white fir, yarrow, Juniper and manzanita berries, pine
Sacred Native Brew fermented in clay: cactus, elderflower, raw honey, blueberry mugwort soda
Chaparral Infusion: yerba santa, fir, manzanita, wild mint
Wild food and foraging is inspiring backyard gardeners to explore outside their fence. Some good ways to start in your area? Attend local workshops given by expert foragers like Mia and Pascal in the Los Angeles area or guidebooks like Euell Gibbons' Stalking the Wild Asparagus, Leda Meredith's Northeast Foraging, and Thomas Elias & Peter Dykeman's Edible Wild Plants as well as cookbooks like Connie Green and Sarah Scott's The Wild Table.
Always be cautious with unknown mushrooms, berries and greens, however. Seek out ways to learn from professional foragers and take a walk on the wild side.