"Walking is a virtue," celebrated author and traveler Bruce Chatwin once wrote, "tourism is a deadly sin."
With a cast of inspiring characters and fellow travelers, expertly navigating the literary terrain of Jeannette Wall's The Glass Castle and Christopher McDougall's Born to Run, Mahaffey's personal story, in fact, transcends more than one literary border.
Written as ambulatory bildungsroman, Mahaffey recounts his fall from grace as a legendary itinerant kid preacher, star athlete and family man, succumbing to debilitating bouts of arthritis and manic depression. After finding himself in mental institutions, on the backstreets of homelessness, and in the dark Appalachian woods, Mahaffey turns to a life of walking, literally ambling his way back to his estranged family and a sense of redemption and love.
His extraordinary journey takes him from the Great Smoky Mountains to the Outer Banks of North Carolina, along the chain of the Appalachian mountains until Maine, and then a life-changing walk into the canyons of the Sierra Madre in Mexico. Settling with the indigenous Raramuri (Tarahumara), Mahaffey chronicles his rare insights into native rituals and the tribe's famous running traditions.
Along the way, Mahaffey shapes his own philosophy of walking as a way of life, galvanizes a gentrifying Asheville with a homeless campaign for mayor, and emerges as a guide for new generation of sojourners, including his children, into the wilds of Copper Canyon in Mexico.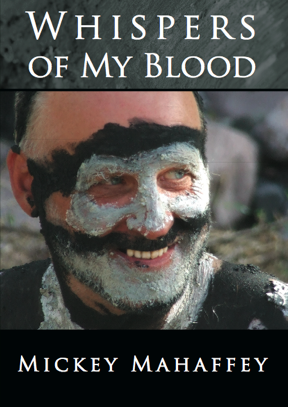 Here's a brief interview with Mahaffey about his memoir, as well as his School of the Traveler.
Q: You place a lot of emphasis on the role of walking in travel. How did the act of walking alter your view of travel--even a way of life?

MM: My initiation into long distance walking was on the Outer Banks of North Carolina with my friend Camper Dave. We hiked over three hundred miles on the beaches, camping in the dunes every night. We continued our journey all the way to Virginia Beach where we turned inland and walked to Richmond. Afterwards, I trekked alone on the Blue Ridge Parkway for another three hundred miles en route to Asheville.

I was learning so much about myself, the world we live in and the power and majesty of the natural world. The experience was like being a student in a natural school. I would have to say that traveling by foot dramatically changed almost every part of my life. I slowed down and learned to appreciate the wonder of the moment and the exquisite personal sense of having an unseen guide showing me a good way in life, both geographically and spiritually.

Q: In your memoir, Whispers of My Blood, you find yourself at home in one of the most remote places in the Americas, among the indigenous Raramuri/Tarahumara in the Sierra Madre of Mexico. Can you describe the transformative process of shifting between foreign traveler and local participant in Native life?

MM: I left Asheville on foot with a backpack with the intentions of walking and hitchhiking to Honduras by way of Mexico. About a month later in an effort to reach the west coast of Mexico in hopes of finding warmer weather in January I discovered the Sierra Madre. Before I arrived I'd never heard of the Copper Canyon or the Tarahumara. I never did make it to Honduras and haven't traveled any where else in 12 years. I'd found my home in the rugged canyons and among the native people, both Mestizo and Tarahumara.

The Tarahumara known for their primitive style of living (some still live in caves) and great physical strength for walking and running captured my imagination as well as my heart. All of our excursions with the School are designed to bring us in contact with the indigenous people, particularly during their festivals.

Q: A pivotal moment in your book--and life--takes place during the Holy Week celebrations of the Raramuri/Tarahumara. What was your unique role as a diablo or "devil?"

MM: I had attended three previous Semana Santa celebrations in the Sierra as an observer when I went to Guadalupe Coronado the first time. To my amazement the Tarahumara invited me to get painted as a Diablo and dance in their marathon event (30 or more hours of running and dancing without rest). All the Tarahumara told me I was the first gringo to ever be invited to participate. Needless to say it was the honor and privilege of a lifetime to have completed my three year commitment to serve as a Diablo according to the requirements of their traditions.

Having worked many years to untangle my psyche from the chains of bondage from having lived many years as a fundamentalist Christian, the irony of serving as a devil in a primitive observance of Easter was a unique experience. I'd never experienced a more profound understanding of real spirituality as I did as a Diablo.

Q: Back home in Asheville, North Carolina, you are an avid walker, camper and sojourner. Your memoir describes periods of turmoil in your life when you lived the streets or in forest encampments, until you sought the open road as an option for change. At what point did traveling become a way of life for you?

MM: The walk on the Outer Banks was the pivotal moment of change for me. For the next seven years thereafter I lived outside both in cities and the woods with just a backpack and periodically made long distance jaunts either alone or with others. I quickly learned that the nomadic lifestyle was a far more natural way of living than living according to status quo.

Q: You describe your School of the Traveler tours as "equal parts existentialism, exhilaration and epiphany." Is the school for everyone or certain types of travelers?

MM: Everyone is welcome to join a tour with the School of the Traveler, younger and older, men and women. However, a certain degree of physical conditioning is required. The emphasis of the School is to walk long distances in challenging terrain, carrying a backpack. The trails are often very steep and rugged and push even the most well conditioned hikers to their limits. With that said, our manner of hiking is to walk slowly and rest often. Our hikes are not athletic competitions.

My desire for all participants is to gain a richer understanding of themselves and the natural world and I have never known a better way to achieve that end than by walking with minimal gear and camping outdoors.

Mahaffey is also the subject of a new documentary feature film, Being the Diablo, by acclaimed Asheville-based filmmaker Rod Murphy. Here's the trailer: