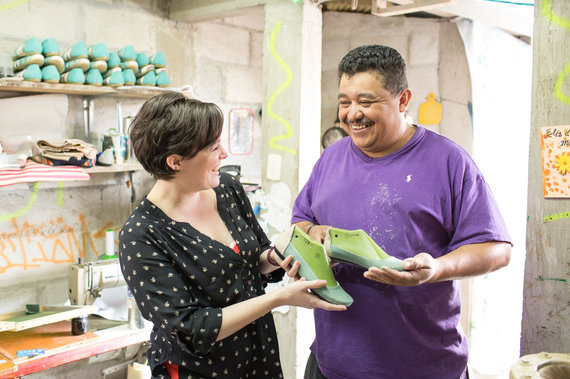 What if a pair of shoes could help prevent gang violence? Or, more specifically, give someone the opportunity to take an alternative path? This is what The Root Collective does: create change for marginalized communities through partnering with local businesses to ensure jobs with dignity and fair pay.
Bethany Tran, founder of The Root Collective (TRC), found herself in the neighborhood of La Limonada in Guatemala City six years ago. "I spent 3.5 years knowing that I was led to be involved in this community but was terrified of what that meant. As I became closer to poverty and understood it more, I began to see that what was needed even more than charity was opportunity." This was not was going to be an easy task: poverty is a complex issue. Bethany explains, "History, politics, the economy, and society all play a central part in denying some people the necessities of life." For Guatemala, part of that history is a 36-year civil war and genocide of the Mayan population. Not only has poverty ensued but also the senseless loss of many lives.
In La Limonada, "gang violence is such a way of life, it often becomes unavoidable...And once they're in, it's nearly impossible to get out. Some are murdered for trying to escape. " Bethany describes. One man who did get out did something extraordinary: he started his own business as a cobbler. His name is Otto, and "he understands the complexity of the gang culture and knows the struggles of those who want to leave but can't because of the lack of options for them after they do. Otto's entire business plan is to have his shoes be that option." And The Root Collective business plan is to bring these shoes and the work of other co-ops like Otto's to the global market in order for the dignity of work to continue to be available to those who desperately need it.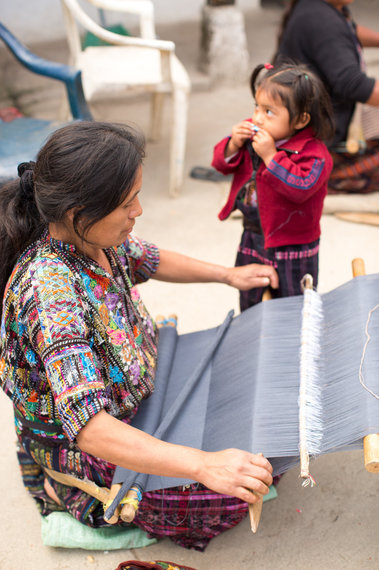 Over 200,000 men and women went "missing" during Guatemala's civil war, leaving many without family and without their loved ones. "Juana's husband was one of that number," Bethany writes. "In the middle of the night, her husband was kidnapped. His body never surfaced. Juana was left with five children to care for by herself." Juana was born in a rural area in the remote highlands of Guatemala and did not have the opportunity to attend school or to learn Spanish- her native language being the Mayan K'iche. After becoming a war widow, Juana "took comfort in weaving, a heritage passed down from mother to daughter for generations. She gathered with the women in her community - most widowed by the war - to share stories, to share tears, to weave." And thus a co-op was born. The group weaves together on traditional backstrap looms, and their designs are then used for the shoes Otto and his team makes. They, like Otto, have found a way to turn tragedy into opportunity.
The Root Collective partners with these grass root small-scale businesses to help them grow and continue to impact change. Bethany believes that, "Like Otto who employs former gang members, or the widows in the co-op who find comfort together, change can happen from within the community...We can't 'fix' the world by ourselves, but we can surely help fix it together."
To learn more about The Root Collective, click here
Photos and video provided by Shimmers of Gray (www.shimmersofgrey.com) in partnership with The Root Collective
Calling all HuffPost superfans!
Sign up for membership to become a founding member and help shape HuffPost's next chapter