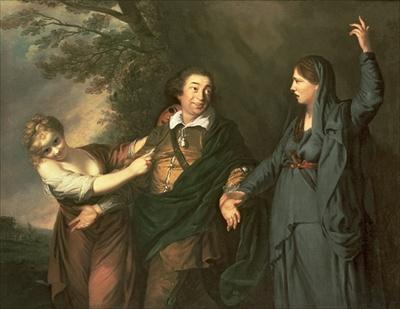 I don't get around much anymore; not like I used to. Age, children and, yes, a diminishing cityscape are all factors. With once-ample opportunities for aesthetic nourishment in steep decline around town (in direct proportion, seemingly, to the ever-encroaching ascendance of sky-high co-op sales), I tend to stick close to home.
This past Saturday, however, I was reminded of what I've been missing. My brother Mark, bless him, invited me to a staged reading he was participating in of Catherine and Petruchio, a rarely (like, never) performed 18th Century adaptation of Shakespeare's Taming of the Shrew by the dimly remembered titan of that distant age in British theater, actor-manager-playwright David Garrick (that's him up there gamboling with "The Muses"). Presented by an entity that calls itself "New York's Piney Fork Press Theatre," the reading took place at a New York Public Library branch I'd also never heard of: the George Bruce branch on West 125th Street.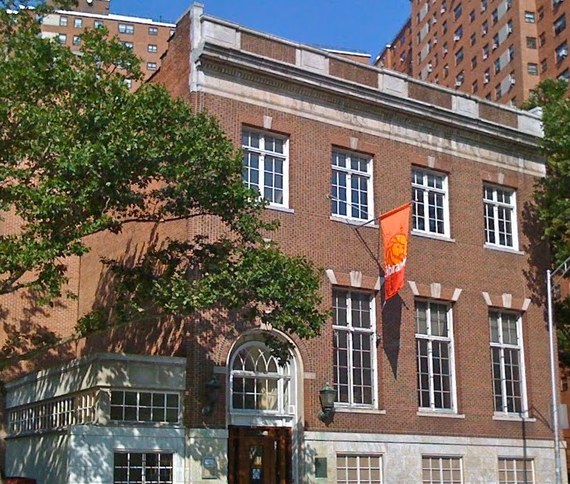 It was a nice autumn day. I took my kids, Lea and Sara, ages eleven and nine. Our first pleasant surprise was the library building itself, a gorgeous red brick and sandstone edifice designed in 1915 by Carrere and Hastings, I later learned - storied architects of the Main Branch on 42nd and Fifth. Down a flight of stairs, the girls and I found ourselves in the most charming little jewel box of an auditorium (our library system, I long ago discovered, has many) with a vaulted mini-proscenium painted a delicious cherry red.
Things only got better. Johnny Culver, the afternoon's impresario, introduced an opening act: "The Firth Sisters." Two unassuming young ladies slipped onstage bearing a guitar and a ukulele, respectively, and proceeded to sing three cunningly disparate songs -- "All of Me," by John Legend; Elvis's "Love Me Tender;" and "On the Street Where You Live," from My Fair Lady -- in exquisite gusts of intricate, effortless harmony; as organic as it was ethereal. The alchemy of setting, sound and sweet, offhand virtuosity was intoxicating. I mean, they were good! I'm hoping to learn more about The Firth Sisters; I literally had to halt them slipping out the door on the heels of their offstage exit to ask for a business card. Both seemed shocked by my request.
Next up: the main event. I don't believe I've ever attended a performance of anything actually written by David Garrick. The play proved a dead ringer for The Taming of the Shrew but shorter -- which was clearly Garrick's goal; apparently Catherine and Petruchio was so successful in its day that it supplanted Shakespeare's original for almost a century in England and for even longer in the U.S. I did find myself wishing at times that someone onstage would break into a song from Cole Porter's Kiss Me Kate -- and then Mark suddenly did, tossing out a measure or two from "I've Come to Wive It Wealthily in Padua."
I thought Mark was great. Who knew he could handle iambic Shakespeare-ish pentameter with such élan? His commanding Petruchio was downright scary, in a good way. Mark's colleagues were a delightful complement. I'm going to name them all because I can, and they deserve it: Kyle Minishew, Rob Lanchester, Yvette Bedsgood, Terri Matassov, Lauren Wiley, Lex Larson and Gary Martins. The director was Deloss Brown.
The library supplied an extra front row of cushy leather beanbag chairs that my daughters doted on. Not nearly enough of the remaining seats were filled. (Sigh.) Maybe next time.
Calling all HuffPost superfans!
Sign up for membership to become a founding member and help shape HuffPost's next chapter