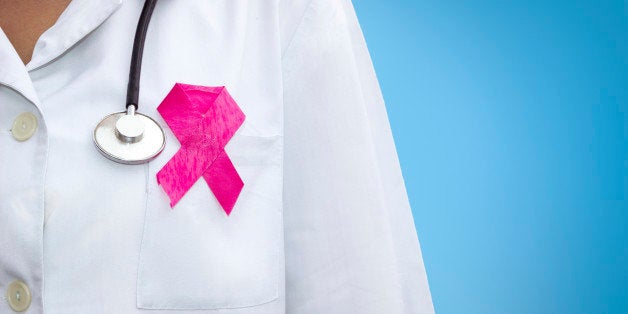 As a women's health advocate, I celebrated and breathed a great sigh of relief when the Affordable Care Act (ACA) was signed into law in March of 2010. We had finally turned a corner in which being a woman was no longer a pre-existing condition and women could finally afford and access the quality health care we needed and deserved. While I knew my enthusiasm and appreciation was not shared by all, I hadn't quite anticipated the extent to which the law's opponents would quickly use it as an excuse to dismantle other valuable health programs.
In December of 2013, an announcement was made by members of the Wisconsin Department of Health Services (DHS) to dramatically restructure and downsize the Wisconsin Well Woman Program -- a program which has successfully provided cervical and breast cancer screenings to over 70,000 women in our state for over two decades. Under this amazing program, each of Wisconsin's 72 counties had a local coordinating agency to help these tens of thousands of women connect to cancer screening services and treatments from a rich network of area health care providers in their community. With this announcement, leaders under a Republican led administration were justifying a proposal to severely reduce the number of local coordinators and Well Woman Program providers in just six short months by noting that Wisconsin women could now simply find access to cancer screenings and treatments through the federally run health care Marketplace or Medicaid, thanks to the ACA. This new found faith in "Obamacare" was especially ironic coming from Governor Scott Walker's administration, which has very openly taken every measure possible to undermine the ACA in Wisconsin. The same administration that refused to set up a state health care exchange, refused to accept the federal Medicaid expansion, and requested that our attorney general join a lawsuit challenging the constitutionality of the law, was now positioning the ACA as a life boat to help low-income women detect and treat cancer.
Advocates, program coordinators, cancer survivors and health care providers -- none of whom were consulted when designing the program's restructure -- immediately called for the proposed changes to be delayed, fearing that a drastic restructuring of the program would blow up a critical "bridge" during a time of enormous health care coverage transition for thousands of disadvantaged women in the state. Architects of the program redesign failed to provide any details related to which of the current women served by the program would now be eligible for the Marketplace or Medicaid. In a state that rejected full Medicaid expansion, no one could guarantee that low income women wouldn't fall through the coverage and affordability gaps without the Well Woman Program. No one could point to a specific plan to help program clients navigate new options and enroll in new coverage. Fortunately, in response to public pressure, initial restructuring plans were delayed -- until now.
After a year of stalling and going through the motions of gathering stakeholder input, state DHS leaders are now moving ahead with plans to (surprise!) minimize the number of local coordinating agencies and to limit the number of health care providers eligible to serve Well Woman Program clients. Still void of details or data, DHS administrators are still putting their blind faith into in the ACA life boat, in which the Walker Administration seems eager to pop holes -- especially now that the Governor has found himself in the national presidential campaign spotlight.
Some will argue that Wisconsin women have and will continue to stumble and find their way to new health care coverage and that BadgerCare (Wisconsin's Medicaid program) and the Federal Marketplace will pick up the pieces of the Well Woman Program. But for those of us with eyes wide open watching the Governor make additional damaging changes to BadgerCare in the state budget and waiting for the Supreme Court to decide the fate of the Marketplace subsidies with the King v. Burwell Supreme Court case, we have never been more fearful about compromising a life-saving program like the Well Woman Program.
The current state budget actually maintains funding for the Well Woman Program. As of today, all 72 local coordinating agencies are still in place and operational and the rich network of local health care providers are still in contract to provide services. That being said, our state leaders have a small window of opportunity to do the right thing by once again delaying any changes to the program and maintaining the integrity of the program as is. If our leaders can't guarantee that women won't fall through the coverage and affordability cracks and that women won't come surging back to a compromised Well Woman Program if changes are made to BadgerCare and the Marketplace subsidies, then they shouldn't be so quick to pull the trigger on their unfounded plans. Women's health and lives should come before political posturing. You can't root for a law to fail while depending on that same law to meet the critical needs of women. Leaders must maintain the integrity of the Wisconsin Well Woman Program and ensure Wisconsin women can access the life-saving cancer screenings and treatments they need and deserve.
Calling all HuffPost superfans!
Sign up for membership to become a founding member and help shape HuffPost's next chapter