Cute cats riding on Roombas. Twerking gone awry. Sing-songy lip dubbed marriage proposals.
What makes a video or image go viral is somewhat of a mystery. Justin Timberlake and the Jimmys -- Fallon and Kimmel -- seem to know the secret ingredient. It's timing, a dash of adorable and just a smidge of happy or hilarity and our collective souls are warmed up just a bit. We needed a feel-good viral image and thankfully, a little kid from Virginia came to our rescue.
Walker Greentree, a 6-year-old Northern Virginia first grader, and his buddy were making a ruckus.
"Be quiet like a SEAL," said Vivian Greentree, Walker's mother.
The boys stopped in their tracks. "Ninjas are quieter," deadpanned his little friend. And thus began a monumental argument about who, in fact, is quieter -- a SEAL or a Ninja.
His mother, a former Navy supply officer, suggested the first grader write the one man who would know the final answer -- the head SEAL himself, Admiral William McRaven. McRaven is a big deal. He is the Commander of U.S. Special Operations Command and is credited with leading the Osama bin Laden raid. He's pretty busy these days.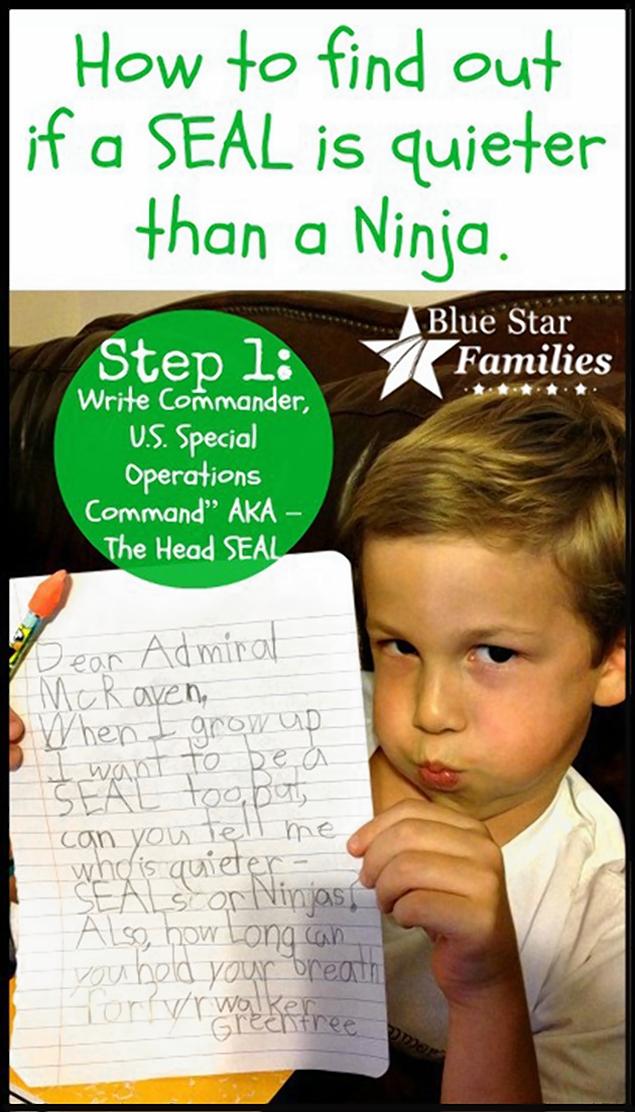 The young Greentree sharpened his SpongeBob pencil and carefully penned the following letter:
Dear Admiral McRaven,

When I grow up, I want to be a SEAL too but can you tell me who is quieter -- SEALs or Ninjas? Also how long can you hold your breath for? v/r Walker Greentree.
v/r, incidentally, means very respectfully.
Greentree checked the mailbox obsessively, nearly wearing out its hinges, until the now infamous envelope arrived.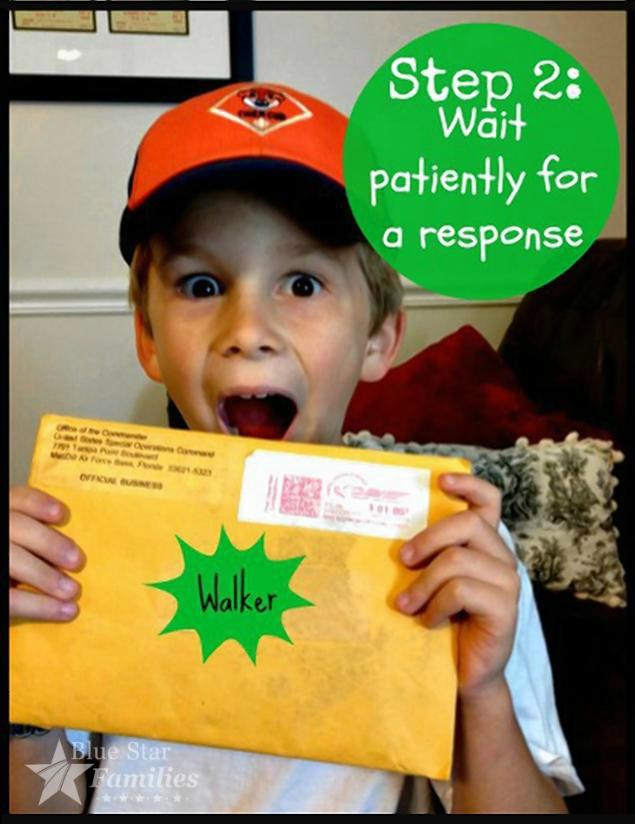 Walker's older and equally adorable brother MJ read the letter out loud.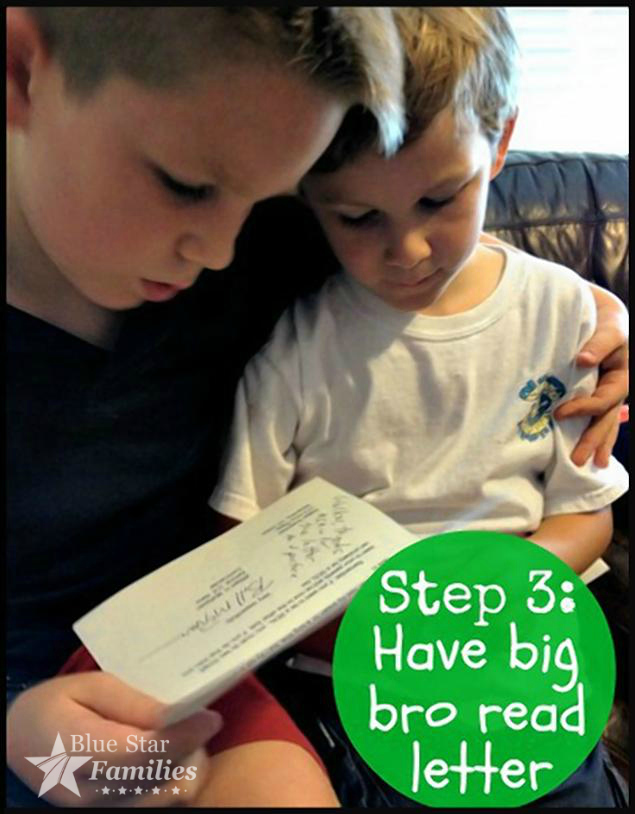 Walker,

Thanks for writing me! You did a great job drawing the Trident, it looks just like my personal coin, which I've sent you along with this letter. I only give this to very special kids, so I hope you like it.

To answer your questions: I think ninjas are probably quieter than SEALs, but we are better swimmers, and also better with guns and blowing things up. I can hold my breath for a long time, but I try not to unless I really have to.

Remember, if you want to be a SEAL, you must do two things: listen to your parents and be nice to the other kids. If you do that then you can probably be a SEAL too.
Adm. McRaven included a Challenge Coin in the package.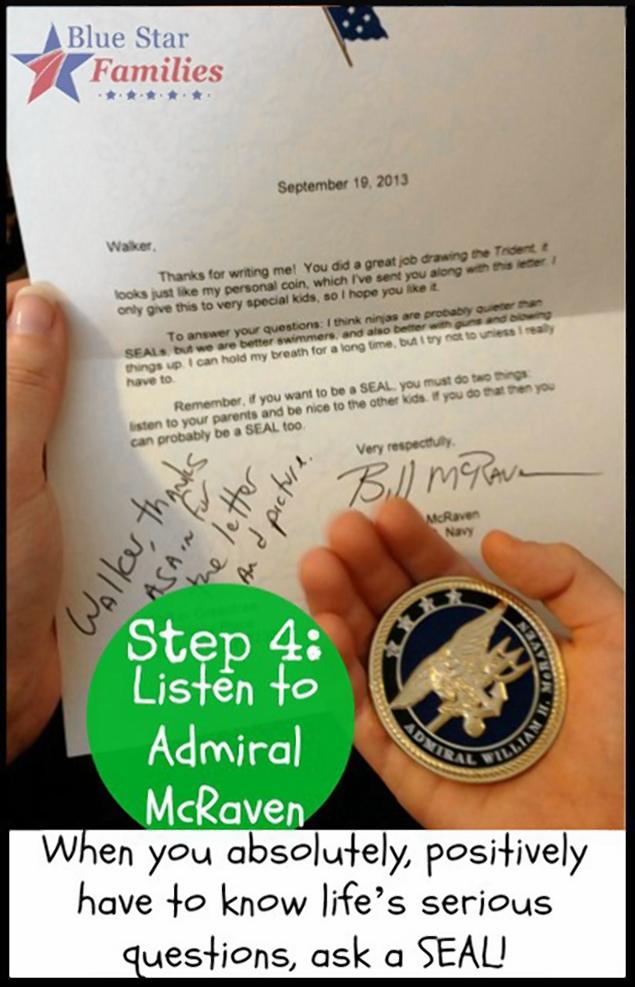 Vivian Greentree is the Director of Research and Policy for Blue Star Families, a non-profit organization that supports military families. BSF's social media gal put together an infographic detailing the chain of events and posted it to the blog, Facebook and Twitter.
First came an editor from Business Insider who asked permission to run the graphic. From there, a British website picked it up, a Norwegian newspaper, NY Daily News, Gawker, MSN and then the real Navy SEALs' site ran it. One of the catchier titles, "Boy Writes to Deadliest Man and Gets Response," was tweeted more than 1,500 times. And major television networks are clamoring to interview Walker.
My grandmother would describe Walker Greentree as cunning. His warm, chocolate brown eyes and perpetually messy sandy brown hair mask a bit of mischief, albeit nothing out of the ordinary for a first grader.
The day after the letter arrived, the young Greentree was warned about bringing the Challenge Coin to school. But sure enough, clutched in his tiny, sweaty hand, blistered from hours on the monkey bars, was the gold coin. When Vivian noticed the coin was missing, she whipped up to school to retrieve it. She wasn't that mad, however.
Challenge coins are a big deal in the military community. The half-dollar size coins include the unit insignia and are handed out by commanders for a special achievement. Walker's father, serving overseas on his fifth deployment, told him how the coins work and what happens when you place the coin down on a bar at a military club.
"He keeps slapping it down on the counter hoping I'll give him some Sprite," said Vivian Greentree of his innocent misinterpretation.
The letter now hangs where all very important things should hang -- on the refrigerator in the Greentree's kitchen. The coin is tucked under Walker's pillow. The story is being told again and again.
Meanwhile, Walker is practicing holding his breath.
"But just for a few seconds," he said.
Calling all HuffPost superfans!
Sign up for membership to become a founding member and help shape HuffPost's next chapter